Rick Harrison – Las Vegas, $4 Million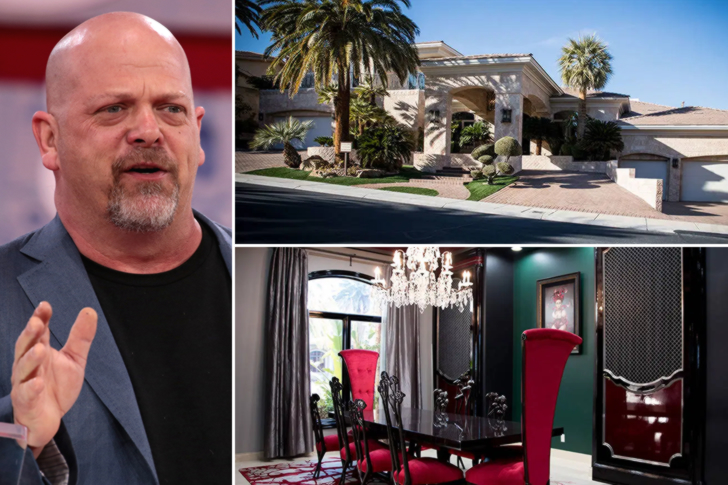 After enjoying the luxuries of his Las Vegas home, Pawn Stars' main man Rick Harrison has decided to put the property back into the market for nearly $4 million. Rick's former property boasts 8,845 square feet on interior living space, four bedrooms, seven baths, a home theater, a wine cellar, and a gym. And since Rick is a master at finding and salvaging antique finds, he also put his spin in place by displaying some of his most treasured pawned finds. For example, the reality T.V. star installed a 12th century stained glass window.
A certain degree of the home's original features was retained. However, Rick and his wife could not resist adding some new touches like the new acid-washed granite floors in their formal living, the newly painted crown molded fireplace, and the newly installed central sound system. His home is a great example of a residence that actually looks like it's lived in and not just a showpiece for the media to cover.
Mick Jagger – France, £2.2 Million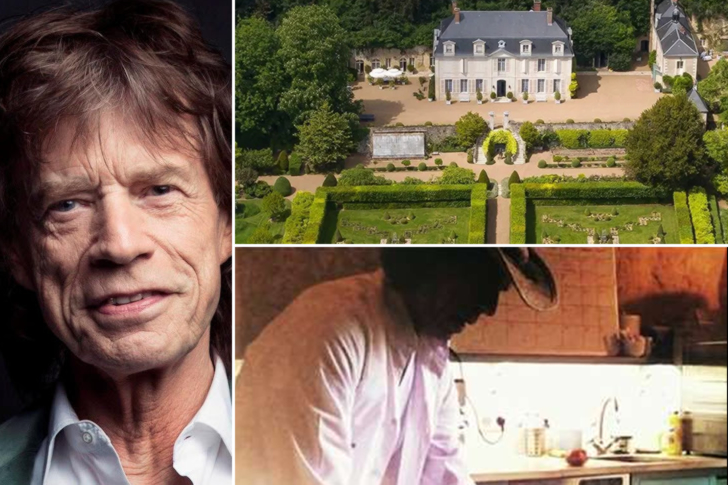 While most celebrities dream of having a nice home for themselves, Rollingstone's front man Mick Jagger went all out and bought a French manor big enough to house his entire clan. The property is a beautiful 16th-century French castle, appropriately nicknamed La Fourchette, sits right on the banks of the Loire. The 76-year-old rock legend reportedly bought the French estate for a whopping £2.2million back in 1982 and has called it home ever since.
It is surrounded by thick woodlands and has a magnificent garden out back, which is highly reminiscent of the old European splendor. Not much is known about the interior of the home, as Mick likes to keep some things private. However, we do know that the British singer likes to spend a lot of his time gardening and tending to his sheep living within the palace grounds. Despite the lack of details about the home, we can say for certain that it comes with a very handsome home insurance plan.
Dick Van Dyke – Encino, $9 Million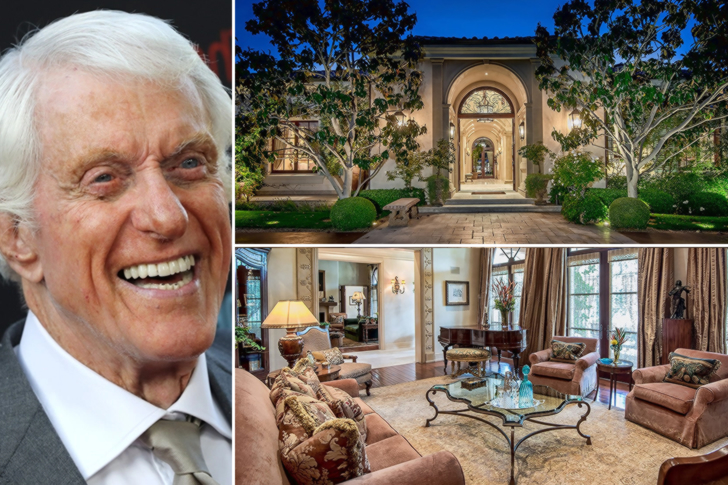 If you are a big fan of Mary Poppins, then you surely know who Dick Van Dyke is. The American actor played Mr. Dawes Senior alongside Julie Andrews in the 1964 version of the iconic film Mary Poppins. Since then, the actor has achieved huge success and is now considered a Hollywood legend. Because of that, Dick Van Dyke is now able to live an amazingly comfortable life tucked away in one of his million-dollar mansions.
One of those mansions is this $9 million mansion in Encino, which the actor used to call his home. Some of the home's notable amenities include a recording studio, which was built by Harrison Ford before he became a huge acting star, a grand foyer with a vast skylight, a gym, a wine cellar, a formal living room with a stone fireplace, and an elevator. For sure, this home comes with awfully expensive home insurance too.
Terry Bradshaw – Oklahoma, $9.95 Million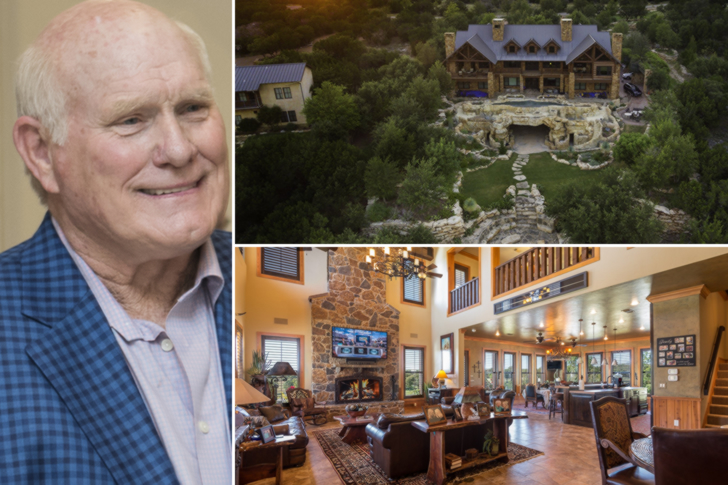 Ever wanted to own a ranch property in peaceful Oklahoma? Well then, you're in luck because former NFL star Terry Bradshaw is selling his ranch property, and all you need to do is ensure good home insurance and drop a whopping $9.95 million. It may seem like a steep price, but it does come with a lot of celebrity-grade amenities like 8,600 square feet home built on a 144-acre lot, six bedrooms, eight baths, a full kitchen, a bar, and a massive stone fireplace.
However, the beauty of the property lies in its outdoor amenities. It starts with the stone-decked patio, pool, a fenced-in doghouse, a four-stall stallion horse barn, a twenty-stall show barn, equestrian rings, and of course, the breathtaking view of the rolling country hills that surrounds the property. It's a dreamy property, for sure, and we can only imagine how hard it must be for Terry to bid farewell to it.
Rob Gronkowski – Massachusetts, $2 Million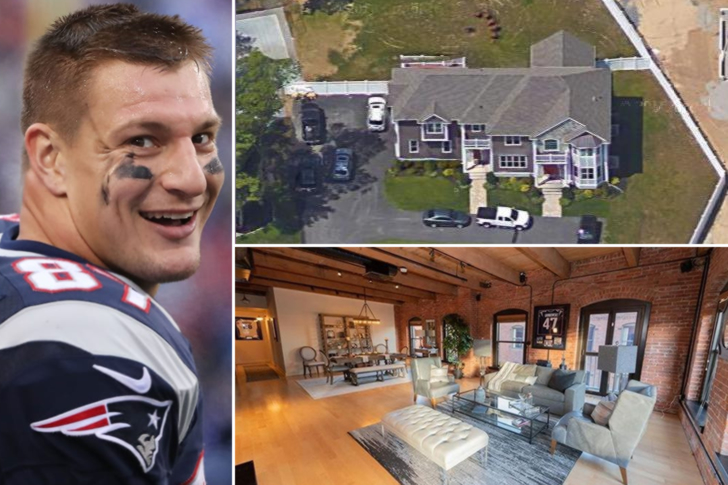 When it comes to living in style, NFL superstar Rob Gronkowski has got it all nailed down. The retired New England Patriots football star once spent a considerable chunk of his investment money on this stylish man-pad for almost $2 million. This Massachusetts condo features a couple of lavish amenities that will surely make some men stare with envy. First off, the unit offers 2,000 square feet of interior living space with two bedrooms and two baths.
On top of that, the condo also has an additional 340 square feet of outdoor living space and an open concept living and dining area with bricked walls. It is, however, the unit's breathtaking view of the Massachusetts skyline that completes the condo living experience. You would be hard-pressed to find a condominium that feels more like a complete property each time you visit. Rob Gronkowski has certainly decorated his place beautifully and filled it with exceptional pieces of art.
Melissa Gilbert – Michigan, Undisclosed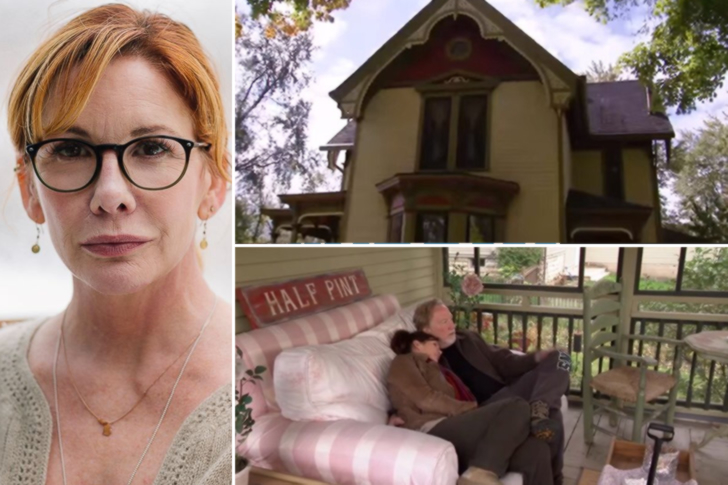 Melissa Gilbert is a well-respected Hollywood actress who first started her career as a child star gaining acting credits in the hit T.V. show, Little House in the Prairie. Because Melissa grew up in the spotlight, life in Hollywood was all she knew. That changed when she met her husband, Timothy Busfield. After the couple wed, they decided that it's time they trade the glitz and the glamour of Hollywood for the peace and quiet of Livingston County, Michigan.
For years, the pair lived a very peaceful life in these 2,500 square Victorian homes, which also houses some of Melissa's Little House in the Prairie memorabilia. However, the couple has recently decided to put their home back in the market for an undisclosed amount in exchange for a fully furnished apartment in busy New York. It might be a shame to see the couple move out of their beautiful home but sources have reported that an even bigger project is coming for the celebrity duo.
Jane Fonda – Beverly Hills, $13 Million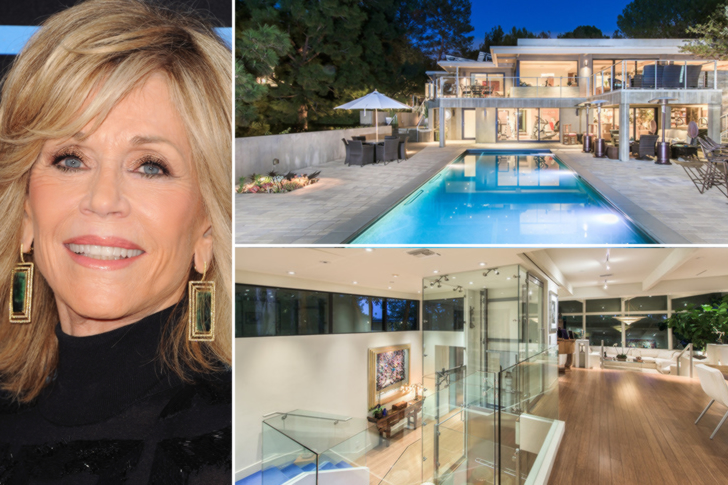 Before gaining widespread recognition as an actress, Jane Fonda grew up in a glamorous Hollywood show business family. So it does not come off as a surprise that the actress has an innate taste for the finer things in life, including real estate. The actress once dropped some serious investment money into this 7,100 square feet mansion located in an exclusive neighborhood in Beverly Hills, California. The property is described as a contemporary minimalist mansion with a price tag of about $13 million.
The actress initially purchased the property for a more modest price of $7.3 million but has since made extensive renovations, which almost doubled the mansion's asking price. Some of the property's notable amenities include beautifully landscaped gardens, a solar-heated pool, a glass elevator because why not, and a massive walk-in closet. If that's not living like a true Hollywood royalty, we don't know what is. Living in style has been a staple of Fonda's family while she was growing up, so seeing her follow suit to that kind of lifestyle is no surprise.
Tom Cruise – Beverly Hills, $50 Million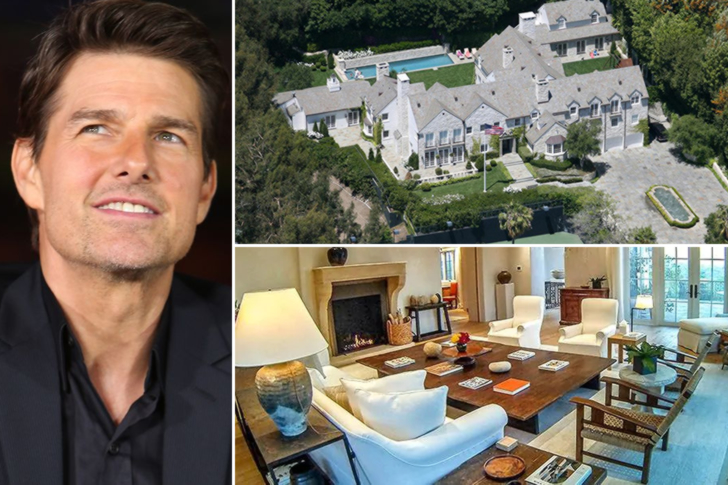 There's no stronger way to start this list off than to take a look at Tom Cruise and his mega $50 million mansion perched at the heart of Beverly Hills. This behemoth investment features seven bedrooms, nine baths, its very own tennis court, and two separate guesthouses. The actor initially purchased the property for the humble price of $30 million back in 2007 when he and his ex-wife Katie Holmes were still together.
Over the years, the couple made some significant changes to the property that by the time they decided to list it on the market again, it was worth a whopping $50 million. But if you want to live like a king and walk the same halls and dine in the same room Tom Cruise and Katie Holmes once did, then be prepared to splurge some cash. The property has been advertised and featured many times on real estate channels with the main attraction point being the impressive celebrity heritage that once dwelled in the home.
Samuel L. Jackson – New York, $13 Million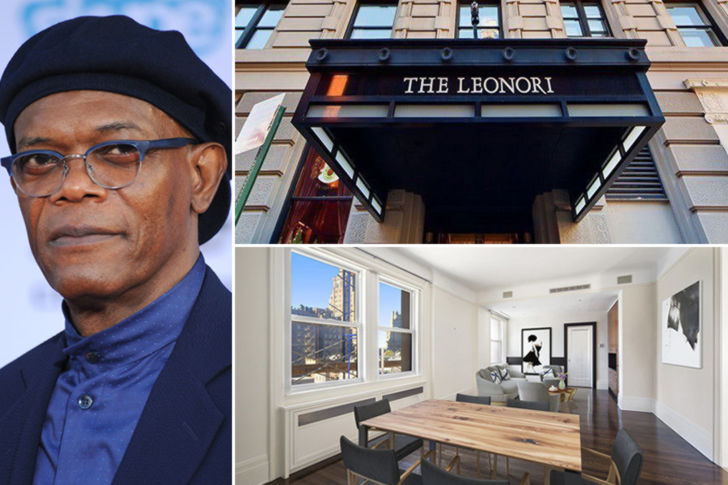 Samuel L. Jackson may be a modest and humble guy, but he surely knows how to live in style. Back in 2005, the veteran actor decided to cash in a handsome $4.8 million payment on this sleek New York City apartment. The actor and his family have lived in the property for quite some time, and so there have been some changes to the property.
Today, this four-bedroom home looks bright and cozy and comes with some elegant features such as glossy hardwood flooring, open-concept dining and living areas, three and a half bathrooms, and a million-dollar view of New York City. Now, the home is valued at around $13 million dollars and is located at a very exclusive neighborhood in Madison Avenue. The actor has an already extensive line of acting credits to his name with appearances in Avengers and Netflix movies giving him the unlimited budget he needs to purchase even more properties.
Sophia Loren – Rome, $22 Million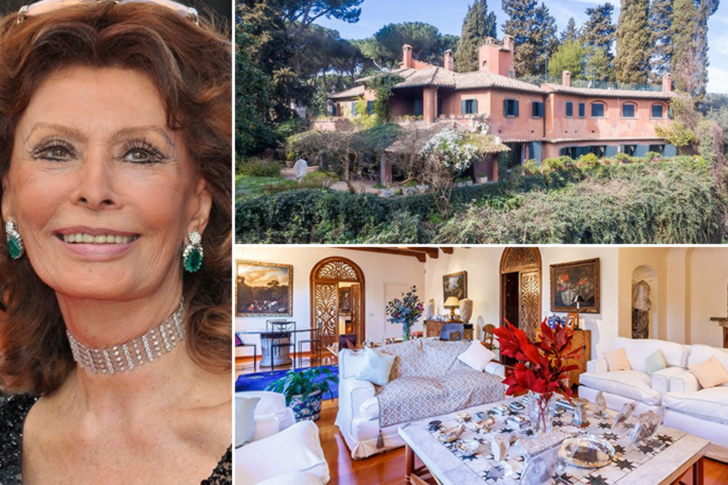 When it comes to pure, elegant taste, only a handful of celebrities come to mind. One of them is most definitely Sophia Loren. The actress, who first rose to fame in the 1960s, was often praised for her beauty and exquisite taste in fashion. That taste also seems to extend to Sophia's choice in real estate. The silver screen siren is known to have lived in this stunning $22 million home in Rome back when she was still raising her children with the late Carlo Ponti Sr.
The home is a beautiful Roman villa which features fifty rooms, five of which are bedrooms, magnificent gardens, and a heated swimming pool just to name a few. The facade of the home is painted a vibrant terracotta red decorated with cascading plants and finished with some brick roofing to tie everything together. Sophia Loren shows exquisite taste in designing the interior of her home but that design language follows through with the exterior as well.
Betty White – California, Undisclosed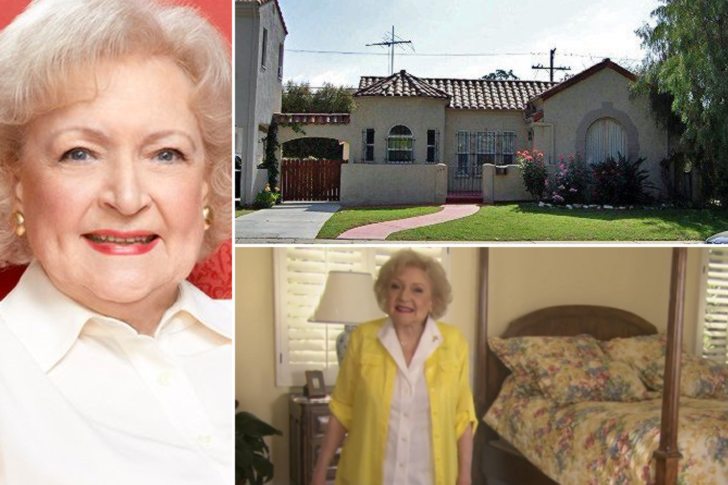 Actress and comedian Betty White is easily one of, if not, the most beloved actress in Hollywood. Even at 98 years old, the actress is showing no signs of slowing down. Although she took a slight step back from acting, Betty is still taking her charm and wits to social media. She is particularly fond of Instagram, where every now and then, she gives updates about her life and even gives fans a glimpse into her private California home.
The actress's charming Spanish-style home is a gorgeous one-story house with hardwood flooring, spacious hallways, a cozy kitchen, a beautiful living room that houses Betty's aquarium, and a well-maintained garden to tie everything together. We may not see much of the actress nowadays, but it certainly is nice to know that she is living her best life tucked away in such a beautiful home. Contentment in isolation and seclusion is one of the things that money can't buy and Betty White has certainly rewarded herself by achieving that with her home.
Cher – Malibu, EST. $45 Million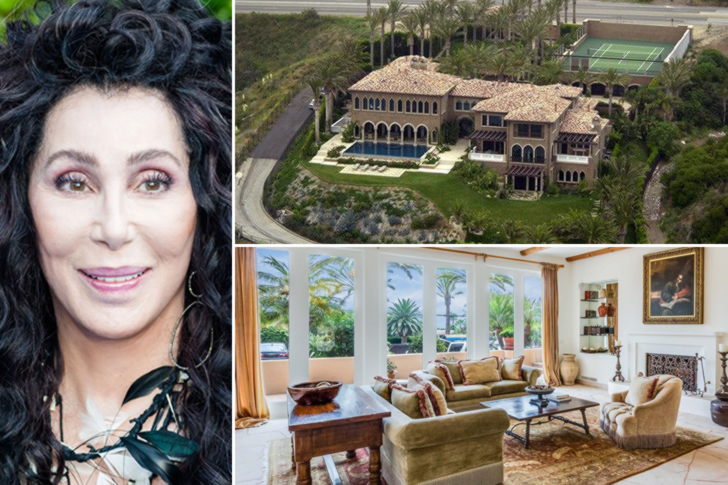 When it comes to fashion, taste, and unique style, there is no one more iconic than Cher. Ever since she broke out into the Hollywood scene, Cher has made waves with both her music and her extravagant style. That sense of style that the singer is best known for has also extended to her taste in real estate, as evidenced by her magnificent $45 million beachfront home in Malibu, California. To be honest, this fine piece of real estate investment is less like a house and more like a palace.
Cher's massive 16,000 square foot property has all kinds of amenities a true Hollywood queen could ask for. For one, each room in the mansion has access to the beautiful ocean view. Aside from the impressive architecture, however, Cher's mansion also showcases some of the most expensive decor pieces like her rugs imported from Egypt, Gothic European chandeliers, stone fireplaces from Mexico, and a medieval tapestry that used to hang in the court of Mary, Queen of Scots. As you can tell, Cher's mansion exceeds the word impressive.
Bruce Willis – Bedford, $12.95 Million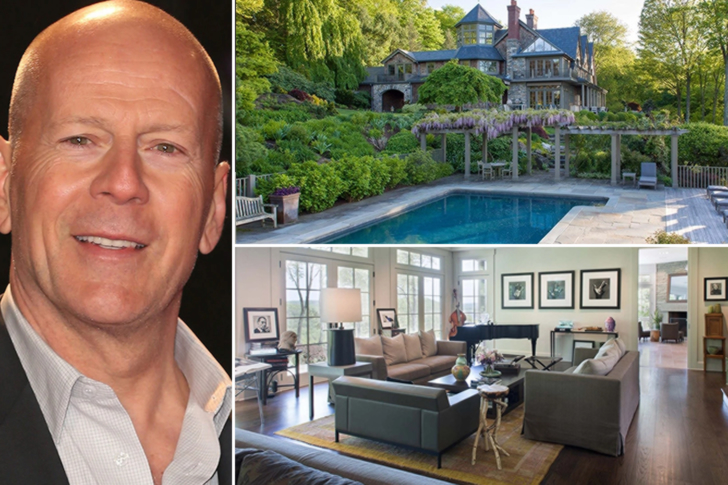 It is easy to say that Bruce Willis is one of the most successful actors in planet Hollywood. Throughout his career, Bruce has starred in some of the most renowned and highest-grossing films. And of course, that type of career comes with a hefty paycheck, and just like his fellow high-earning A-listers, Bruce also likes to spend his cash on some of the finest real estates. Take his Bedford mansion, for example. This massive mansion boasts 8,958 square-feet of interior space built on a 22.5-acre property.
Its amenities include 12 bedrooms in the main house, a pool house, two spacious garages, a tennis court, and a saltwater pool. The interior space is also well designed with its spacious open-concept floor plan, floor-to-ceiling windows, hardwood flooring, and simple yet artsy decor. Bruce's home also comes with a very flashy price tag of about $12.95 million but that comes with all the amenities and functionalities of an even more expensive property so the purchase is quite practical for a celebrity of this caliber.
Kenny Rogers – Atlanta, $2.38 Million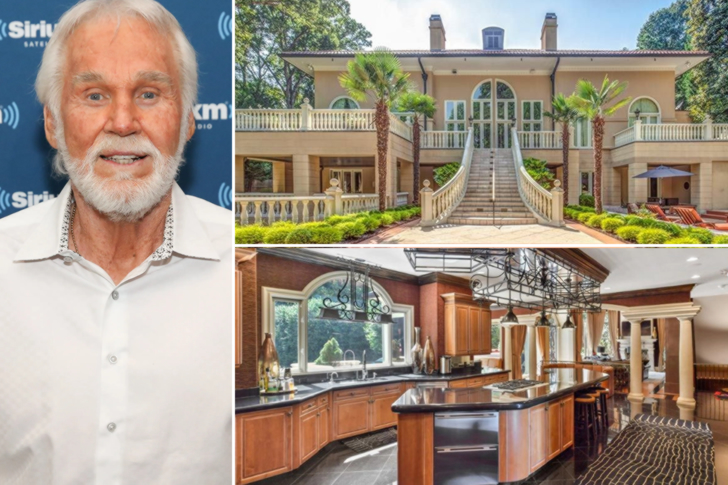 Legendary country singer Kenny Rogers has enjoyed quite a successful career. But apart from being an established singer, Mr. Rogers is also a very accomplished businessman. We're guessing that much of the money he made from being a country singer went into a couple of profitable investments. And with the wealth he acquired from being a multi-million dollar singer and businessman, Kenny bought himself a gorgeous $2.38 million mansion in the city of Atlanta.
The home boasts a lavish Mediterranean-inspired facade with a grand staircase situated right in the middle of the singer's entryway. The grandiose design continues as you step inside Kenny's glass double doors and into his opulent foyer. The interior of the house exudes a very old-world charm with its high coffered ceilings, intricate wood trimmings, floor-to-ceiling glass doors, and marble floors. Investment comes in many forms but real estate seems to be something that the former country singer places his time and effort during retirement.
Troy Aikman – Texas, $24 Million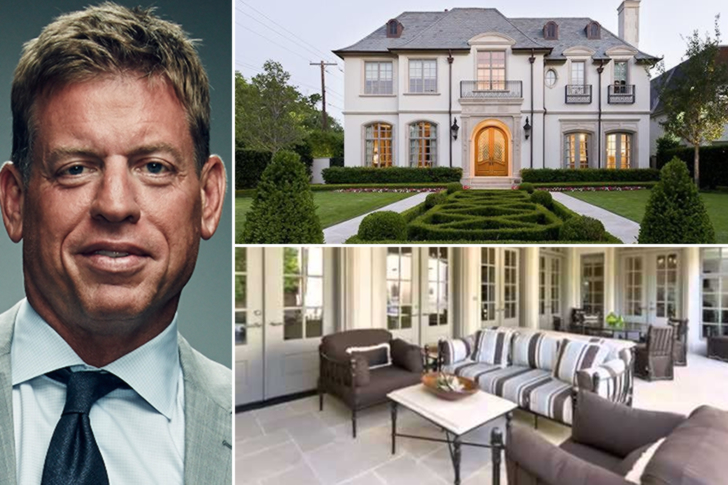 When it comes to lavish purchases, former American football star Troy Aikman surely knows where to spend his investment money. The former Cowboys quarterback is now living a very comfortable life tucked away in his lavish homes. One of which is this $24 million mansion that Troy used to call home in Dallas, Texas. This beautiful property came to Troy's possession after he retired from football in the year 2000.
It's a sprawling 10,000 square feet mega-mansion sitting in a 1-acre property and is equipped with amenities like a basketball court, a heated swimming pool, a large garden for, a spacious patio for entertaining guests, and a nearby creek should anyone want to relax while being surrounded by nature. Overall, the property is a gorgeous piece of real estate. Too bad the former quarterback has decided to sell it.
Loni Anderson – Sherman Oaks, $2.4 Million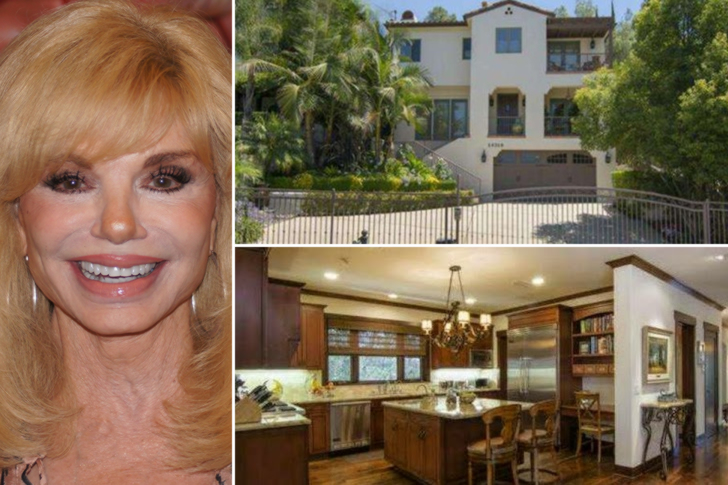 Loni Anderson is an American actress who gained prominence in the '70s and '80s for her performance in the show called WKRP in Cincinnati. As a result of her hard work and talent, Loni was able to earn a coveted Golden Globe nomination for her performance as Jennifer Marlowe on the show. Although she was unable to take home any award, Loni's career still flourished, and her investments grew along with it.
With the fortune that she made from the industry, Loni was able to purchase this $2.4 million home in the exclusive neighborhood of Sherman Oaks, California. The Spanish-style mansion comes with five bedrooms, three fireplaces, a beautiful front garden, and a spacious kitchen. However, despite the gorgeous features of the home, Loni decided to list the property back on the market in 2014. The property is one of the few gems on the market today that is coveted by many fans and real estate businesses alike.
Dolly Parton – Nashville, $1.2 Million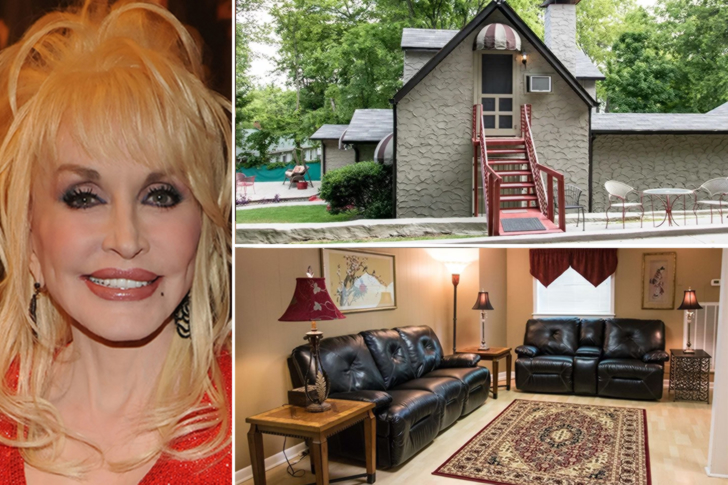 If you are a fan of American country music, then it is highly unlikely that you haven't heard or caught a whiff of Dolly Parton. She is among the most iconic female artists to have emerged from the genre. Her song Will Always Love You, which was later remade by singer Whitney Houston, shot Dolly Parton into country music superstardom. As Dolly's career grew, her investment portfolio grew along with it.
And one of Dolly's most precious purchases would have to be her $1.2 million Nashville estate that the legendary singer called home for 16 years. The singer's home exudes an all-American charm and is situated in the middle of a large, wooded patch of property. The singer has since sold her home, but we are sure its next owner will have just as much fun in the house as the singer did and will appreciate the heritage and legacy that's left in the house.
Eddie Murphy – Beverly Hills, $48 Million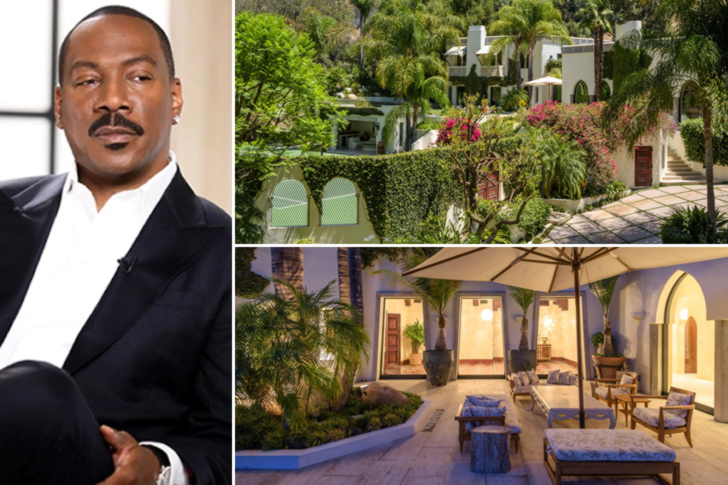 With Eddie Murphy's fortune, we're sure he has multiple real estate investments scattered all over the world. However, one property that stands out from his portfolio is this $48 million mansion located in the famous Beverly Hills. The gorgeous property boasts a Moroccan inspired estate situated within a 14-acre lot. Some of its most impressive features include a sunken tennis court pavilion, a lavish swimming pool, well-manicured gardens, and equestrian facilities.
Aside from its impressive architecture and amenities, the house also boasts and a list of well-known former owners, including the iconic Cher. The property has since been listed by Eddie and his family on the market, but whoever gets to call this property home next will surely enjoy some serious luxury! The home is unlike any other because of the influence and design language that Eddie Murphy has left into the walls of the residence. People often underestimate celebrity homes but this property is one to look out for.
Britney Spears – California, $9 Million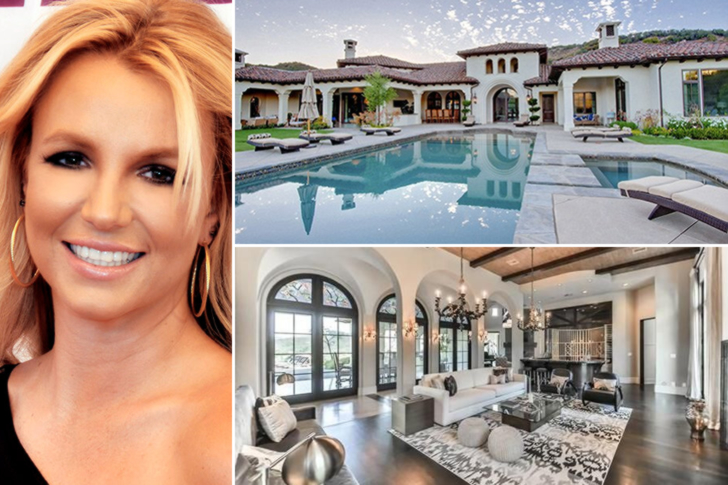 After years and years of being in the public eye, Britney Spears has now decided to keep a lower profile and spend most of her time indoors. Luckily for her, she has had a remarkably successful career and is now able to afford a comfortable life nestled in a $9 million mansion. The popstar's property is a 13,000 square feet Italian-inspired villa located in California. It has a total of ten bedrooms, thirteen bathrooms, a tennis court, and a lavish swimming pool.
The interior of the house is quite modern with it's sleek and simple furniture and light-colored walls accented by rustic features like exposed wooden beams and industrial-style fireplaces. The house is indeed very impressive, and we are sure it comes with equally hefty house insurance. The house is still quite modern despite its age and with the impressive upgrades that the singer made over the years, it will only appreciate.
OJ Simpson – California, $1.8 Million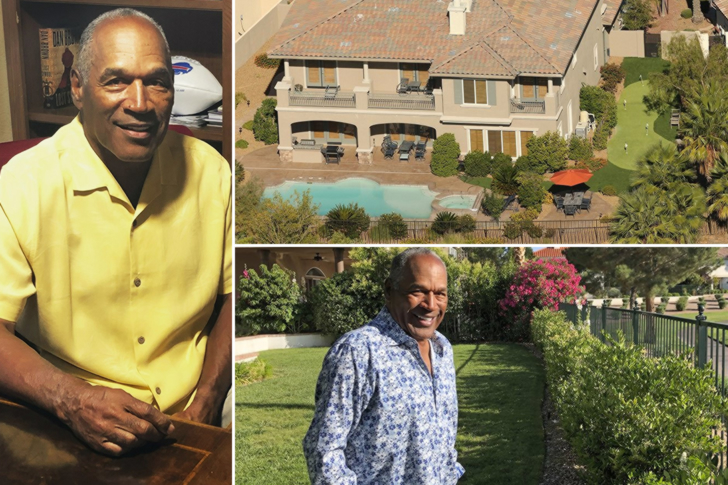 After spending years away from the hustle and bustle of celebrity life, OJ Simpson is back in the outside world and living quite a comfortable life. The former NFL superstar is now residing in Las Vegas, comfortably tucked in this $1.8 million home. Although it is not as flashy as other celebrity homes, it's still quite lovely and charming. O.J.'s new home is a charming 5,000 square feet apartment in Nevada, which has its own mini-golf course, five bedrooms, five and a half bathrooms, manicured gardens, and security systems.
The former NFL star is currently unemployed but is luckily being supported by his pension funds coming from the NFL organization and Screen Actors Guild. Who knows, maybe one of these days, O.J. might start his own business to live the same life he once had. He might even be able to afford a bigger and more beautiful house if he wishes to start a new source of income for himself.
Sam Elliot – Malibu, Undisclosed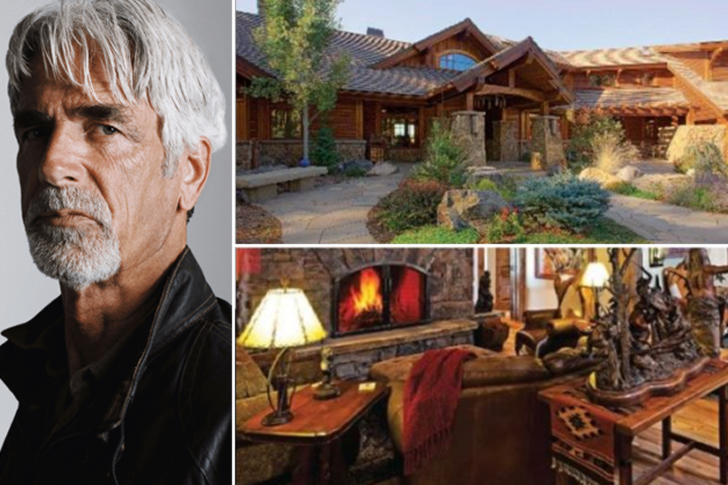 Sam Elliot is among Hollywood's most colorful yet most private figures. He first shot to Hollywood superstardom when he was cast to be a part of the drama film Lifeguard. Since then, Sam went on to star in various successful films and was able to score multiple nominations at the Academy, Golden Globe, and Emmy Awards. Today the actor is keeping a lower profile while tucked away in his Malibu home.
Since the actor is relatively private about his personal affairs, not much is known about his home and life behind the cameras. However, we do know that his property in Malibu is a ranch-style property that is perfect for relaxation and unwinding. We are also certain that the property has some serious home insurance attached to it. It can be seen from the photos and videos provided by media sources that the home is modernized to fit the needs of present security issues and protocols.
Will Smith – California, $42 Million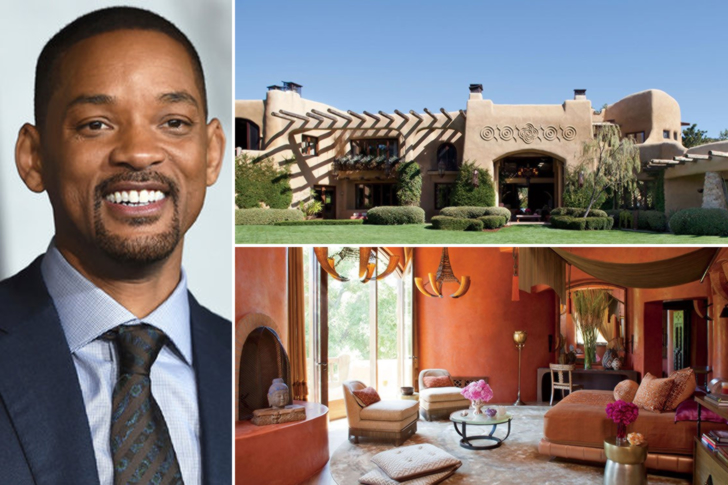 It is no secret in Hollywood that when it comes to building their own homes, Will Smith and his wife Jayda went all out. Aside from being successful actors, the pair is also notorious for being extravagant homeowners. Just look at this $42 million property that the couple bought and built their house on in the star-studded neighborhood of Calabassas. The home became an icon on its own because of its adobe-style architecture, which is basically unheard of in the Hollywood real estate community.
Will's 25,000 square feet mansion, which sits on a 150-acre lot, has nine bedrooms, a recording studio, a meditation lounge, and a system of tunnels that connects all nine bedrooms. You'll also find several sports facilities on the property, including a tennis court, a volleyball court, a basketball court, and a large swimming pool. You really must have a great credit score to afford a property like this and maintain its beauty on a level comparable to a brand new home.
Celine Dion – Florida, $65 Million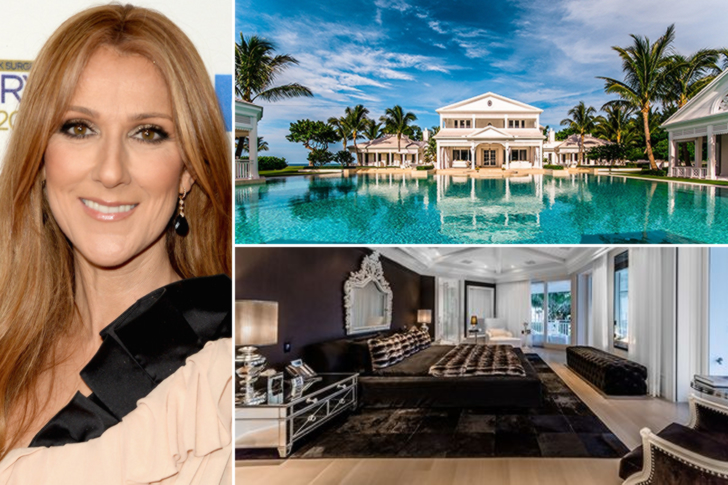 When talking about grand celebrity properties, there is no way that anyone would miss mentioning Celine Dion's name. On top of being a Grammy-award winning singer, Celine is also known to have one of the outrageously lavish properties in Jupiter Island, Florida. The property has managed to gain a fan-base of its own thanks to the massive water park the singer had built within the property.
But aside from the infamous water park, the property also has a roster of celebrity-grade amenities including a tennis court, two swimming pools, a sprawling garden, a private theater, a jaw-dropping walk-in closet with light wood flooring, massive living areas with floor to ceiling glass windows, and finally, a breathtaking view of the Atlantic Ocean. However, despite the seemingly endless lavish features, Celine has decided to sell the property for the jaw-dropping price of $65 million. The house is indeed a marvel to look at and the singer has kept the level of elegance and sophistication she's known for apparent in the aesthetics of the home.
Jay Leno – Rhode Island, $13.5 Million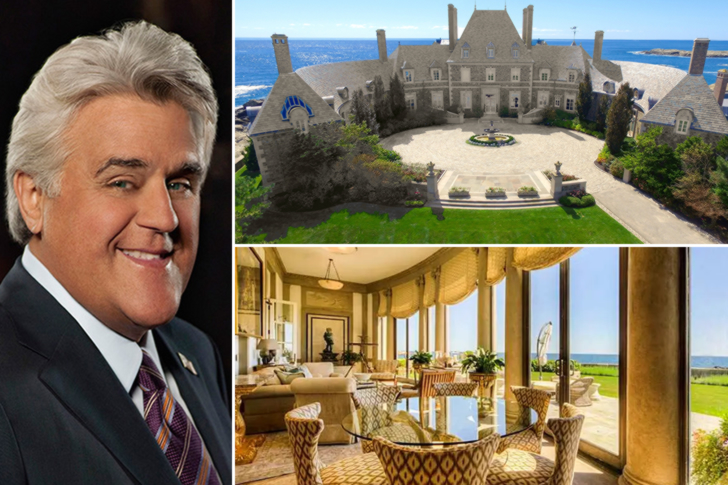 After years of rubbing elbows with some of Hollywood's biggest names, late-night television show host Jay Leno has turned into a respected A-list celebrity himself. And we all know that an A-list status comes with a hefty paycheck as well— good thing Jay Leno knows exactly where to put his investment money in. Today, the veteran host is the proud owner of this opulent $13.5 million mansion located just right above the shores of Rhode Island.
The huge oceanfront mansion was originally built in 1930 and is appropriately named the Seafair Estate. The crescent-shaped mansion has a massive interior living space of about 15,000 square feet and is highly reminiscent of American old-money grandeur. Inside, it has a total of 12 bedrooms, 12 full baths, three half baths, and grand entertainment rooms with floor-to-ceiling glass windows and doors. On the outside, Leno and his guests can enjoy other luxe amenities such as a carriage house, a tennis court, an oceanfront swimming pool, and manicured gardens.
Nancy Sinatra – Beverly Hills, $5.3 Million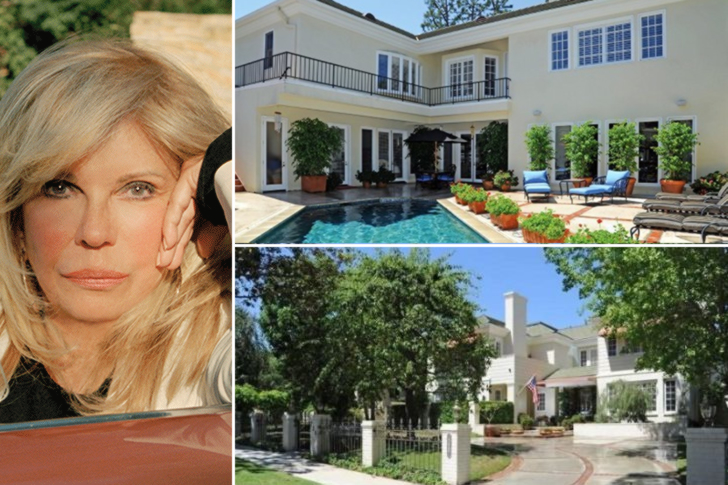 Nancy Sinatra may have had her start in the industry walking behind the shadows of her famous father, Frank, but the singer/musician never gave up on her path of making a name for herself. Later on, Nancy became prominent in Hollywood after her song These Boots Are Made For Walkin' became a hit. Since then, the singer has enjoyed quite several successes in the industry. After enjoying a taste of stardom, Nancy, later, decided to continue the Hollywood celebrity tradition of buying a lavish home.
And for quite some time, this $5.3 million mansion in Beverly Hills became Nancy's home. The home is a classic American mansion with five bedrooms, grand entertainment areas built with high ceilings, a bar lounge, a spacious kitchen with tile flooring, and elegant fireplaces. The rustic environment and unbelievable entertainment areas make for one impressive first impression as you tour around the residence. Credit limit and credit score seem to be nothing but trivial matters for the singer.
Warren Beatty – Beverly Hills, $7 MILLION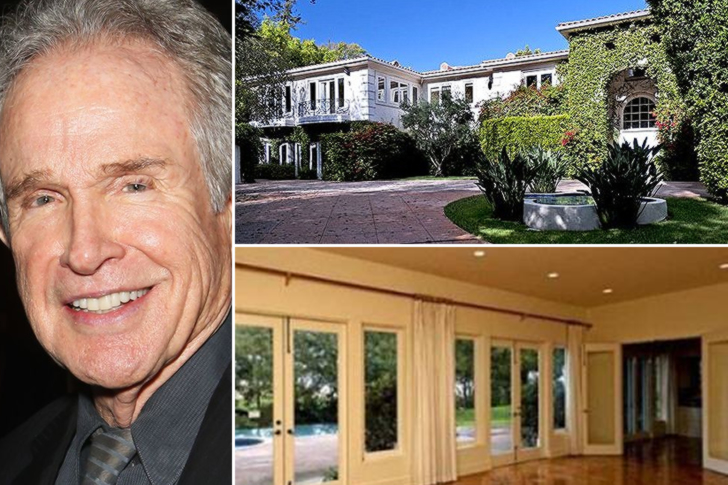 Warren Beatty and his wife Annette Benning have been notorious for being one of the rare couples in Hollywood that have been together for more than 20 years. During those years, the two have made countless priceless memories in their $7 million home located in an affluent neighborhood in Beverly Hills. But after spending years in this massive mansion, the two have decided to put it back on the market.
Whoever gets the chance to get his/her hands on this mansion will surely enjoy a variety of celebrity-grade amenities, including a large outdoor swimming pool, grand entertainment rooms with sky-high ceilings, a massive backyard covered with lush trees, spacious closets for your designer items, and lots more. This Mediterranean-style chateau is certainly worth the investment as it even comes with its own forest outback. People viewing the home for the first time would be enamored by the abundance of greenery and nature.
Tiger Woods – Florida, $60 Million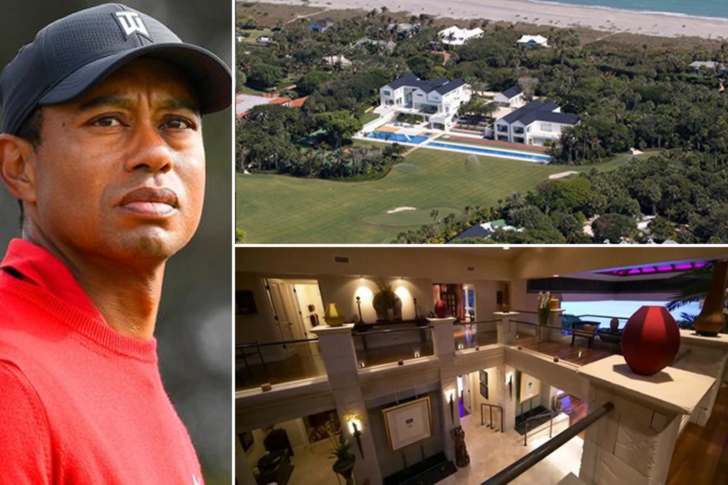 When it comes to achieving his perfect home, pro-athlete Tiger Woods spent years trying to turn it into reality. The beachfront property was initially purchased by Woods in the early 2000s, but it was not until 2010 that the pro-athlete moved into it. Before settling into the property, Tiger had the whole property renovated to fit all the amenities he wanted. Now, the property is worth $60 million and has a sprawling personal golf course that allows Tiger to practice his skills in the comfort and privacy of his own home.
But other than the impressive golf course that lies outside, the property also houses Tiger's massive mansion, which includes s 3,000 square feet living area and another 6,400 square feet "multi-purpose" building. How many celebrities can actually say that their homes have multi-purpose buildings? Not a lot. Other features include a 100 feet swimming pool, a cinema, a wine cellar, and a state-of-the-art security system to keep Tiger and his family safe. An investment is truly a great example of strategic decision-making skills and intelligent assessment.
Judd Hirsch – Studio City, $1.5 Million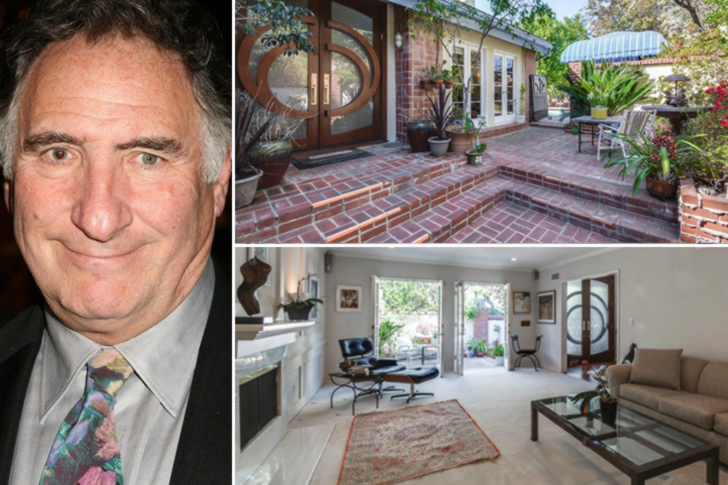 Actor Judd Hirsch landed himself a worthy investment when he bought this charming $1.5 million home in Studio City, California. The actor who is known for his roles in the films Taxi, Numb3rs, and Dear John grew up in New York City but later moved to Los Angeles to pursue better acting opportunities. Now he is the proud owner of this 2-story house perched on the hills of Studio City.
Although there isn't much space along the entryway of the house, its doors do open to a much more spacious and cozier interior. Inside Judd's house, you'll see a couple of lovely features, including two bedrooms, a high ceiling above the main foyer, and spacious living and dining areas all spread out across the house's 2,400 square feet interior space. The house may not be as spacious as other homes but the level of detail on the interior speaks volumes about the actor's taste in modern living.
Julie Andrews – London, $32.6 Million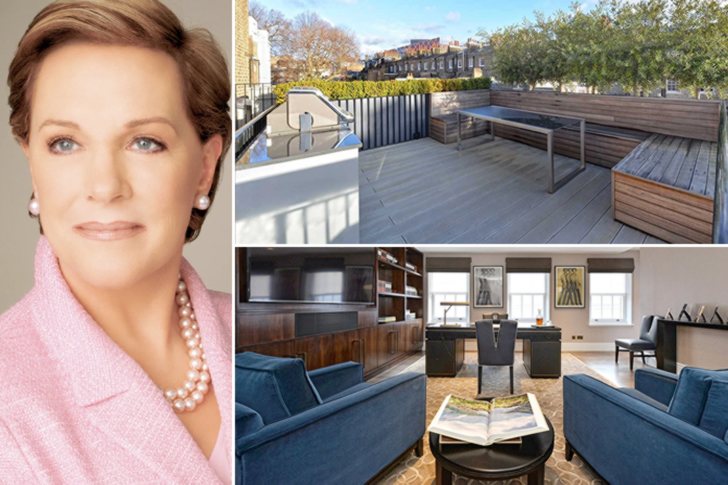 Whether you know Julie Andrews from her iconic portrayal of the magical Mary Poppins or the empowered Queen of Genova, it's clear that the British actress is a Hollywood icon. And because of her enduring fame and influence, she was able to establish a financially successful career for herself. As a result, Julie is now enjoying a very impressive investment portfolio, which used to include this $32.6 million townhouse in London.
The luxurious multi-story townhouse is in the prestigious neighborhood of Chester Square in London's Belgravia and was home to the actress back in the 70s. Today, this six-bedroom London apartment has a more chic and modern look to it in addition to its many amenities like a personal lift, gym, spa, cinema, and a separate mews house, which could be used to house some staff or a guest house. There are a lot of upgrade paths available for the home and Julie Andrews only needs to pick which one she wants to do first.
Elvis Presley – Memphis, $940,000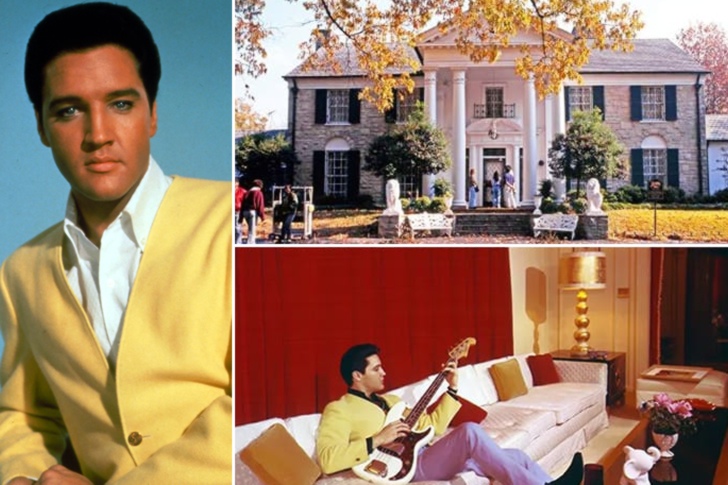 The music industry we know and love today would not have been the same if not for musicians like Elvis Presley. The King of Rock, as he was so rightly dubbed, has undoubtedly helped shape the musical landscape, and throughout his journey of making musical history, he has also acquired a massive fortune and an impressive portfolio of real estate investments. Among those investments that Elvis made is his Memphis home, which is now more popularly known as Graceland.
The home has now been converted into a museum and houses some of the King of Rock's memorabilia. The musician purchased the 1930s property back in 1957 for an estimated amount of around $102,500, which would translate to about $940,000 in today's money. The King of Rock must have had such great memories in this house, which would explain why this particular property was chosen to become his own museum. There wouldn't be a definite price tag on the legendary singer's house as it contains too much memorabilia and legacy to be sold.
Kelly Ripa – New York, $27 Million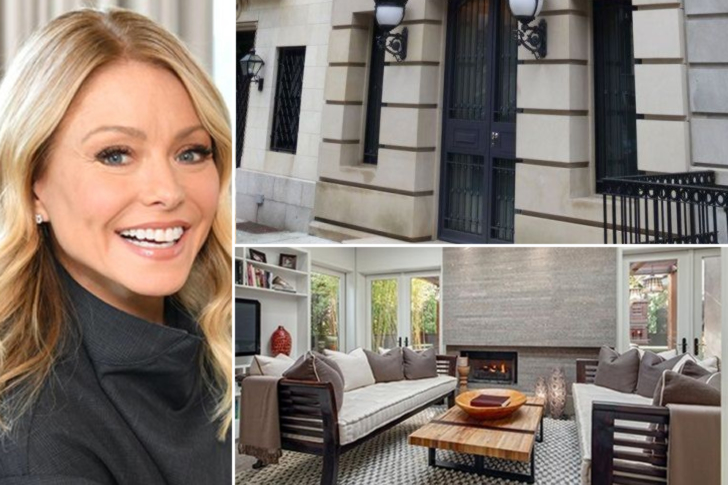 Kelly Ripa is one busy woman. The actress turned T.V. show host spends a lot of time working and traveling between the East and West coast, so as a way to take off some degree of the burden, Kelly sought out for a home on each coast. And it certainly seems like the former actress did not hold back.
Just take a look at her New York City home, which the T.V. host purchased for a staggering price of $27 million. The home is a spacious 7,796 square feet townhouse located along East 26th street. It was originally built in 1882 and had a total of five bedrooms, six baths, and has large living and entertainment spaces. Other lavish amenities include an elevator, a rooftop garden, and two fireplaces for when it gets a little chilly in the winter. It certainly is a worthy investment!
Tucker Carlson – Washington, $2.4 Million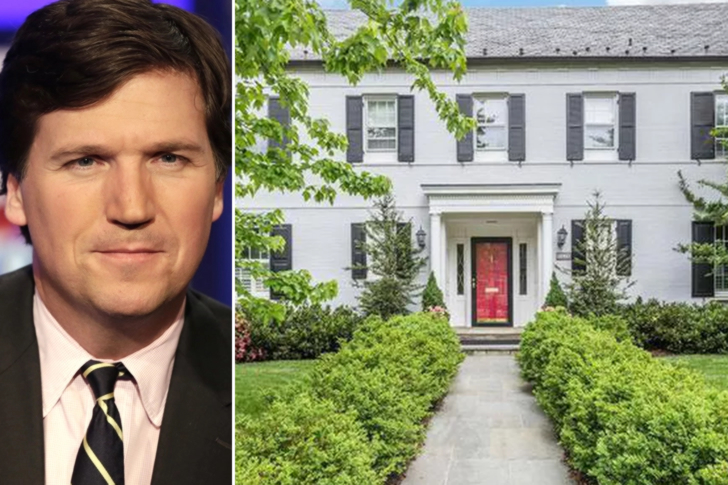 Veteran broadcaster and political commentator Tucker Carlson has had quite a time being in the spotlight. Although the broadcaster has had some challenges with his stance recently, one thing is for certain: Tucker Carlson is one rich man. Just have a look at his $2.4 million in Washington, D.C.
If you are aware of the real estate rates in the state of Washington, then you would know that it is not the most affordable place in the United States. So for Tucker to lay down his roots on the Nation's Capital means that he is one loaded man. And to give a little more information about his home, it has seven bedrooms, six baths, a four-car garage, and a spacious kitchen and dining finished with wood floorings. It may be massive, but it rightly fits for Tucker's family of six.
Ellie Goulding – London, $7.3 Million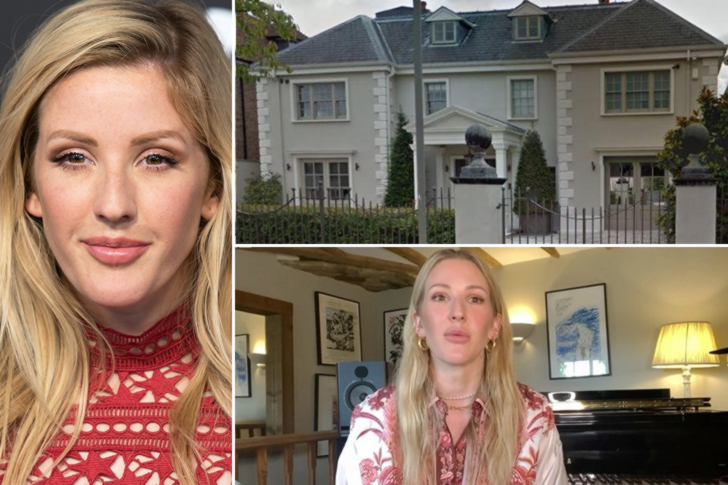 British singer and songwriter Ellie Goulding has enjoyed massive success when it comes to her music career. Since starting her career in 2009, Ellie has gone on to earn several awards and nominations and has had several sold-out concerts around the globe. The singer's unique image has also attracted a number of endorsements, which are worth a fortune.
And with the amount of success she's experienced, it only fits the British singer to drop a good amount of investment money to feel like a star truly. She did so by purchasing this lovely $7.3 million mansion in London. The house has a total of six bedrooms, a gym, two spacious lounges to entertain guests, and an indoor swimming pool, of course! Currently, the singer lives in her home with her husband, Caspar Jopling. I don't doubt for a second the couple will fill his gorgeous home with happy memories as they build their family.
Taylor Swift – Rhode Island, $17 Million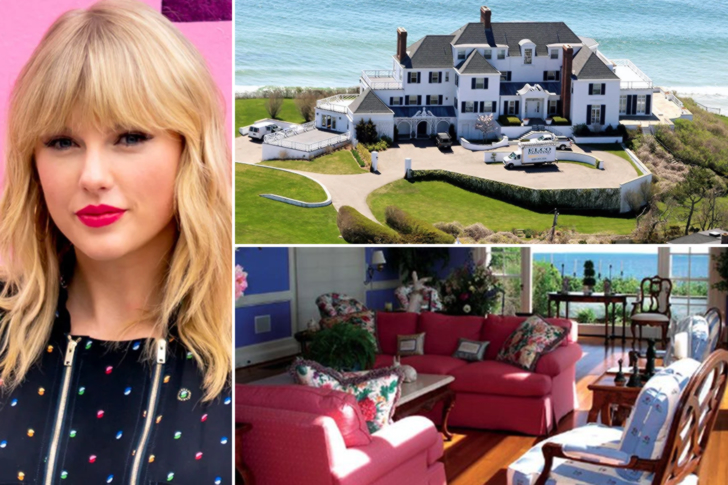 When it comes to modern-day pop music, there are no bigger names than that of Taylor Swift. Although the beginning of her career was marked with a slew of controversies and unwanted attention, Taylor managed to pull through and emerge as one of the biggest and most influential figures in music history. Since Taylor faced tons of unwanted attention from the media at the beginning, she needed an extra-comfortable place to relax her mind, and there's nothing more comfortable than her $17 million estate located in Rhode Island.
The mansion was once home to one of America's richest oil tycoon, William Hale Harkness. The home is nicknamed Holiday House and is the most expensive property in Taylor's Rhode Island neighborhood. Taylor seems to be so enamored with this particular piece of property that just this 2020 she made a song narrating the rich history of her Rhode Island estate. What a way to celebrate a piece of investment.
Dennis Rodman – Orange County, $2.35 Million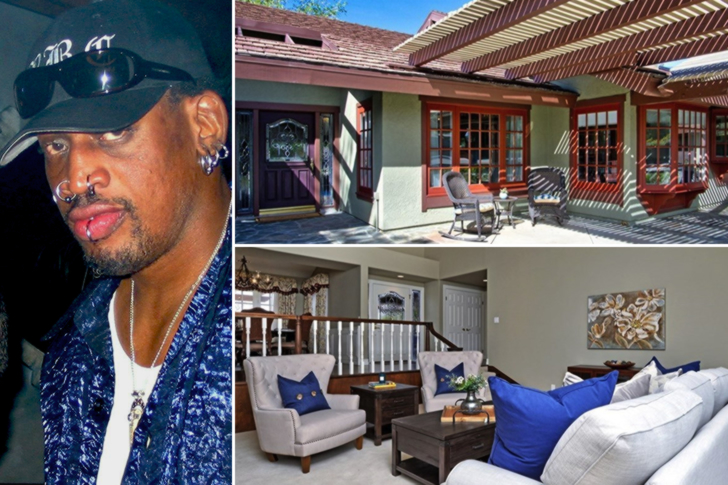 Dennis Rodman is certainly a force to be reckoned with. Because of his talent on the court, the former Chicago Bulls forward earned a spot in the prestigious NBA Hall of Fame. However, Dennis has decided to put his basketball days behind him to focus on other endeavors, including expanding his investment portfolio. One of Dennis' properties includes this 5,000-square-foot ranch-style home that the former NBA star bought in Orange County.
This five-bedroom four-baths house came with a flashy price tag of $2.35 million. But if you're a basketball legend like Dennis, it's a small price to pay. Some other amenities that come with the home includes a game/pool room, a wide kitchen with granite-finished countertops, and a master suite. Now that Rodman is retired and can no longer rely on his lucrative professional basketball career, we hope he gets the hang of the real estate market soon.
Steve Harvey – California, $165 Million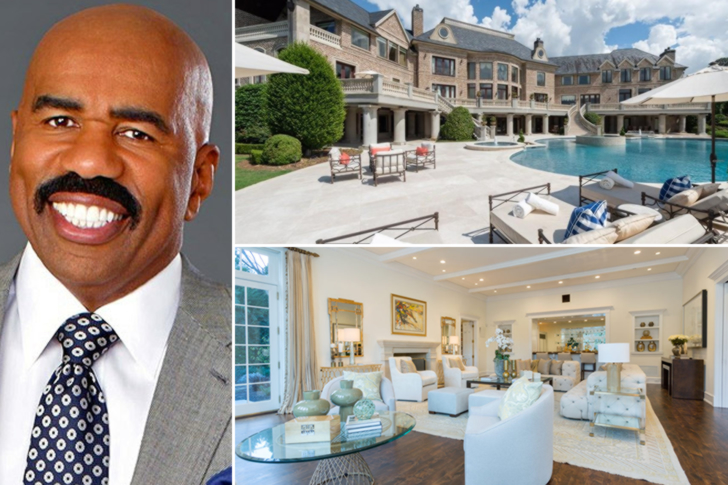 Steve Harvey is most certainly one of the funniest men on the face of the earth. His effortless humor and hilarious facial expressions have always succeeded in making his audiences laugh. So it comes as no surprise that the comedian has made quite a career out of tickling our funny bones. Now, Steve is worth millions of dollars and is notorious for splurging his cash on some of the most extravagant real estate properties on the market.
An example of Steve's lavish purchase would have to be this $165 million mansion that he bought in California. The price alone is enough to leave most of us in shock but wait until you see what Steve's posh investment has to offer. For starters, the house itself stretches to about 11,000 square feet and houses five bedrooms, eight bathrooms, a chef's kitchen, a library, and a maid's quarters. Despite its size, the home is actually quite serene with minimalistic features and white-colored walls. Steve can surely relax here after a long day's work.
Prince Harry And Meghan Markle – Vancouver Island, $14 Million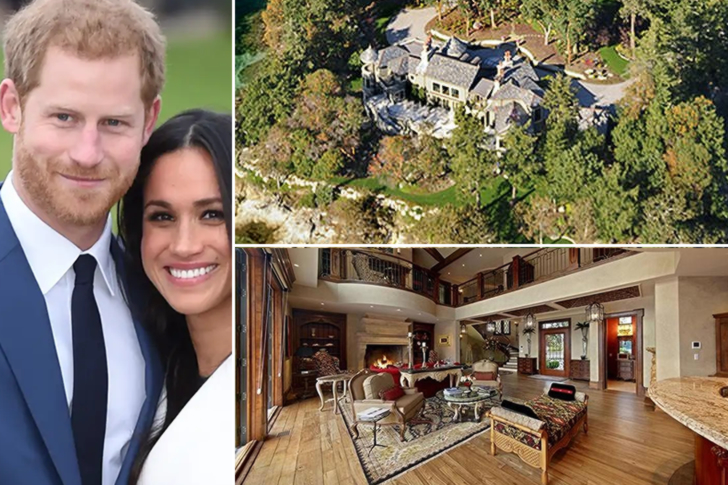 It's no secret that Prince Harry and Meghan Markle's decision to leave the monarchy caused quite a stir in the British social scene. However, although the two have since stopped carrying out royal duties, they are still living quite a lavish and comfortable life tucked away in this $14 million mansion in Vancouver Island, Canada. Although the mansion is not an official palace, it might as well be with its size and luxe amenities.
According to reports, the house that the Sussex's purchased has several bedrooms, a 17th-century French fireplace, a library, and a grand living room with floor-to-ceiling windows that spill into their massive backyard. Not only that, but the royals also get to enjoy a gorgeous view of the lake sitting just right outside their back door. Say what you will, but the Sussex's sure knows where to put their investment money.
Pat Sajak – California, $750,000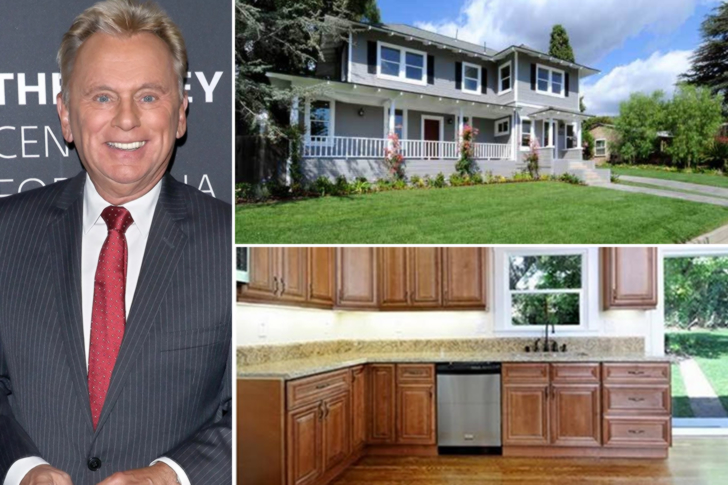 Long time host of the hit game show Wheel of Fortune Pat Sajak has clearly struck gold on and off the screen. He probably did not expect to achieve so much success when he began his career, but he is now enjoying more than just a fruitful career. Pat sajak has accumulated a huge amout of net worth from his career.
Pat is also indulging in a very comfortable lifestyle courtesy of the massive fortune he earned from being in Hollywood. Early on in his career, Pat bought this $750,000 home in Glendale, California, with his former wife, Sherill. It is a worthy investment. However, the two have since sold the property but have certainly created some unforgettable memories there together. Now that they've gone their separate ways, it's easy to assume that Pat is now living in a much more lavish piece of real estate.
Keira Knightley – New York, $6 Million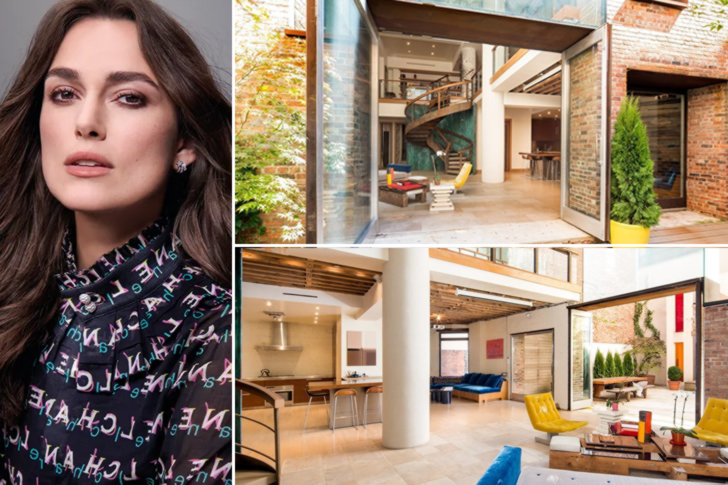 Keira Knightley Is a British actress who has been nominated for an Academy Award and a Golden Globe award, proving time and time again that her acting prowess is not to be underestimated. Because of this, she has now evolved into one of the most recognizable faces in the industry. And when you are one of Hollywood's biggest stars, you should surely live like one, which is exactly what Keira did when she bought her $6 million home at the heart of Manhattan in New York City.
Keira's pad can be described as a modern-contemporary apartment with '70s-inspired interior decorations. The home's features include a 23-foot high ceiling, hardwood flooring, exposed brick walls, and 900 square feet patio. Sad to say, though that the actress has sold the property. However, we're sure the actress is now living in a much more lavish property.
Billy Joel – Florida, $35 Million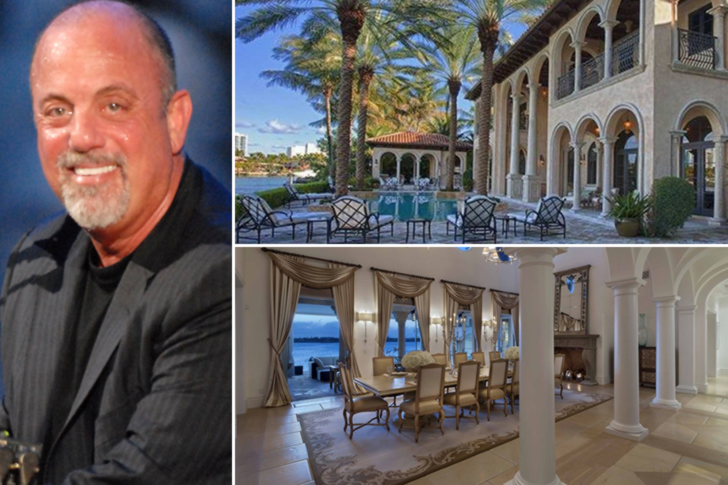 Since the 1970s, Bill Joel has enjoyed commercial success as a solo artist. He may have laid a little low in recent years but not before he got his hands on some of the most beautiful properties. Because the singer was able to build a successful career for himself, and after spending five decades in Hollywood, he is now able to live comfortably in one of his many homes. Like this $35 million mansion that he bought in Florida.
The massive mansion is located right at Miami Beach and has, therefore, unlimited access to the beach. This beachfront property features some awesome amenities like a wine cellar, a swimming pool, and his own dock. Inside, the house looks equally stunning with its grand living area with high-ceiling, hardwood floors, and furnished with European-style furniture. This property is surely proof that Billy Joel knows how to spend his investment money well.
John Travolta – Florida, $12 Million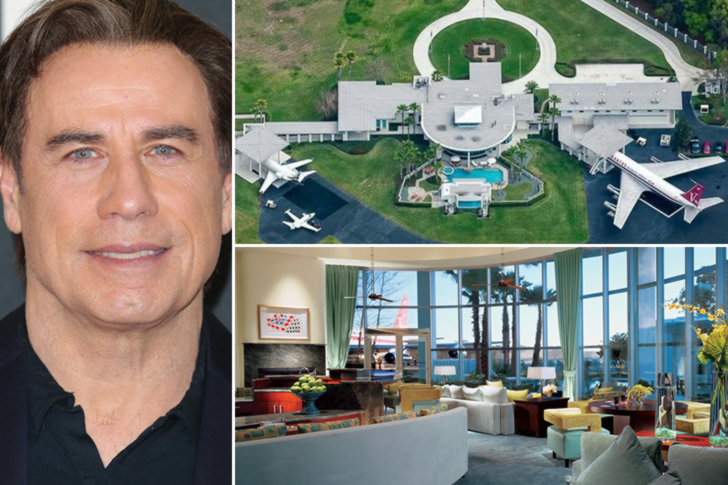 In this day and age, everyone has probably heard of John Travolta. The actor and singer has built a very solid foundation for his career that he has basically evolved into a household name. Today, however, the actor has been a little bit quieter when it comes to Hollywood gigs, so we can assure you that John is having a very relaxing time in the comforts of his $12 million home in Florida.
If you think you've already seen the best of the best when it comes to celebrity homes, prepare to drop your jaws with John's estate. Not only does the estate span a whopping 550 acres, but it also has its own airport with an airplane hangar! It honestly does not get any cooler than that. But wait, there's more! In the middle of his estate lies his massive mansion, and around it, you'll find John's own golf course and several swimming pools. I wonder if I'll be able to afford an investment like that. I would sure be nice.
Sean Connery – Bahamas, $12.5 Million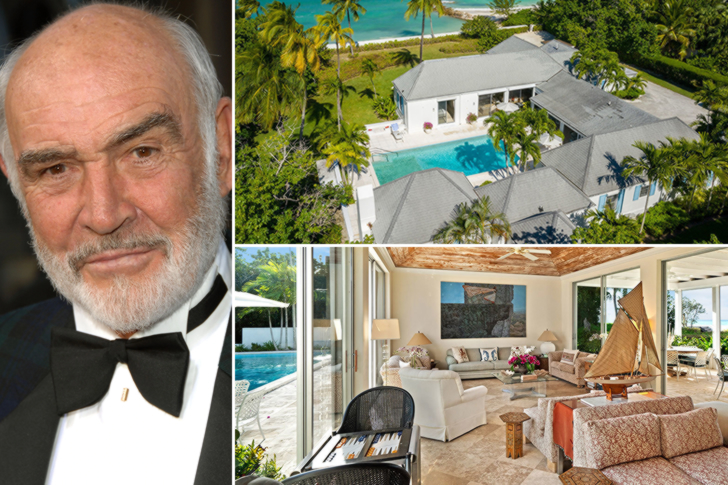 When you have had a massively successful career as an actor, wouldn't it be nice to spend your retirement years tucked away in your very own private paradise somewhere in the Bahamas? Well, that's what British actor Sean Connery did exactly. His role as James Bond is a classic.
The actor purchased this $12.5 million property investment in a secluded lane at the foot of Lyford Cay in the Bahamas and has been living on and off in it for the past few decades that he has owned the place. The house was initially built in 1969 and has since seen some renovations to update the home's look and amenities. Today, the British actor's home features some very lavish amenities, including a private pool for when he's not in the mood to take a dip into the Mediterranean waters fronting his house.
William Shatner – Studio City, $3 Million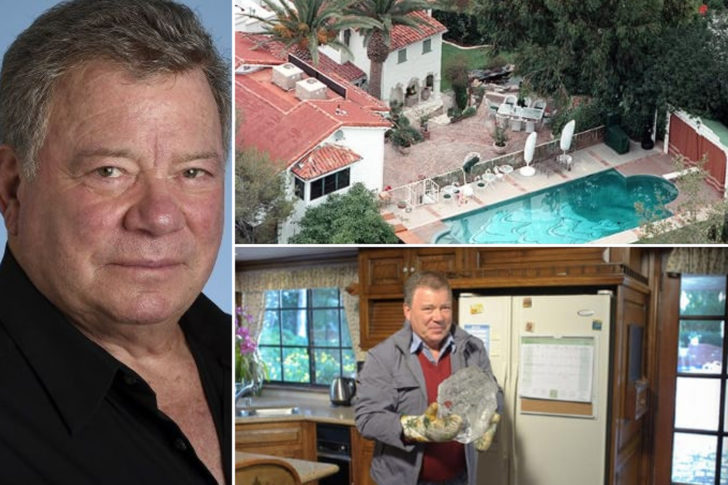 You may recognize William Shatner ,an outstanding Canadian actor, from many different roles and films, but one role that would probably stand out is the one where the actor played Captain Kirk in the show Star Trek. The role has surely rocketed William's career, and since then, he has proven himself to be one of the most talented and bankable actors in Hollywood.
Because of his success in Hollywood, William is now able to afford extravagant investments like this $3 million home in Studio City, California. William's home is a classic Spanish-style home complete with white-painted exterior walls and brick-red roofing. The house measures to about 4,000 square feet and has a rather cozy interior. It was rumored that the actor faced some challenges that might have caused him to sell the property, but thankfully he was able to pull through.
Richard Chamberlain – Maui, $13 Million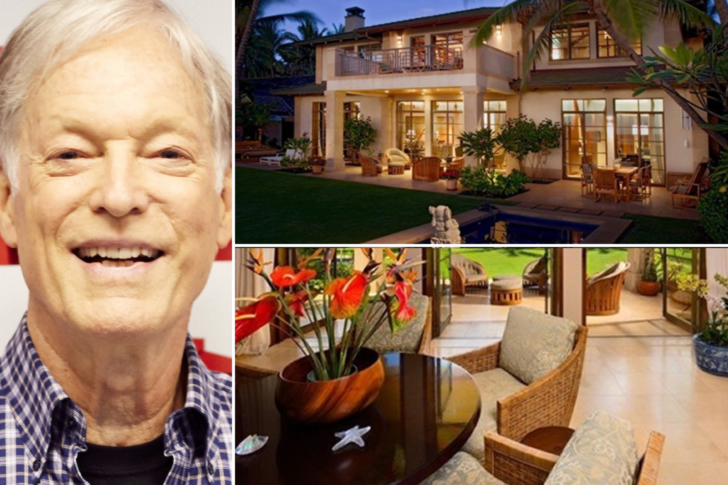 If you are looking to find a paradise home in the United States, there is no better location to look for one than in Hawaii. And that is what actor Richard Chamberlain exactly did when he went to find a home in the Pacific. As expected, the property is located right across the beach and has a breathtaking view of the Pacific. It's a lavishly designed tropical home with intricate wood details, marble flooring, and huge glass windows to allow as much sunlight as possible.
You wouldn't want to live in the dark in the tropics now, would you? The home is also surrounded by lush greenery and well-manicured gardens that feature beautiful exotic plants. However, the actor sold the property back in 2010 for a hefty price tag of $13 million. It's a shame that he let go of this gorgeous home, but we're sure he made a much more worthy investment with the money he made.
Maggie Smith – Byfleet, $7.7 Million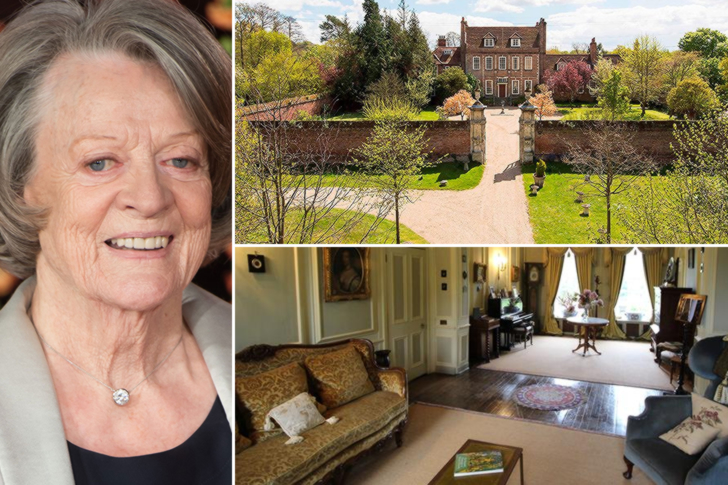 If Queen Elizabeth II is the Queen of Great Britain, then Maggie Smith shall be the Queen of British cinema. For more than 60 years since she performed her first movie in 1952, she is still active in the film industry and is regarded as one of the most outstanding British actors. And when you are royalty, it only fits that you live in a gorgeous palace.
Luckily for Maggie Smith, she was able to purchase her own lovely palace for the handsome price of $7.7 million. Although many people will argue that the Byfleet Manor is a little bit outdated, the truth is that it's actually quite regal since it has maintained its old Victorian-style architecture and interior design. The English actress has since sold the property, but we're sure she moved on to a better and far more elegant investment. Maybe one of these days, we'll see her name again with a far grander home.
Alan Jackson – Franklin, $28 Million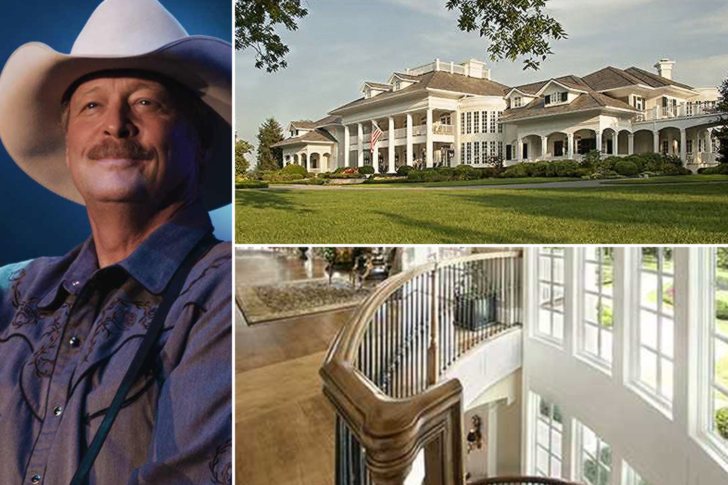 When you are as big of a celebrity as Alan Jackson, you'll probably have countless ideas as to where you'll spend your investment money. That would probably also include a house. And when it comes to real estate, the country crooner seems to have a taste for the finer properties. Just take his $28 million American plantation-style mansion that the singer had built back in 1997.
The property, nicknamed Sweetbriar, features an 18,622-square foot mansion built upon a 135-acre lot in Franklin, Tennessee. This all-American home has a total of four bedrooms on the second story of the house together with a private gym and a nanny's quarters. Other features that could be found in the place include a formal dining area, a home office, a formal living room, a grand family room with an impressive 22-feet ceiling, a game room, a personal pub, and finally, the mandatory home theater.
Julia Roberts – New York, $4.5 Million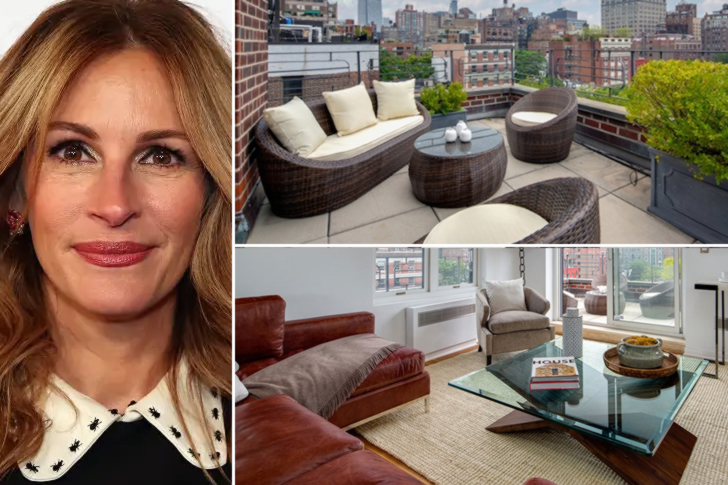 Julia Roberts shot to superstardom playing a risque character in the movie Pretty Woman, but unlike her character, Julia doesn't have to rely on any men to give her a comfortable life. Since cementing her place in Hollywood, Julia has gone on to become one of the most bankable and most decorated actresses today. This is why it's no longer a surprise to learn that she has countless real estate investments, including this gorgeous $4.5 million apartment in the picturesque neighborhood of Greenwich Village, New York.
With huge outdoor areas and spacious indoor features, this 2,000 square feet apartment offers a relaxing getaway just a couple of feet above the busy streets of the Big Apple. The Oscar winner has since listed the property on the market, but whoever gets to call it home next will surely enjoy the modern artistic architecture of the home along with its stylish amenities and million-dollar-view of the city.
Denzel Washington – California, $14.6 Million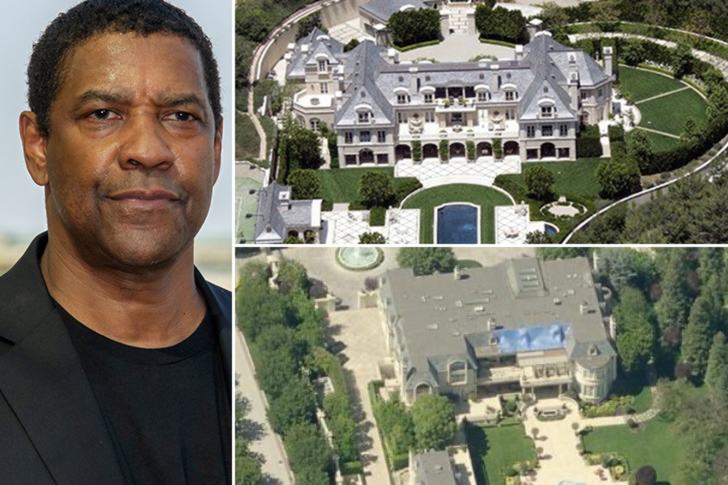 Denzel Washington is easily one of the most recognizable faces in Hollywood today. With 2 Academy Awards, 3 Golden Globes, 1 Tony Award, 1 SAG Award, and an annual salary of about $60 million, Denzel surely ranks as one of the most elite talents in Hollywood today. And much like his career, Denzel's investment portfolio is also an impressive sight to behold.
Among Denzel's notable purchases is this $14.6 million wooded estate located in one of Los Angeles's most affluent neighborhoods. The estate features a 28,887 square feet mansion built in a 2.13-acre land. Not only does the estate look like a palace plucked straight out of a storybook, but it also has some of the most enviable amenities. Included in the list are a heated pool, a tennis court, a state of the art security system, and it even has eight bedrooms and 14 baths to accommodate both Denzel's family and his guests.
Michael Jordan – Illinois, $29 Million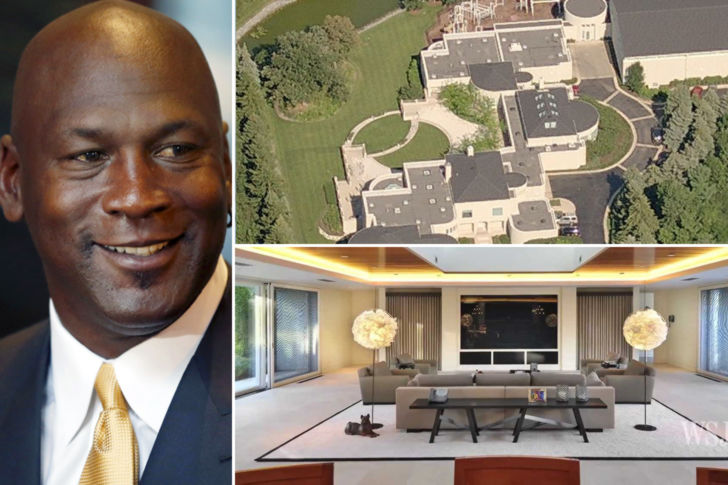 Former NBA player and basketball legend Michael Jordan surely has a taste for the finer things in life. Through hard work, dedication, and proper guidance from his financial advisors, the NBA legend was able to expand not only his career but his fortunes as well. And much like other high-profile athletes, Michael also did not hold back when it came to real estate purchases.
Just take a look at his former $29 million home in Chicago, Illinois. The property includes a massive 32,683 square feet mansion situated within a sprawling wooded lot. It also has some of the most impressive amenities that only an NBA legend can think of, including a private indoor basketball court, a circular infinity pool with a patch of garden in the middle, a domed kitchen and dining area, and a stylish card/game room. The home certainly is as legendary as its owner!
Max Baer Jr. – Nevada, Undisclosed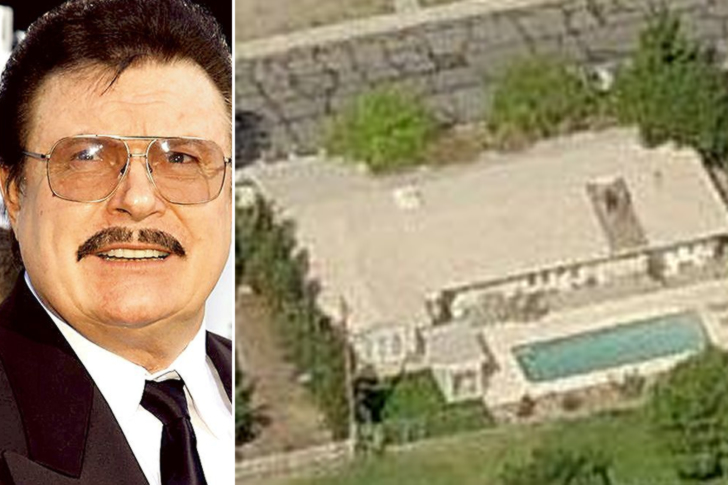 Max Baer Jr. is an American actor who rose to prominence back in the 1960s when he starred as Jethro Bodine in the show The Beverly Hills Hillbillies. Max Baer Jr. is currently the only existing actor of the classic television series, after his last co-star, Donna Douglas, passed away just a few years ago.
During his Hollywood heydays, Max Baer Jr. enjoyed a very successful but later decided to take a slight step back from the spotlight to enjoy some peace in quiet in one of his fancy properties like this mansion in Paradise, Nevada. Details of this fancy real estate investment, including its price, have not been shared on the internet. But by the looks of it, it surely doesn't come cheap. I guess we're left to our imagination here, but we're guessing it comes with a lot of luxurious amenities as standard in Hollywood homes.
Matthew Perry – Los Angeles, $35 Million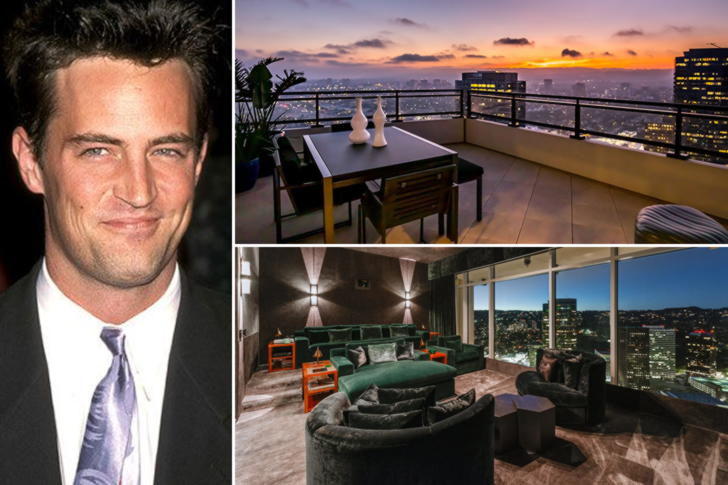 When Matthew Perry bagged the role of Chandler Bing in the '90s sitcom Friends, he probably never expected that it would shoot his career straight into superstardom. Today, Matthew is still reaping the rewards of his hard work from the show thanks to the gift of online streaming, which created the second wave of Matthew's popularity. And since he has seen so much success throughout his career, it only fits that Matthew invests in a fine piece of property like this $35 million penthouse in Los Angeles.
Some key features of Matthew's home include four bedrooms, eight baths, a screening room, a master suite with its own lounge and fireplace spread out into the penthouse's 9,290 square feet interior space. However, the most impressive feature of this property, dubbed as the "Mansion in the Sky," is its breathtaking view of Los Angeles. It's certainly a worthy investment if you ask me.
Beyonce – Bel Air, $85 Million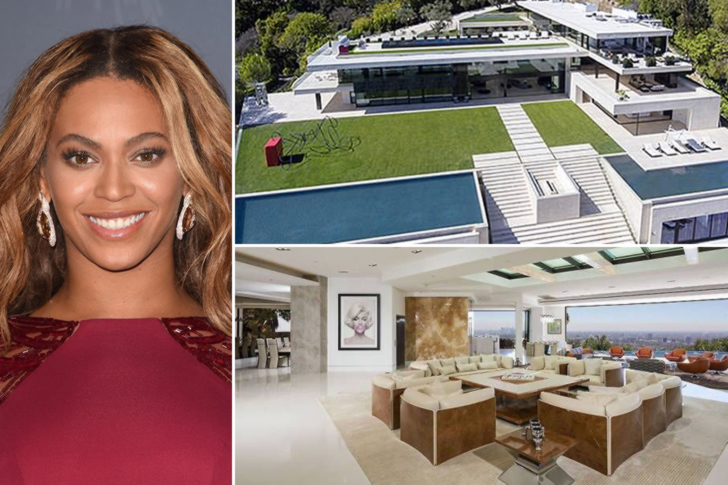 Who would've thought that the girl who sought out a better career in the show Star Search would someday become one of the most powerful women in the music industry? Well, that's how Beyonce's career unfolded. What started as a hopeful audition turned into a multi-million dollar empire. Today, not only is Beyonce the queen of the music industry, but she is also an accomplished investor with multiple high-earning investments under her name.
And one of her many investments is this jawdropping $85 million mansion she purchased alongside her billionaire husband, Jay-Z. It's a sleek contemporary mansion with modern architecture that allows the home to have an open and airy feel. The home is built with multiple levels and has a couple of lavish characteristics. These include s a state of the art kitchen, a stylish home theater (duh!), a pool with a killer view, and a master suite with huge floor-to-ceiling windows that spill into a breathtaking view of the hills of Los Angeles. It's surely is a home fit for a queen.
Mila Kunis – Beverly Hills, $14 Million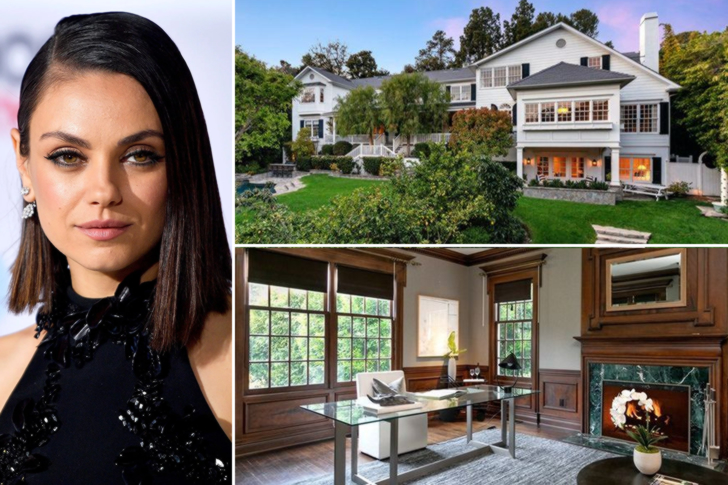 Mila Kunis, along with her husband Ashton Kutcher, did not hold back when it came to finding a perfect home for their growing family. The couple splurged a handsome $14 million on this timeless Beverly Hills home that's more than perfect for raising a family. The property boasts a classic American architecture with classic double-hung windows lining the exterior of the house and concrete tile roofing.
Inside you'll find five bedrooms and five bathrooms, a spacious entertainment area, a bright and open kitchen which also extends into its living area, and an office spread across the home's 7,531 square feet of living space. At the back of the house, you'll find a pair of French double doors that open into the couple's rolling grassy backyard, which hosts their pool and lush garden. However, the couple recently listed the property back into the market to move into a cozier and lovelier home for their kids.
Oprah Winfrey – California, $165 Million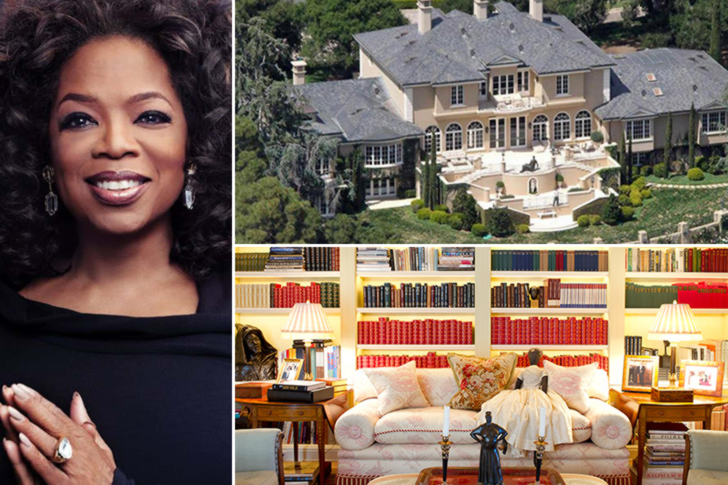 When you spend your whole life building an empire and rubbing elbows with some of the most influential figures in the Western world, you'll surely find yourself in a place of wealth and power. And that is how Oprah Winfrey's life and career turned out exactly. Her rough start in life surely gave way to a much successful future as the T.V. show is now one of the wealthiest and influential figures in Hollywood.
And with that much wealth and power, you best believe Oprah will live like a queen nestled in her $165 million European-style estate that she decided to name "The Promised Land." The palace-like property features a 21,345 square feet mansion on a 49-acre lot. This goes to show that when you manage your investment money well, you'll surely go places! We have to assume that the billionaire has other luxury properties, which turns out to be true.
Tom Selleck – California, $5 Million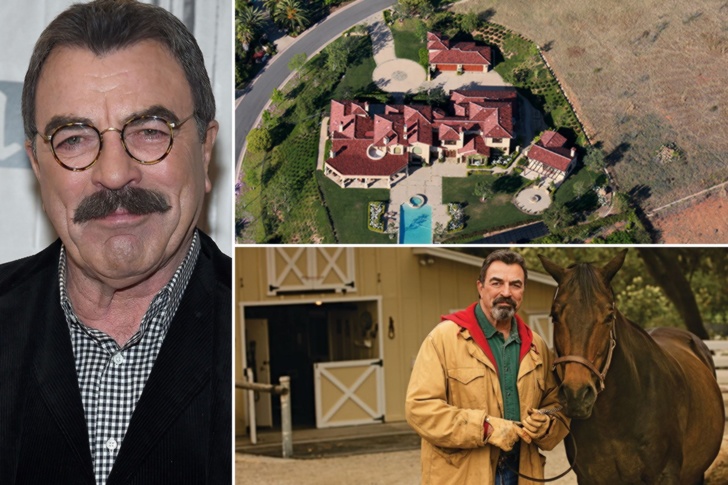 Blue Blood's Tom Selleck might seem to have taken a step back from acting in recent years, but that doesn't mean that the actor is not living a life of pure comfort. In fact, the actor has opened up in an interview with People Magazine that he is enjoying his time working on his 65-acre ranch property in California. The massive property cost Tom Selleck a little over $5 million back in the 1980s, and since then, the actor has devoted a lot of his time to improving and renovating it.
The Spanish-style home located within the property has eight bedrooms plus staff accommodations. Outside the mansion, you'll find a swimming pool, a heliport, a tennis court, horse stables, and an adjacent cabana. Nowadays, the actor is working on maintaining and growing over 1,500 avocado trees that have been present in the property even before the actor purchased it. The actor credits this simple activity as something that helps keep his mind at ease.
Kim Kardashian – Hidden Hills, $60 Million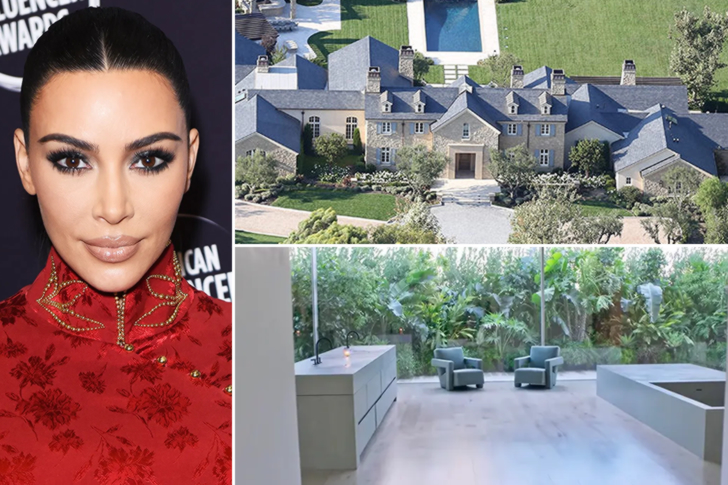 When we're talking about unique and interesting homes, the honor should definitely go to Kim Kardashian. The reality T.V. star, along with her husband Kanye, took a plain and simple mansion in Hidden Hills, California, and turned it into one of the most architecturally modern and innovative, not to mention expensive, homes in the neighborhood. The couple initially bought the property for $20 million back in 2014 but has since done some major renovations that it is now estimated to cost around $60 million.
Together with Axel Vervoordt, Kim and Kanye transformed the mansion into a modern tropical oasis by giving the house a futuristic stripped-down look with its plastered white walls, sky-high arched hallways, wide open-floored spaces, and light wood flooring. It surely doesn't look like any of the Hollywood homes we've seen before, but it seems to be becoming a trend that everyone is catching up on, and we are here to see it.
Vanna White – Beverly Hills, $47.5 Million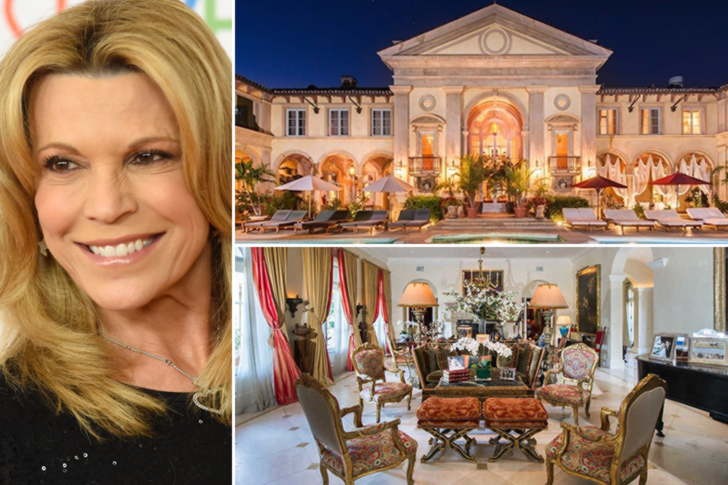 Vanna White is a staple face in the hit T.V. game show, Wheel of Fortune. And when it comes to real-life fortune, Vanna seems to have hit the jackpot as well. Just take a look at her jaw-dropping property that's being price tagged at around $47.5 million. Vanna called this dreamy mansion home for a little over 35 years until deciding to list the property back into the market.
The property features a 14,554 square feet Italian-style mansion with eight bedrooms, ten baths, a mini-spa, a personal gym, a wine cellar to host the wines being produced by the property's vineyard, and of course, an elegant pool. The interior of the house is also every bit as lavish as its exterior with its antique decors, marble flooring, European furniture, and so much more. So if you're looking for a palace set against the backdrop of California, then you might want to nab this property from Vanna White herself.
Michael Douglas – New York, $11.25 Million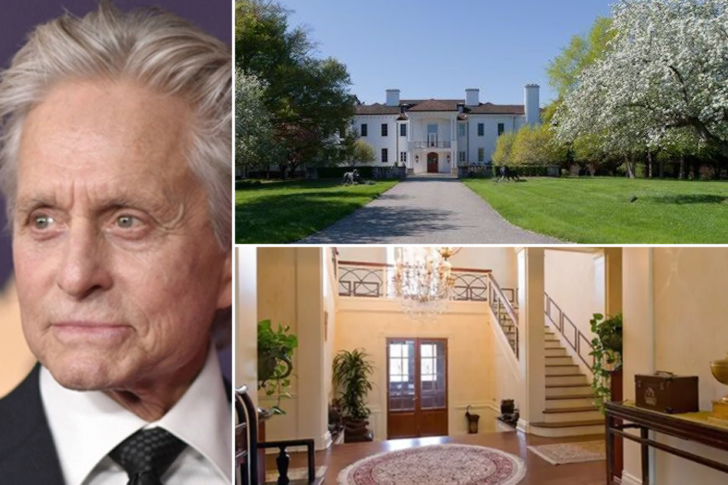 Michael Douglas is certainly one of the most respected and well-loved actors today. With a successful career spanning 54 years, it's no wonder Michael is now able to splurge some big bucks on multiple properties like this $11.25 million country estate that he and his wife purchased in Bedford, New York. The estate was first built in the year 1895, making it historically significant and boasts 15,000 square feet of living space.
The estate also has some of the most elegant and timeless features, including hardwood floorings, oak-paneled walls, carved stone fireplaces, and a mixture of antique and modern decors. However, what stands out about the house is its contrasting approach to colors. While the entryways and hallways are painted bright white and decorated with dainty pieces, other areas of the home, such as the dining area, office, and library, remain dark with polished dark wood walls. But no matter the design and color of the house, we can all agree that it is a lovely piece of real estate.
Mark Zuckerberg – Palo Alto, $7 Million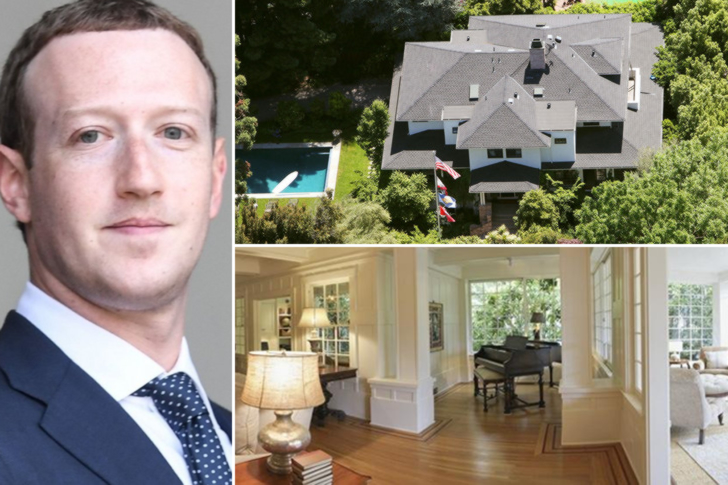 When former Harvard student Mark Zuckerberg first created Facebook inside his cramped dorm room, he never thought it would pave the way for him to join the ranks of the most elite tech billionaires in the world. But fast forward to 2020, and Mark is out of his four-walled college dorm room and into a charming $7 million estate somewhere in Palo Alto.
Now you may think the house is quite modest compared to Mark's wealth. However, the Facebook CEO has also purchased much of its surrounding property. This is for the sole purpose of maintaining privacy for him and his family. Sure, Mark has some of the most advanced security systems installed in his house, but it surely doesn't hurt to have acres upon acres of extra space just to be safe. The property is surely a lovely piece of real estate, but it's only one of the many properties under the billionaire CEO's name.
Barbara Eden – Chicago, $2.6 Million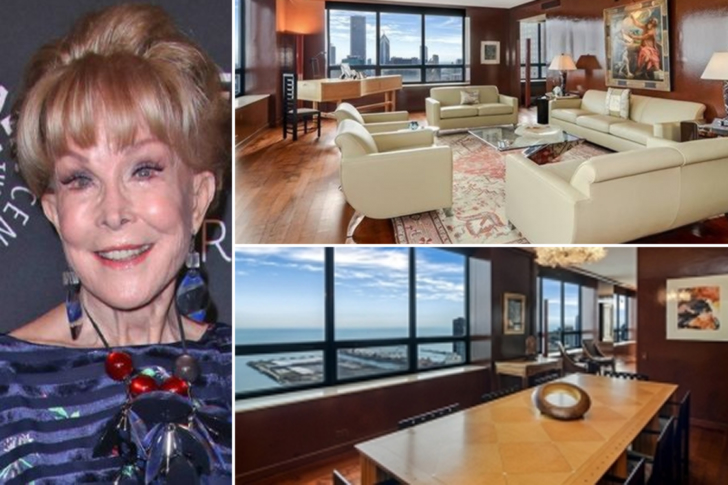 Barbara Eden is an American film and T.V. who rose to fame in the '60s and '70s for playing the role of Jeannie, the trapped genie, in the hit sitcom I Dream of Jeannie. Since gaining widespread attention for her part, Barbara went on to earn more and more successful acting credits and has even earned a spot on the prestigious Hollywood Walk of Fame. More than 50 years of Hollywood career have allowed her to enjoy her old age to the fullest.
Today, Barbara is taking a slight step back from the spotlight to simply relax in the comfort of her $2.6 million home. The property is a lavish apartment perched above a high-rise building in Chicago, Illinois. Not much is known about the interiors of the property since Barbara has mostly kept her life private. However, we do know that it has some spacious rooms, all with a stunning view of the city below it.
Kareem Abdul Jabbar – Hawaii, $5.9 Million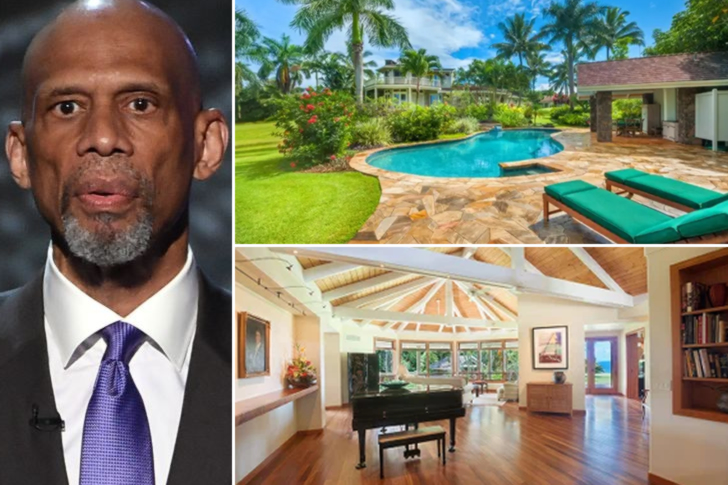 When NBA legend Kareem Abdul Jabbar left the court for his retirement, he was definitely well prepared to spend his post-NBA career in paradise. After retiring, he became a successful writer and part-time actor. This $5.9 million home in Kauai, Hawaii, served as the athlete's getaway abode. And boy, does it look amazing! The tropical mansion has some of the most unique and fancy features, including an exclusive passageway to the famous "Secret Beach."
It also houses a mini waterfall in the mansion's garden grounds, lava rock fireplaces, laid-back tropical decor, and flooring-to-ceiling glass windows that give full access to the sweeping ocean views. The tropical estate also houses a separate guest house, a swimming pool, and an orchard with several tropical produce. However, Kareem has since decided to trade his paradise getaway for a more modern property in the big city.
Angela Lansbury – Cork, Ireland, Undisclosed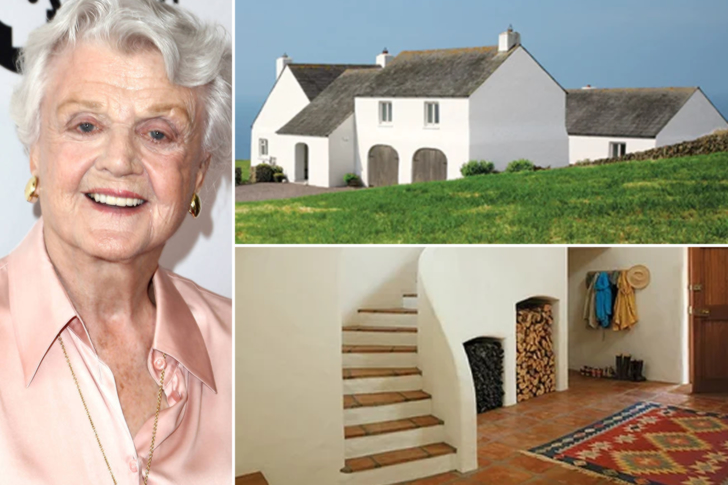 Typically, when it comes to houses, celebrities like to do it big. For Angela Lansbury, however, it was the opposite. When the actress started to gain more and more success in the industry, she found herself wanting more peace and quiet. So, in order to go back to her roots and achieve what she wanted, she purchased a charming Irish house just off the coast of Cork, Ireland.
Although the exact price of the home is unknown, we can guess that it might've set the actress back a few pounds considering that one of the experts who worked on the house is renowned potter, Stephen Pearce. Angela's cozy Irish home is a modest two-story home perched on top of an Irish cliff overlooking the Atlantic Ocean. The exterior of the house is designed with simple white walls and gray tile roofing while the interior is kept clean and minimal with plastered walls and warm floors.
Bill Gates – Washington, $127 Million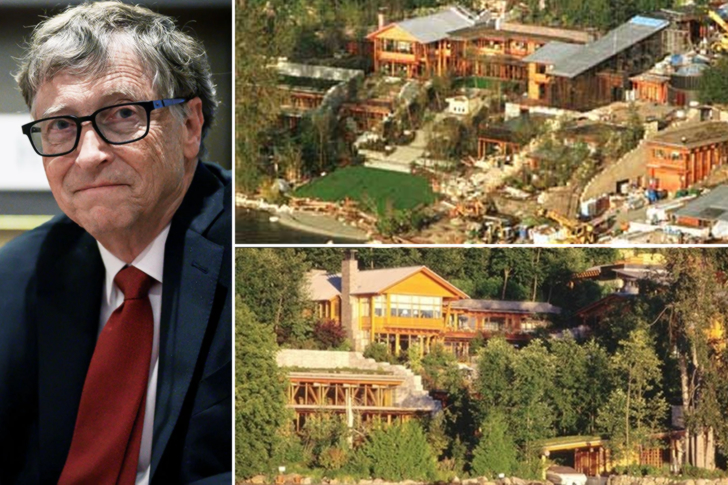 Billionaire tech mogul Bill Gates may be a simple and soft-spoken man, but he surely knows how to live large with his $127 million estate in Washington. But then, did we really expect anything less from one the world's wealthiest men? The property, nicknamed Xanadu 2.0, boasts a massive mansion with seven bedrooms and 18.75 bathrooms spread across 66,000 square feet of interior space.
Bill initially purchased the property for a more modest price tag of about $2 million back in 1988 and spent an additional amount of roughly $63 million to transform the property into the tech haven that it is today. Now, the property is loaded to the brim with state of the art security systems and wild amenities. Some of the amenities that stand out include a 60-feet swimming pool with a fossil motif floor with an underwater music system, a 2,500 square feet gym, motion sensors that control each room's environment, and so much more!
Ron Howard – Connecticut, $28 Million
Hollywood child star turned multi-awarded director Ron Howard was once the proud owner of this lavish $28 million home in Greenwich, Connecticut. Ron Howard is a household name thanks to his appearance on Happy Days.The film director said in an interview that he purchased the home for the sole purpose of raising his kids there. Who wouldn't want to raise their children in this gorgeous 33-acre estate with a lake view?
The home, which has since been sold by Ron, has a total of six bedrooms and five baths, a two-bedroom guesthouse, and an indoor pool built within the 17,000 square feet mansion. Aside from the stunning lake that envelopes their backyard, the estate also has a private tennis court and a horse arena. Good thing the director has a hefty paycheck cause he would need a lot of cash to afford the home insurance on this piece of real estate.
Henry Winkler – Bel Air, $3.4 Million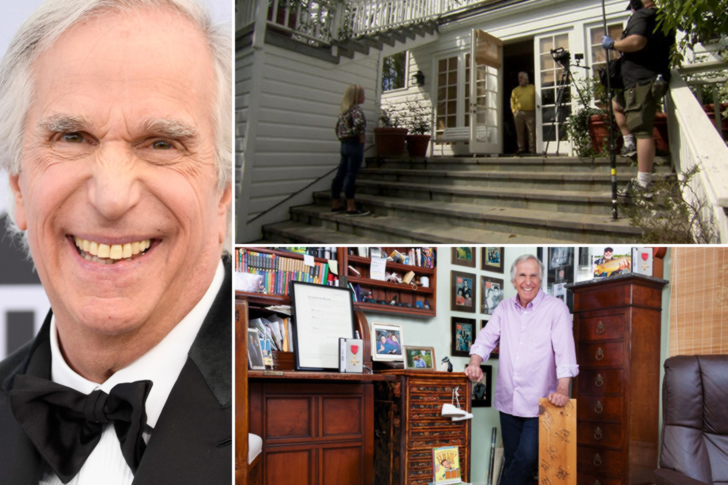 For those who aren't aware who Henry Winkler is, he's the man behind the character The Fonz in the hit show Happy Days. He married Stacey Weitzman in 1978 and has been married ever since. At the peak of his acting career, Henry made some very lavish investments, including this $3.4 million mansion that he bought in Bel Air.
Although the actor has been private about his humble abode, we do know that it came to his possession back in the 1990s. It has been his and his family's home ever since. The Happy Days actor even revealed to the Daily Mail that he considers his home office a haven for when he needs a timeout from the hustle and bustle of Hollywood life. Having a safe space where you could simply relax and be at peace is priceless. We're glad Henry found it in his Bel Air home.
Wesley Snipes – New Jersey, $4.12 Million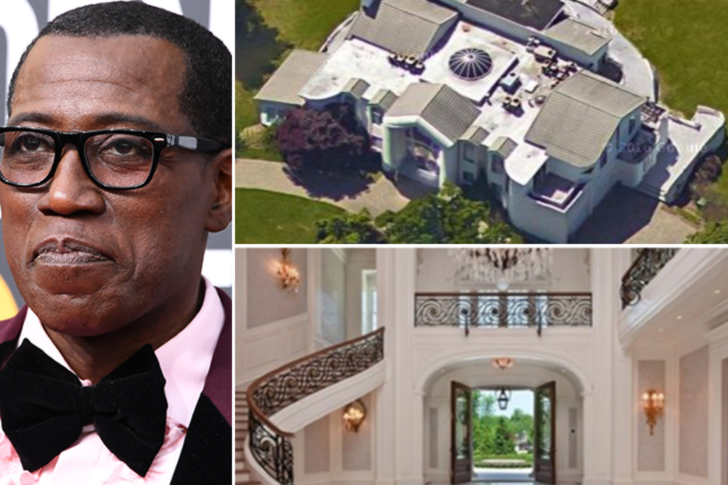 Back in the 1990s, Wesley Snipes became a staple name in Hollywood action films. He displayed his range as an actor by playing a variety of different roles. However, he is probably best known for playing the title role in the film Blade. Since gaining widespread recognition, Wesley has expanded not only his career but his investment portfolio as well. And one of the most notable additions to his portfolio is this stylish $4.12 million white mansion in New Jersey.
Wesley has been very private about this particular house; however, we do know that it has well-manicured gardens, a spacious backyard with a pool, a private home theater, and a home office. The actor sold the property back in 2014 after taking up residence in the area for quite some time. However, despite the sale of his stylish mansion, we're sure that Wesley had some awesome memories in the place, and we sure do hope the next owners take advantage of the celebrity-grade facilities that the actor added.
Lady Gaga – Malibu, $22.5 Million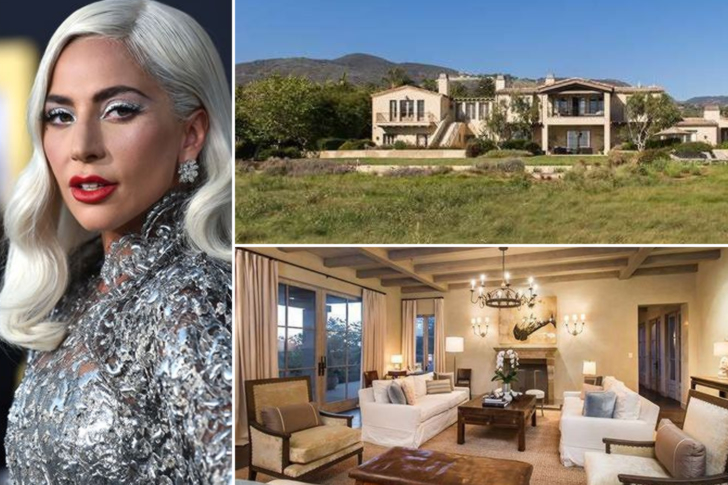 When Lady Gaga first broke into the music scene back in 2008, nobody knew the impact she would have on pop culture music. Fast forward to 2020, and Lady Gaga is one the most well-decorated and influential musicians ever to grace Hollywood. Thanks to her flamboyant and sometimes unusual taste in fashion and the arts, Lady Gaga has cemented her place in the Hollywood Hall of Fame. The singer/actress is also far from the normal life she used to live.
Now, she multiple investments under her name like this $22.5 million beachfront estate that she bought in Malibu, California. The estate spans six acres and has an elegant yet modest 10,270 square feet mansion situated right at the shore. The property boasts five bedrooms, seven baths, an open-concept dining and living areas, a home theater, a wet bar, a bowling alley, and a breathtaking view of the Pacific Ocean.
Clint Eastwood – Pebble Beach, $9.75 Million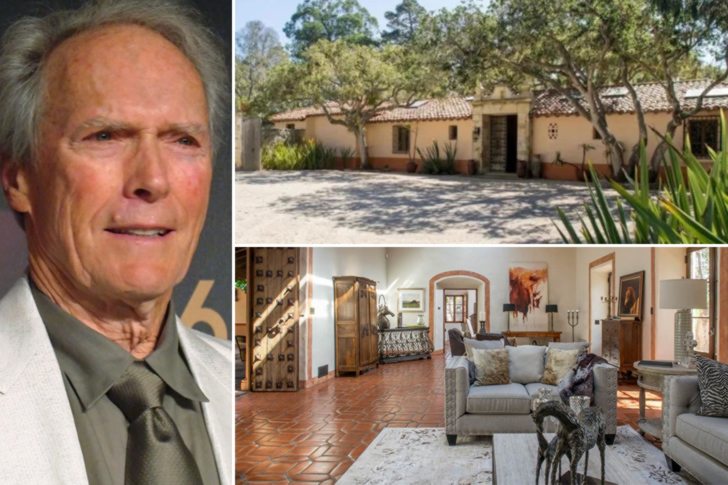 Without the contributions of iconic actors like Clint Eastwood, Hollywood would not be what it is today. The 90-year-old actor started his career starring in some of the most iconic mid-west films and later transitioned into filmmaking, which earned him further artistic and financial success. This allowed Mr. Eastwood to invest in some of the most luxurious purchases, including this $9.75 million estate in Pebble Beach, California.
The property is a Meditteranean-inspired beachfront property that offers some of the most breathtaking features. In the front entrance, you'll find vine-ladened wooden beams lining the front porch and a gorgeous stone entrance that opens into the home's foyer. The inside of the house is even more relaxing with its high wooden ceilings, stone flooring, bright lighting courtesy of the built-in skylight, and a million-dollar view of the ocean. I bet it would be hard to leave this place once you already get the hang of it.
Brad Pitt – Long Island, $55 Million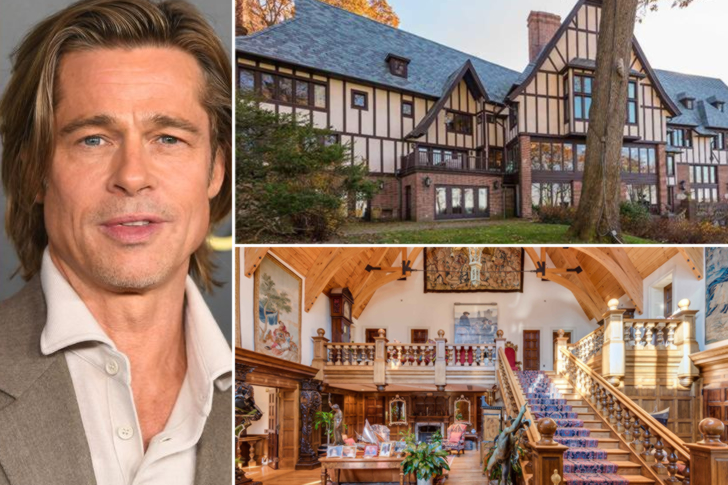 Brad Pitt and his former wife, Angelina Jolie, are certified Hollywood blue-bloods. Good thing the pair was able to nab this sprawling palatial estate in Long Island, New York. The property did not come cheap, though. Brad and Angie had to shell out some serious investment money to get the full royal experience in this $55 million mansion nicknamed Sassafras.
The 20,000 square feet palace-like mansion is built on a 47-acre lot and features a 48-ft cathedral ceiling built above the mansion's entryway, formal dining and study areas, a great hall, and an enclosed outdoor veranda. There are also two additional guest houses, a tennis court, an outdoor kitchen, a beach cabana, a swimming pool, and an outdoor kitchen. Talking about living like royalty, the estate is about an hour's drive from New York City and takes off from either of the two helipads in 15 minutes.
Scottie Pippen – Illinois, $1.89 Million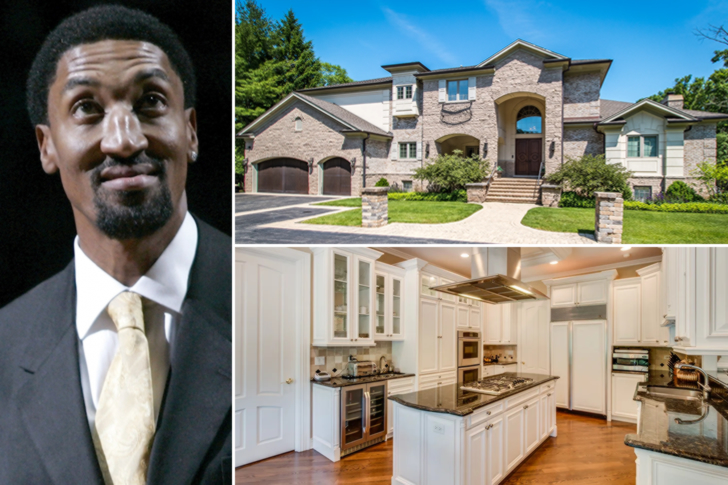 Another NBA legend on our list is former Chicago Bulls small forward Scottie Pippen. Scottie, who retired from the NBA back in 2008, is the former owner of this $1.89 million home in Chicago, Illinois. The property features a whopping 10,000 square feet mansion built on a 2-acre lot located in the lakefront neighborhood of Highland Park.
Some of the property's notable features include a huge indoor basketball court with polished wood flooring and painted with Pippen's iconic Bulls jersey, a brick wine cellar, a game room, a sauna, a gorgeous swimming pool, and of course, a private theater. The house itself is very luxurious, but whoever gets to call this mansion their home next would have to update the furnishing a bit. Overall, the home is a dream, and the next owner would certainly be lucky to call it their home.
Loretta Lynn – Kingston Springs, $1.3 Million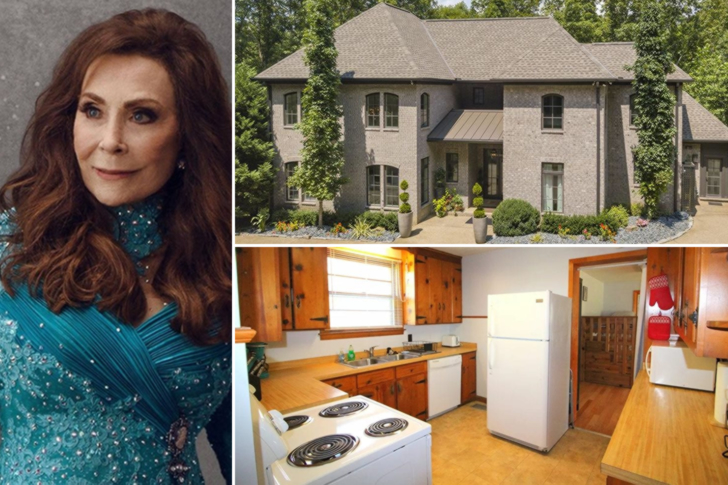 Singer Loretta Lynn has been enjoying a successful music career for sixty long years now, and she definitely knows how to reward herself for her hard work. The singer has once decided you put her investment money on this $1.3 million estate located in Kingston Springs, Tennessee. The 7-acre estate is home to some of the most lavish amenities, including an outdoor tiki bar, a spacious backyard porch, a recording studio, a gym, and a large walk-in closet.
The house itself stretches to about 4,918 square feet and is decorated with some of the most modern and elegant pieces of art. And to top everything off, the estate is surrounded by a lush forest giving the whole place an extra dose of privacy. Traditionally, three concerts are held on the property every year, Memorial Day weekend, Fourth of July weekend, and Labor Day weekend. No wonder Loretta chose this property over the glamorous ones in Hollywood.
Raquel Welch – Beverly Hills, $5.7 Million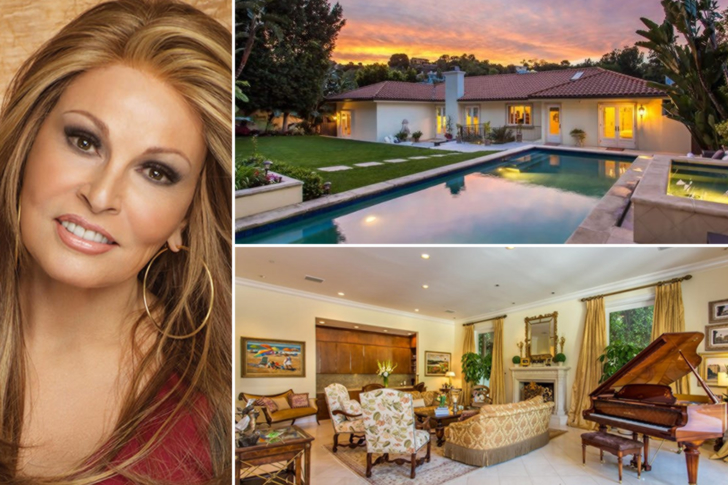 Raquel Welch has come so far from being the poster girl clad in a fur bikini to being one of Hollywood's most respected actresses and style icons. Her journey was definitely a colorful and tumultuous one, but it all paid off as Raquel is now living a very stylish and glamorous life. Speaking of style, you can tell that Raquel has an exquisite one because of her lavish $5.7 million home in Beverly Hills.
The villa, Very movie-inspired, has a two-story entrance with a wrought-iron staircase leading to a living room, which opens to a terrace. The home served as Raquel's not-so-humble abode for about eight years until she decided to list it back on the market in 2017. Since then, the actress has ventured into other investments but has no doubt made some fabulous memories in her stylish former home.
You've Reached The End