ZAYA WADE – DWAYNE WADE'S DAUGHTER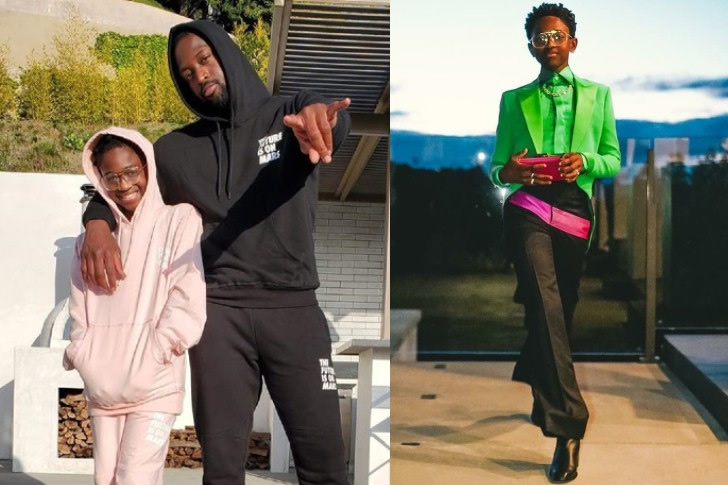 Basketball is often seen as a very masculine sport, where traces of femininity might be frowned upon. However, not everyone in the game adheres to this old-fashioned way of thinking. Just take former NBA baller, Dwayne Wade. When his son, Zion, spoke to them about wanting to change their name to Zaya and their pronouns to she and her, Dwayne showed unwavering support.
He has also been very public about this as well, even posting about the change on social media. This was met with some backlash, but we give this dad credit for being steadfast and protecting his daughter from naysayers.
KARTER PAYTON – KHARY PAYTON'S SON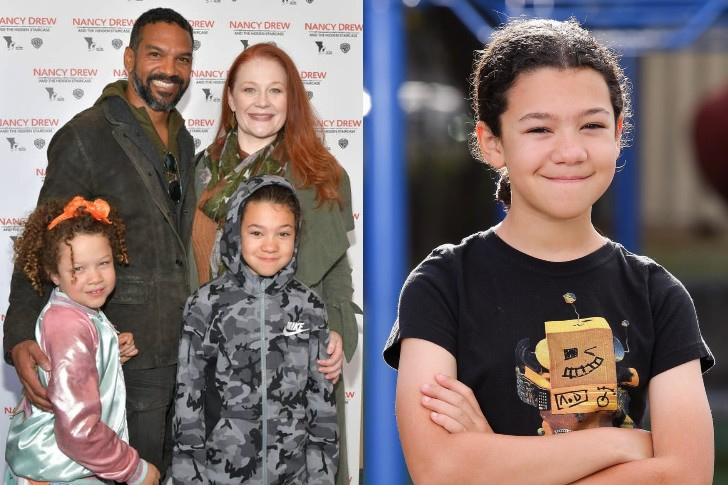 Here's another dad who is proud to be sharing his child's journey. Karter was born a girl but has always identified as a boy. He might only be 11-year-old, but Khary gushes about how happy and well-adjusted Karter has been throughout the process. Even being brave enough to have his identity announced on his father's social media!
The Walking Dead actor did just that and on the same day, the Supreme Court passed a civil rights law, which will protect LGBTQ+ employees from workplace discrimination. After all, everyone deserves to feel protected, in the same way home security systems protect us in our residences.
NOELLE ROBINSON – CYNTHIA BAILEY AND LEON ROBINSON'S DAUGHTER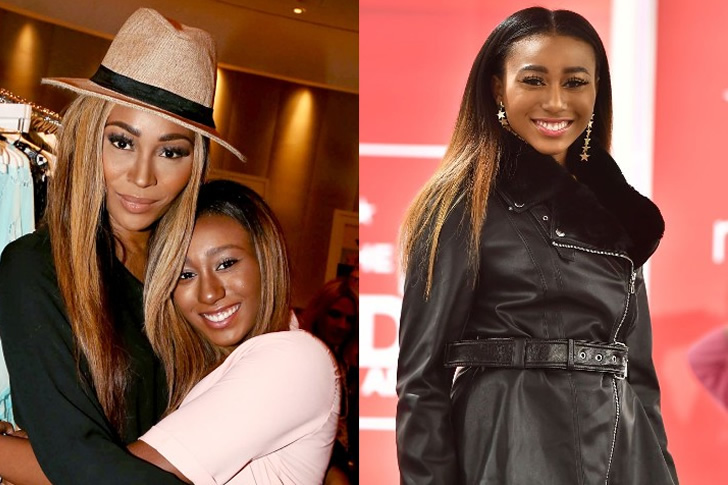 Many parents make investments towards the happiness of their children, prioritizing it above all else. This is the case when it comes to Cynthia Bailey and Leon Robinson's daughter, Noelle, who has come out as being sexually fluid. The revelation happened during an episode of The Real Housewives of Atlanta, a bold move on Noelle's part given the number of viewers who would witness such a vulnerable moment.
Fortunately for her, both mom and dad are supportive. Whether Noelle meets an amazing young lady or young man, Cynthia sees both as a blessing as long as her daughter is happy and loved.
JACK MCDERMOTT – DEAN MCDERMOTT AND MARY JO EUSTACE'S SON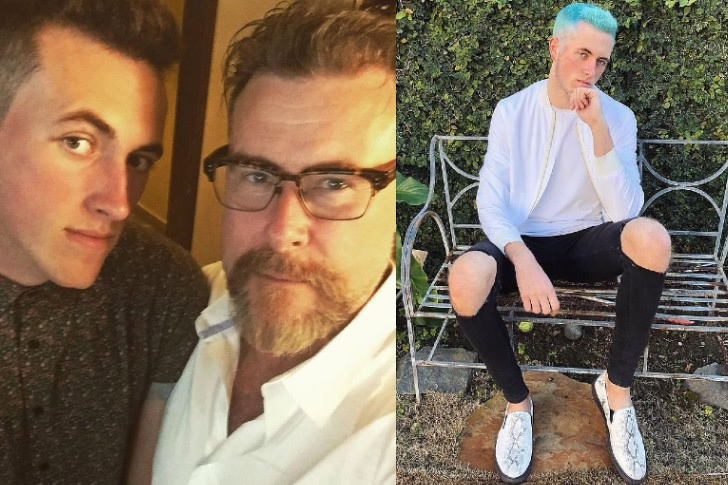 Jack is Dean's son with his first wife, renowned beauty expert Mary Jo Eustace. It was back in July 2019, during an episode of his podcast "Daddy Issues" when he revealed that his eldest boy is gay. The reality-TV star continued on to praise Jack, calling him a "beautiful 6-foot-4, beautiful Adonis" and we couldn't agree more! The good looks are certainly shared between this father and son duo.
Jack is now 18 and is pursuing a degree in Graphic Design at San Francisco University. With this much love from his parents, as well as his step-mom Tori Spelling, we're sure he can achieve anything!
SAMUEL JOSEPH MOZES – CYNTHIA NIXON AND DANNY MOZES' SON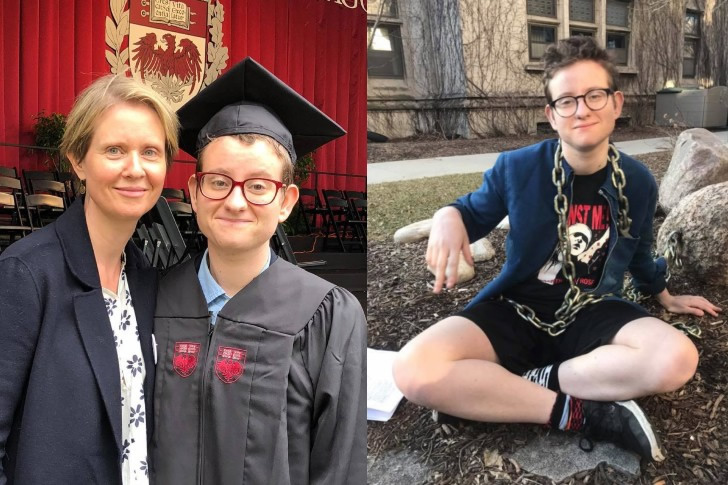 To her credit, actress Cynthia Nixon is one of the many Hollywood stars who are quite open about their sexuality, and perhaps this is where her son, Joseph, drew inspiration from when he decided to live out his truth as well. Joseph was born Samantha back in 1996 and her father is Cynthia's former partner, Danny Mozes.
The mother and son publicly shared Seph's new gender identity in 2018, which received much support from those around them. Perhaps the most surprising, for Cynthia, was how much of a non-event it was—proving that some progress has been made when it people's acceptance of transgender people.
JACKSON THERON – CHARLIZE THERON'S DAUGHTER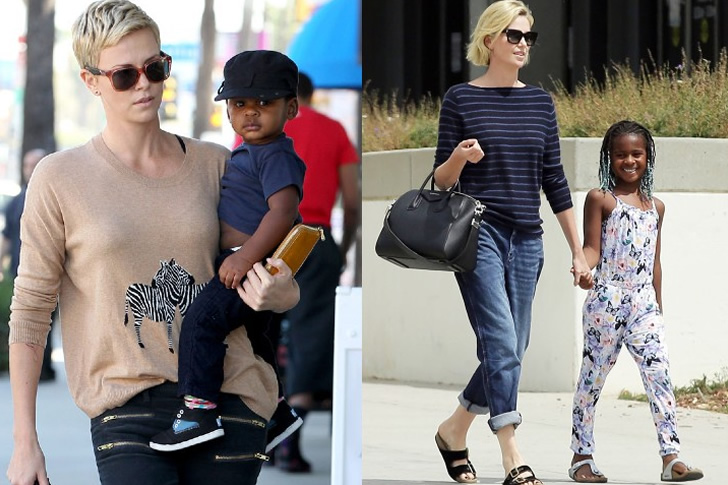 Jackson was only three years old when she told his mother "I am not a boy!" and while the actress was surprised by the revelation, Charlize was also very understanding of the situation. Together with August who was adopted in 2015, she is now proudly raising two beautiful black African girls.
Charlize has always been outspoken when it comes to her beliefs and the degree of support she's giving Jackson is no different. She never misses an opportunity to show how proud she is of her children. It might not always be easy, but we're sure this mom will always have her children's back.
IZAAK THEO ADU – SADE AND BOB MORGAN'S SON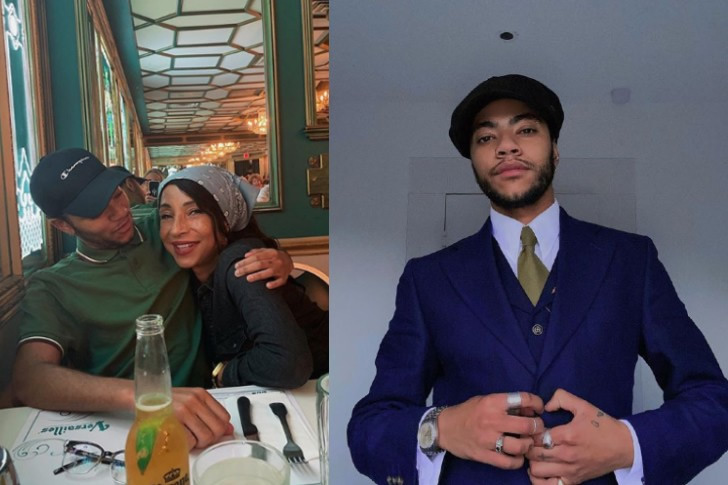 Born as Mickailia Morgan to singer Sade, Izaak Theo Adu publicly came out as transgender back in 2016. After a successful gender reassignment surgery, he posted a letter of gratitude for his mother on social media where he talked about the way she has supported and fought alongside him through the transition.
It's no secret that going through these changes can often be difficult for both parent and child. There are no online classes that will a person fully understand the experience, so we have to commend parents who make the utmost effort towards supporting and encouraging their children to be themselves.
AMAI WAYANS – MARLON WAYAN'S DAUGHTER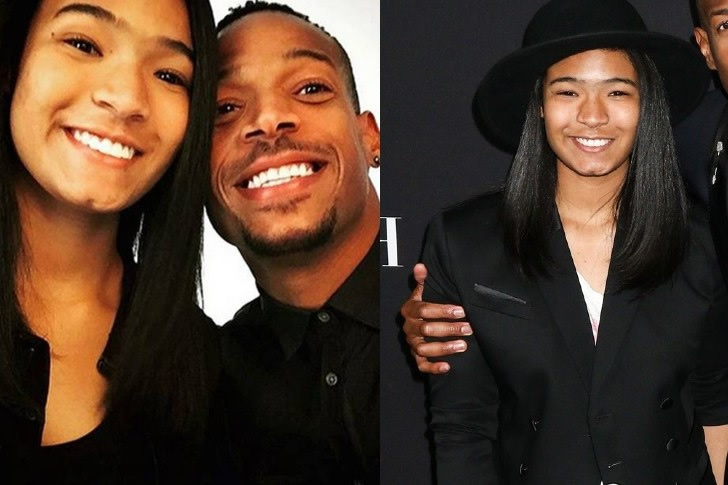 We've read about kids coming out to their parents in relatively low-key ways. Amai Wayans took a more creative approach in her case; opting to come out to her father using one of Katy Perry's songs. I Kissed a Girl and I Liked It must have been all the comedians needed to hear in order to understand the point she was trying to make.
Amai was 14 at the time and her revelation was met without any degree of judgment. In an interview, Marlon goes on to say that "Only God can judge" and that the experience has taught him, unconditional love.
HOPIE FEEK – RORY FEEK'S DAUGHTER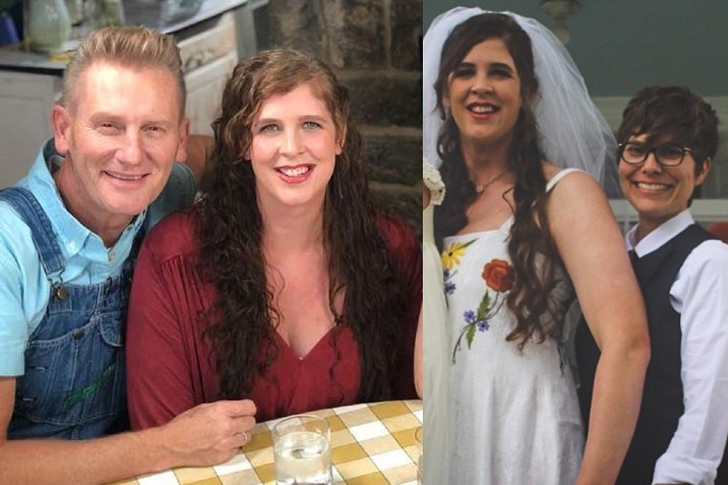 Whilst many on our list were met with open arms after coming out, we must also acknowledge that this isn't always the case. In Rory Feek's case, he struggled with it at first. This is only natural, of course, but what matters now is that this story did get a happy ending.
His daughter Hopie Feek and her wife, Wendy, were married at the Feek family farm in October of 2018. Providing that even if it's hard or even if he doesn't completely agree nor understand, unconditional love wins in the end—with both sides putting in the investments to make things work.
SAM GREISMAN – SALLY FIELD AND ALAN GREISMAN'S SON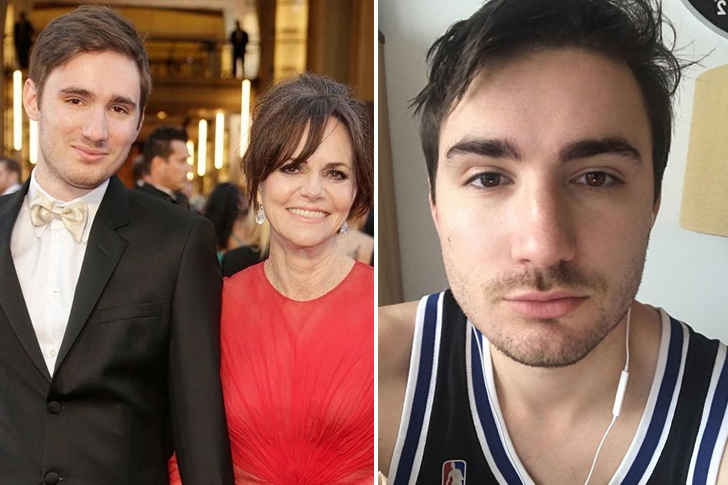 From one parent struggling to another who adapted quite well with the change. Sally Field's support of her son Sam Greisman made headlines back in 2018 when she unabashedly tried to set him up with Olympic figure skater Adam Rippon—much to Sam's embarrassment! All is well between the two, however, and Sam has also once pointed out that her mother was overjoyed when he came out as being gay to the family.
As for Sally, the award-winning actress has always spoken highly of her son—though she may sometimes embarrass him. The degree of love between them is certainly palpable.
HUDSON HARDEN SCHEEL – MARCIA GAY HARDEN AND THADDAEUS SCHEEL'S SON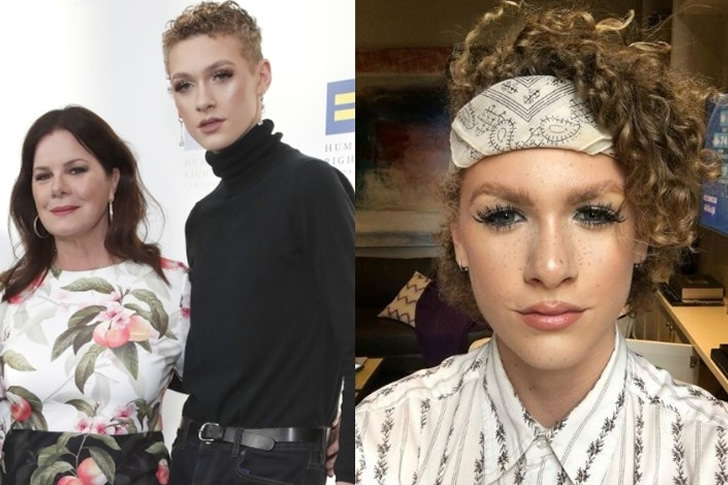 In 2018, prior to his 14th birthday, Hudson Harden Scheel came out as gay. The announcement was made by his mother, whose support goes above and beyond merely being vocal about how proud she is of her son. Marcia also took it upon herself to be more active in LGBTQ causes, including attending the Family Equality Council's Impact Awards. The nonprofit helps foster a sense of community and pushes for policy changes that would benefit LGBTQ people.
Her investments towards the cause can help ensure that the LGBTQ community, her son included, would be able to have a family should they want one.
JESSICA BLOSIL – MARIE OSMOND AND BRIAN BLOSIL'S DAUGHTER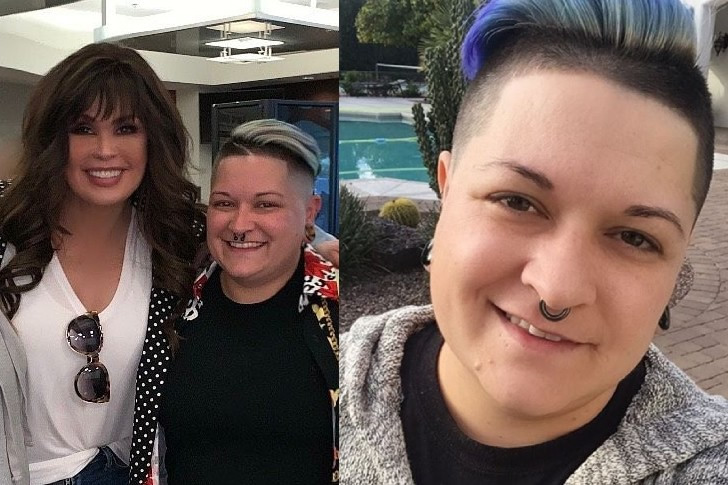 Jessica was adopted by Marie and Brian back in the 1980s. She grew up in quite a large family, who were all supportive when she came out as a lesbian back in 2009. Marie proudly confirmed the reports. We've got to give Jessica credit, not just for her courage, but also for choosing to serve as a police officer as well. She passed the certification tests back in 2012.
Despite her conservative Mormon background, Marie is always vocal about her support for her daughter, as well as the equal rights that LGBTQ people also deserve. A real supermom, in our opinion!
JASON GOULD – BARBRA STREISAND AND ELLIOT GOULD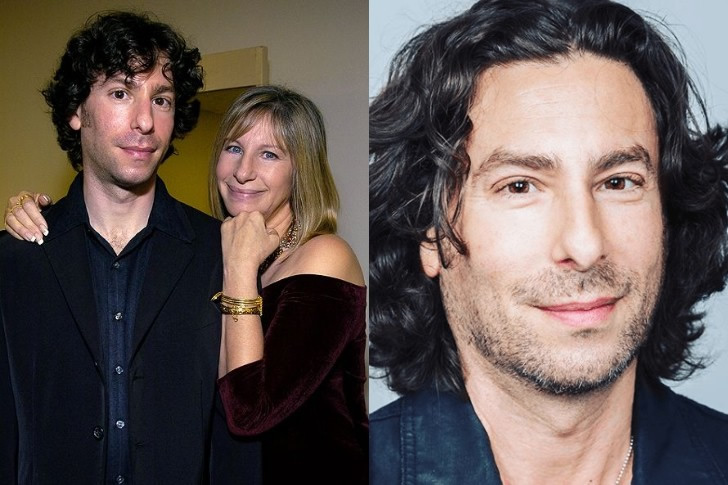 The actor-director is an out and proud gay man, but his openness about his sexuality likely began with some help from his parents. It was in 1988, when Jason was only 21 years old, that he came out to his parents as gay. This was kept within the family for a few years before tabloids outed him publicly. His mother readily defended him, even condemning Pat Buchanan's comments about gay marriage being invalid. No wonder Barbra is a beloved gay icon!
Today, Jason is also a successful singer and takes much pride in who he is—with much credit to his parent's support, of course!
STEPHEN IRA BEATTY – ANNETTE BENNING AND WARREN BEATTY'S SON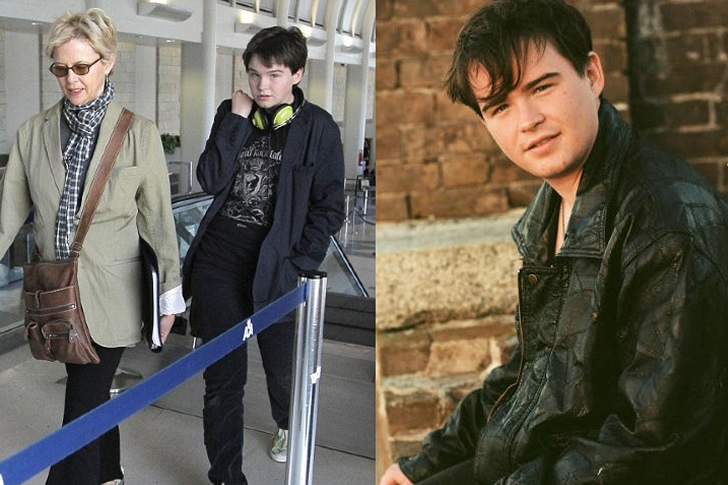 Stephen's transition from female to male happened at an early age, but he had his family's support throughout the entire process. Warren's pride in him and in the rest of his children was something he opened up about in an interview with Vanity Fair. He referred to his eldest son as a "revolutionary, a genius, and my hero". Stephen was born Kathlyn back in 1992 at a time when being transgender was still relatively new for most people.
The journey wouldn't have been easy, but we have to give them all credit for the unwavering support they have provided Stephen.
JAMES DUKE MASON – BELINDA CARLISLE'S SON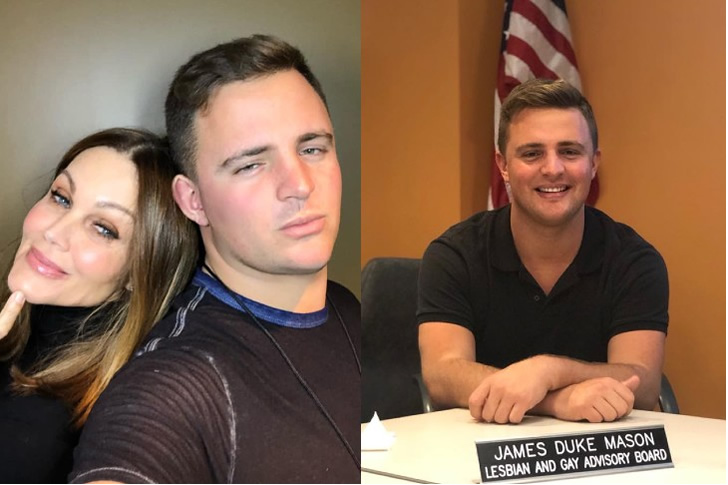 James came out to his mother, The Go-Go's vocalist Belinda Carlisle when he was only 14 years old. For Belinda, she had always been aware of the issues associated with being part of the LGBTQ community, since it was her son who was revealing his truth, those issues hit closer to home. Her concern as a mother was only natural, worrying about the difficulties James might face once he comes out publicly.
Fortunately, her worries were unfounded. Whilst there will always be a degree of struggle, James is doing great for himself! He is the co-chair for the West Hollywood Gay and Lesbian Advisory Board.
RONAN FARROW – MIA FARROW AND WOODY ALLEN'S SON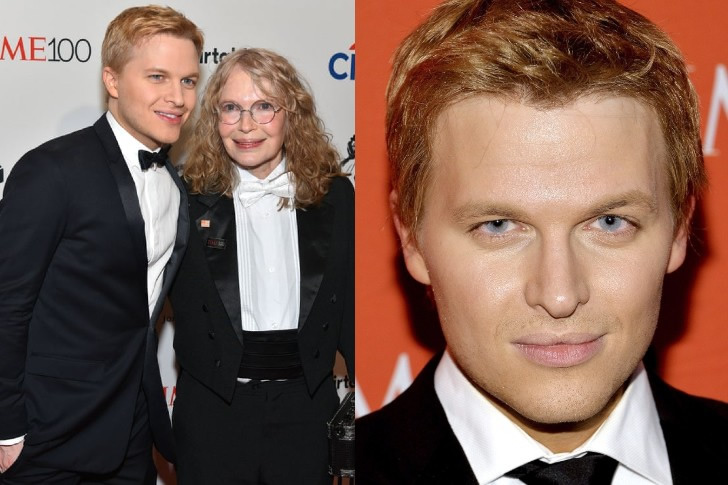 Ronan Farrow is the journalist who helped expose the sexual misconduct that's prevalent in Hollywood, leading to the prosecution of Harvey Weinstein. This by itself is a testament to the kind of courage he has, going against some of the most powerful men and lawyers in the industry.
He came out as a gay man publicly back in April 2018 and has only kept pushing forward and elevating his community's status. Whilst he may be estranged from his father, Ronan does have a strong relationship with his mother, actress Mia Farrow. We're sure she's very proud of all that he has achieved.
EJ JOHNSON – COOKIE AND MAGIC JOHNSON'S SON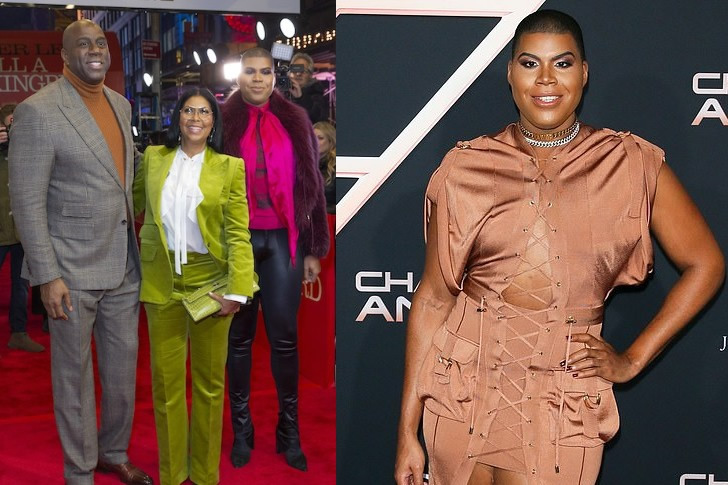 Fans of the former NBA baller must have had expectations for his son to follow the legacy he left. Magic Johnson is one of the sport's most legendary players, after all. However, EJ had other plans and his investments led him to a very different industry than his father's. His success as a TV personality and E! News commentator speaks for itself. Despite being maliciously outed by TMZ magazine in 2013, he has only continued to thrive and establish a name for himself.
As for Magic and Cookie? They were happy for him and were very supportive from the get-go, knowing the discrimination he might face.
BECKETT LANSBURY – ALLY SHEEDY AND DAVID LANSBURY'S SON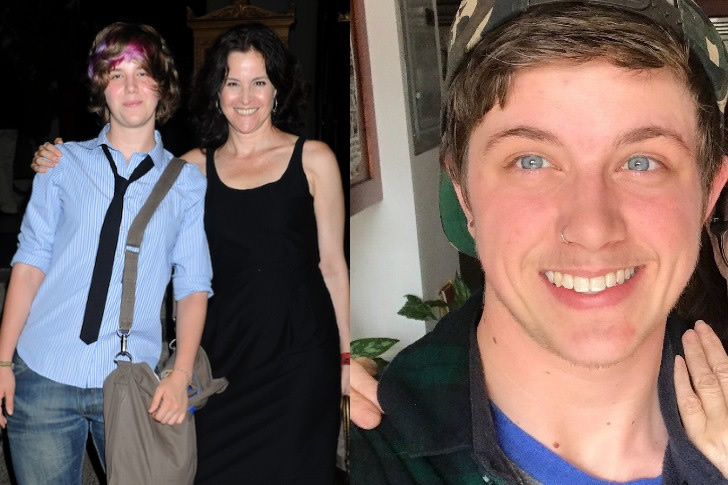 From concern to fearing the whole transition process, many things go through a parent's mind once their child decides to begin their journey towards becoming who they really are. This was the case when it came to Beckett Lansbury, Ally Sheedy, and David Lansbury's son. When he decided to start the transition, there was a degree of questioning in his parents' part despite wanting to fully support their son. Becoming educated about the process and what it entails helped ease their worries, thankfully.
Beckett is a transgender activity, much like Ally's mother Charlotte Sheedy, who is a lesbian civil-rights activist herself.
CLEMENTINE FORD – CYBILL SHEPHERD AND DAVID M. FORD'S DAUGHTER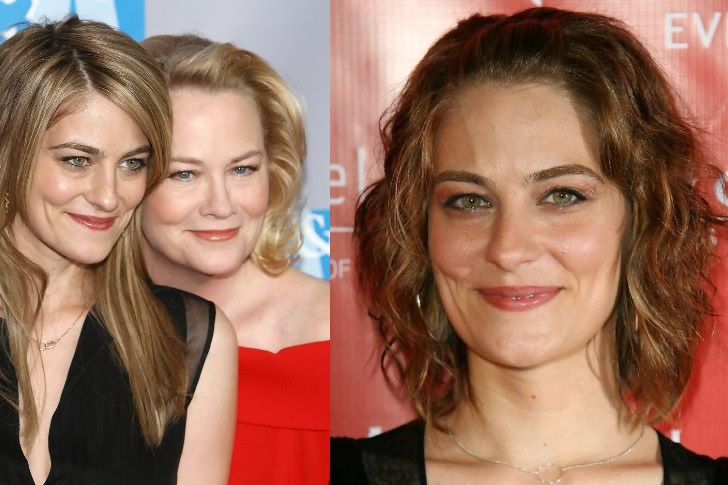 She once starred in The L Word, but Clementine certainly wasn't just putting up an act when it comes to her own sexuality. She came out in 2009, with the support of her parents. After all, Cybill is a staunch supporter of same-sex parental rights and marriage equality. Clementine was previously married to Cyrus Wilcox, with whom she has two children. Their marriage ended needing lawyers.
She wouldn't be the first in their family, to be honest about their sexuality as well. Her half-sister, the TV writer, and director Ariel Shepherd-Oppenheim are just as open and vocal about her being part of the LGBTQ community.
ELIOT "COCO" SUMNER – TRUDIE STYLER AND STING'S CHILD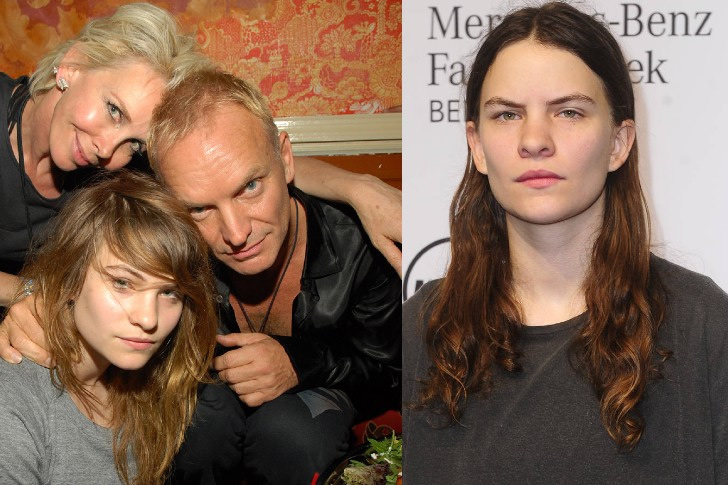 Sexuality isn't always a case of female vs. male, it is a spectrum and there are people who are more fluid when it comes to theirs. Just take Coco Sumner, for example. When asked if she identified with a particular gender, the simple response she gave was "no". Instead, the talented musician places emphasis on not believing in the specifics and on not feeling pressured about being labeled.
Whilst she has dated women before, Coco's parents' echo the same no-label philosophy as well. Her mother's own debut directorial credit is a film about a teenage boy who prefers glamorous women's clothing over more masculine clothes.
CHAZ BONO – CHER AND SONNY BONO'S SON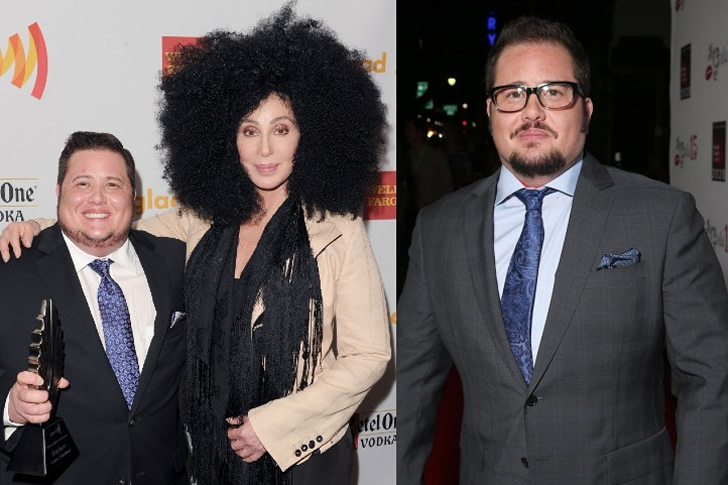 Chaz became the topic of numerous headlines following his very public transition from female to male. He is known for being one of the most vocal and high-profile LGBTQ advocates in the industry, but his journey wasn't an easy one. In the documentary "Becoming Chaz" Cher looked back on the early years and the difficulty of coming to terms with the process, as well as the loss she thought she would feel. The worries were for naught, fortunately.
Chaz has two books to his credit, discussing both his journey as well as providing a guide for families who might be going through a similar process.
ZEKE THOMAS – ISIAH THOMAS' SON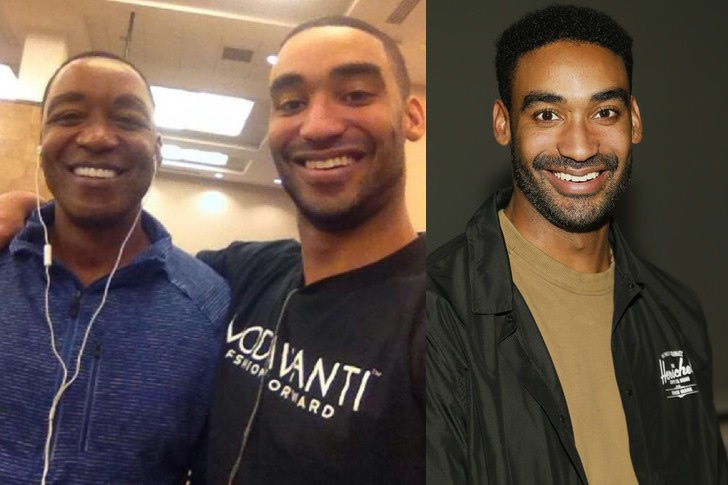 It takes a real man to be unafraid of being shunned by the public simply because they want to live out their truth. But for Zeke Thomas, he never had to experience the fear that his parents might disown him for coming out. The DJ knew they would always be accepting. In fact, his parents often say that they always knew their son was gay. This degree of acceptance could only stem from unconditional love.
What Zeke worried about was how his friends would react, but that would have mattered little after he received his own family's approval. In fact, Isiah showed his support for the entire community by posing for the NOH8 Campaign with his son.
ANDERSON COOPER – GLORIA VANDERBILT AND WYATT EMORY COOPER'S SON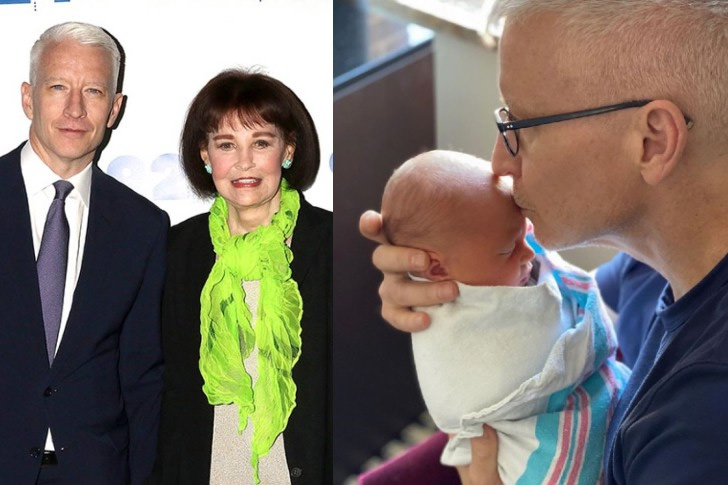 He's one of the most respected journalists in the industry and an icon in the LGBTQ community. Anderson publicly came out back in 2012 but his parents were well aware of his sexuality long before that. The journalist first confided in his mother when he was 21 years old, knowing that she would be very supportive once the initial surprise has faded.
The bond between them was certainly strong. They even have a shared memoir to their credit: The Rainbow Comes and Goes: A Mother and Son Talk About Life, Love, and Loss. Gloria Vanderbilt, the famed designer, and heiress passed away in 2019.
ETTA NG – ELAINE NG AND JACKIE CHAN'S DAUGHTER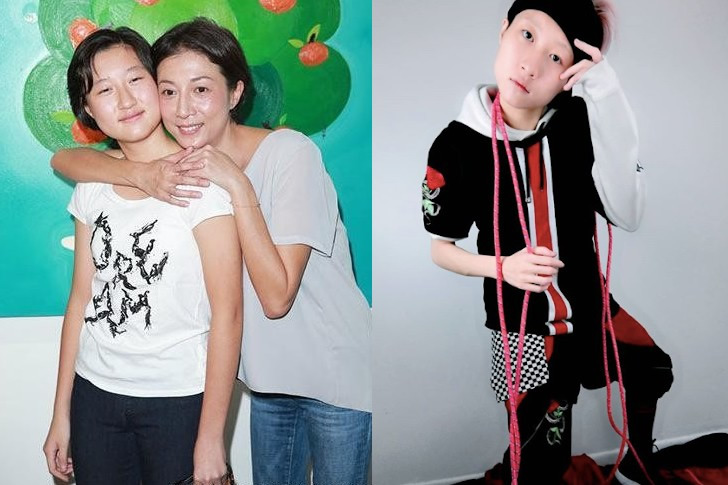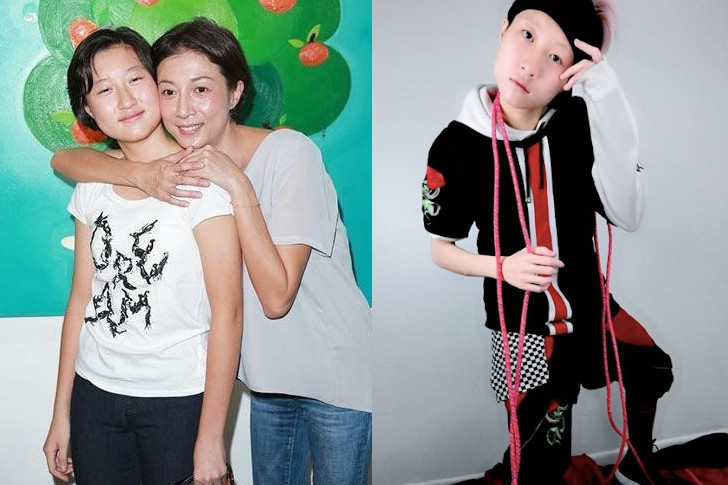 Etta Ng is the only daughter of Elaine Ng and Jackie Chan. However, Etta once said in an interview that she does not regard Jackie as her father, given that he was not involved in raising her. The two have been estranged for years and when asked about his daughter coming out as lesbian back in 2017, he was quite accepting of the situation, much like Elaine was.
Though she is estranged from her father, Etta and her mother, Elaine, are putting in much-needed investments when it comes to mending their relationship. Etta married her partner, Andi Autumn, back in 2018.
You've Reached The End