Luxurious Or Just Plain Excessive? Find Out Why These Celeb Private Jets And Yachts Are Considered Goals
BRAD PITT
Well-known for his advocacies and philanthropy, this actor is just as generous to others as he is to himself. Let's just say he has a thing for all things vintage and gifted himself with a Supermarine Spitfire costing a cool $3.3 million. This World War II-era aircraft is quite the looker, matching its owner quite well. It comes with custom controls which means it makes for a challenge to whoever decides to pilot it. As for Brad, he got inspired to buy it after acting in Inglorious Basterds and Fury. We sure hope his hangar has ample security and insurance—this is one winged beaut he wouldn't want to lose.
NICOLE KIDMAN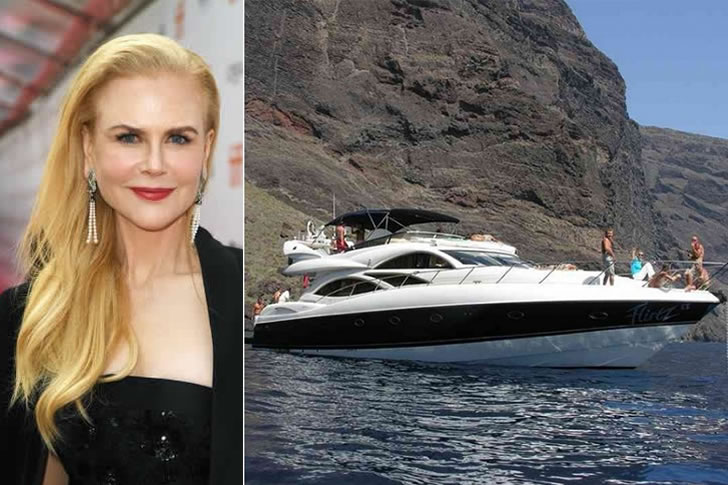 The actress is the epitome of beauty, grace, and intelligence. So we are not at all surprised that she's been making excellent career and business choices. Whilst others may find the purchase of a private cruiser a little impractical, we're sure Nicole's making good use of it and enjoying her time away from the limelight with family and friends. The Sunseeker Manhattan 74 may have cost her $2.5 million, but that's the price one has to pay for a bit of privacy and luxury. Big enough for 10 guests and includes a VIP stateroom? We can only dream of being able to afford that on our credit!
CELINE DION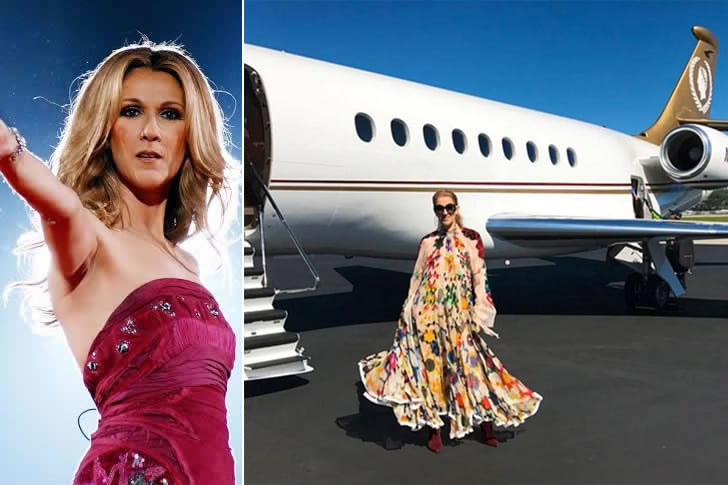 She's had an innumerable amount of hit songs, had sold-out concert venues and had made more than enough to enjoy some of the best things life can offer. In this case, a $42 million private jet with great amenities—including a luxurious full kitchen. We're sure there's no case of jetlag whenever she has to travel to different corners of the world for leisure or performances. There are no long waiting lines as well! The jet does cost about $3 million in maintenance a year, but we're sure the singer is more than capable of financing that without even creating a dent in her credit score.
SELENA GOMEZ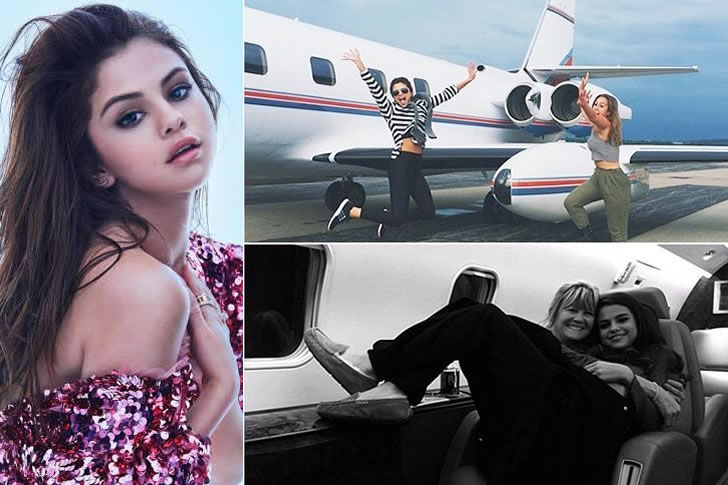 Perhaps the youngest star in this list, rumor has it that Ms. Gomez has dropped an undisclosed amount of money for her very own private jet. Judging by a photo she recently shared on social media featuring a Bombardier Challenger 300, many people are convinced that she's joined the mile high club of celebs who own one. It wouldn't be surprising—she's worth over $50 million and has a career that can easily make her more money in the future. We say she's just making the right investments for herself—jetlag and constant stress from plane travel can take a toll on the singer's health, after all.
MATTHEW MCCONAUGHEY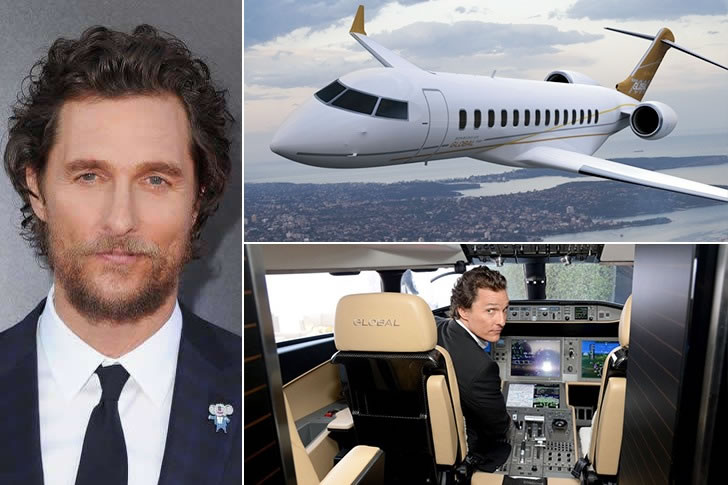 It's quite a love affair between the Oscar-winning actor and the classy Bombardier Global 700. This private jet comes equipped with a full kitchen, a customized cabin space, and a luxurious master bedroom. Interiors fit for someone as sleek as Matthew. He is considering purchasing one for himself—a feat he can easily accomplish with his $95 million net worth. However, we're not sure about his manager agreeing with such a big investment. But considering just how much he travels, it's probably the more practical option compared to flying commercial. After all, who wouldn't want to go around the world in absolute comfort and style?
 ROMAN ABRAMOVICH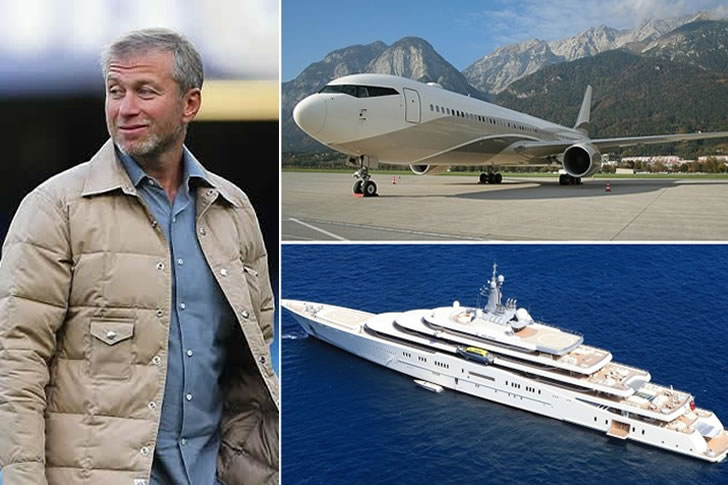 We wonder how exactly does it feel to be the proud owner of the second-largest yacht in the whole world? Overwhelmingly rich, we're sure. Roman's Eclipse is 536 feet of floating luxury, but it probably cost chump change to someone who has a net worth of $11.4 billion. The private yacht is "only" $500 million, after all. Besides, it's just one of his many toys. Once he gets bored of the open waters, he can hop onto his private jet and fly to anywhere he desires. Tokyo on Friday and Italy come Sunday? He can make it possible with just a phone call. This is one guy who needs no cash loans to live the good life.
MARK CUBAN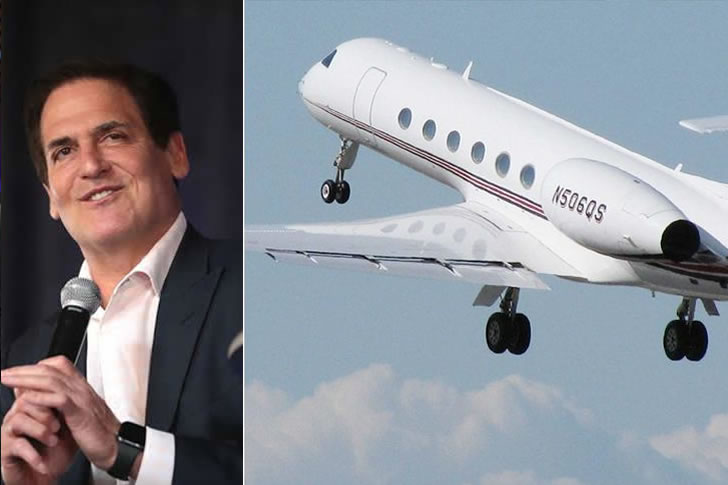 For some people, it isn't about showing off just how wealthy they are. There are also those who purchase planes because it is a necessity. Just take Mark Cuban's Boeing 767 and Gulfstream 500 for example. That's $40 million he dropped on both planes, but he'll be able to easily earn that back. He is one of the most prolific entrepreneurs and probably spends the same amount on all the business flights he takes every single year. Besides, it isn't just for his own use—the Boeing 767 also serves as transport for his own basketball team, the Dallas Mavericks. He wouldn't be a good businessman if he didn't make wise investments, right?
PAUL ALLEN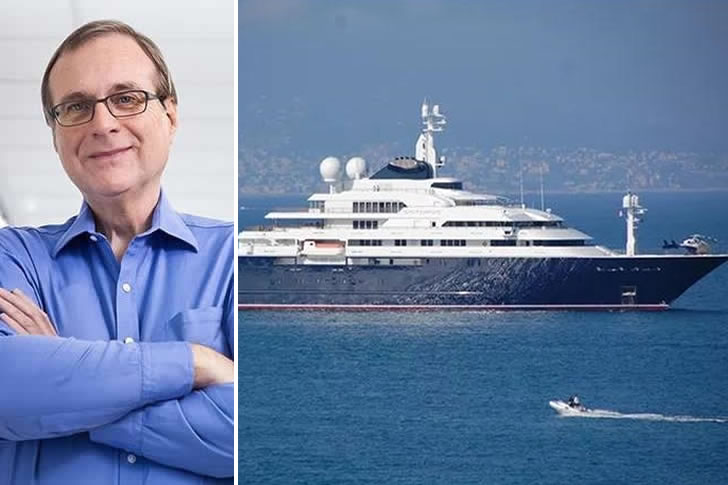 As co-founder of tech giant Microsoft, this guy definitely has a few spare coins lying around to fund some of his hobbies. His private yacht, the Octopus, measures in at about 414 feet. Sleek and looking like it was purchased straight out of a Bond movie set, this yacht can hold a total of 26 guests. The crew totals 57—meaning everyone on board would be completely catered to during the entire cruise. Imagine island hopping on this ride – well, that's about the only thing we can do considering we wouldn't be able to afford it even if we hit bankruptcy.
BILLY JOEL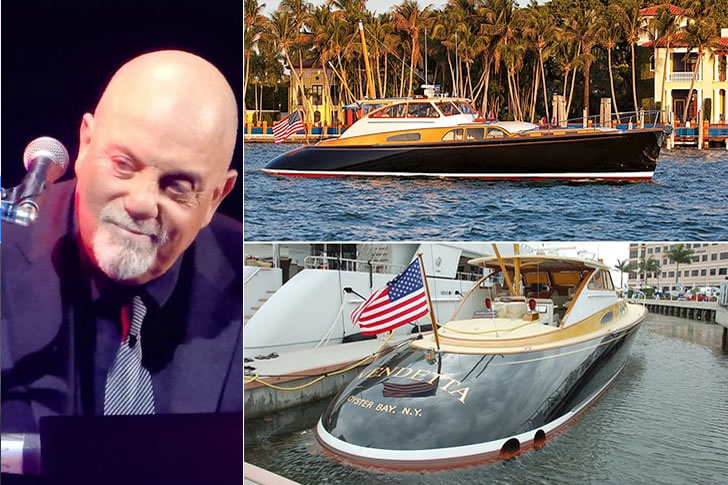 Well-loved for having sung some of the catchiest songs ever written, Billy Joel's got another passion he isn't afraid to chase. His commuter yacht, Vendetta, might only measure in at 55 feet (the smallest in our list, but no less luxurious!) but it's just one of the many boats he purchased. In fact, the singer once owned a total of 5 different ships that he would take from his Long Island Home to Madison Square Garden whenever he had concerts scheduled. It may have cost him a pretty penny, but we're sure the comfort and escape the yacht provides is well worth the investment money.
CHRIS BROWN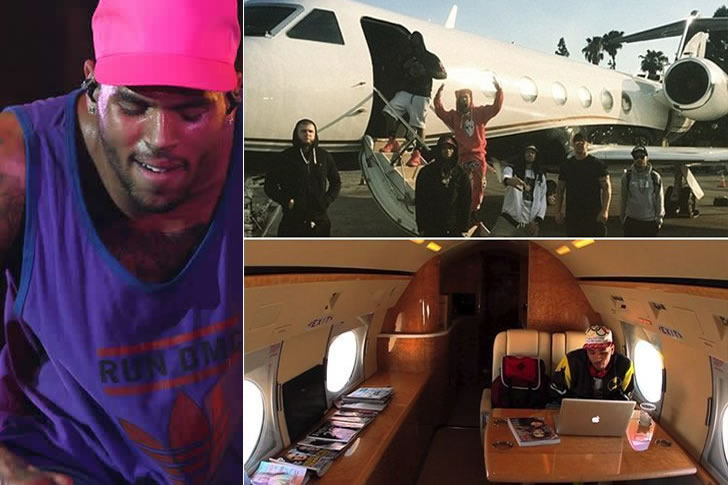 He may have yet to purchase his own private jet, but judging by how regularly he rents the deluxe Gulfstream IV, we're sure Chris Brown is close to sealing the deal. It costs him about $110,000 for a two-way trip—which he often takes for various activities, including personal vacations, private events, and to get to his concerts in different states. The price tag is certainly hefty for a few days, but that's just how the singer travels in style. We're thinking about diving in and making investments into getting his own plane would be much cheaper in the long run considering how expensive renting can be.
BONO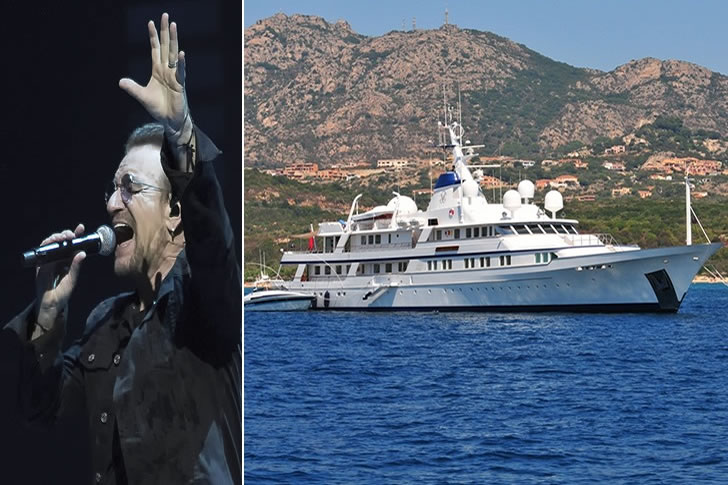 The U2 frontman owns a ship fit for a king and with an appropriate name to boot! Kingdom Come is fitted with luxuries such as gold-plated furniture, a master bedroom, and even a Jacuzzi. It fits well with Bono's sophisticated yet old-European tastes. The marble and gold gilding certainly reflect his personal style. The ship is manned by a total of 17 people and can accommodate 15 guests. The singer is a major advocate of the environment so it makes us wonder if the ship is just as eco-friendly as he claims to be. Let's hope he puts in the investment money to make sure it stays true to his beliefs.
KANYE WEST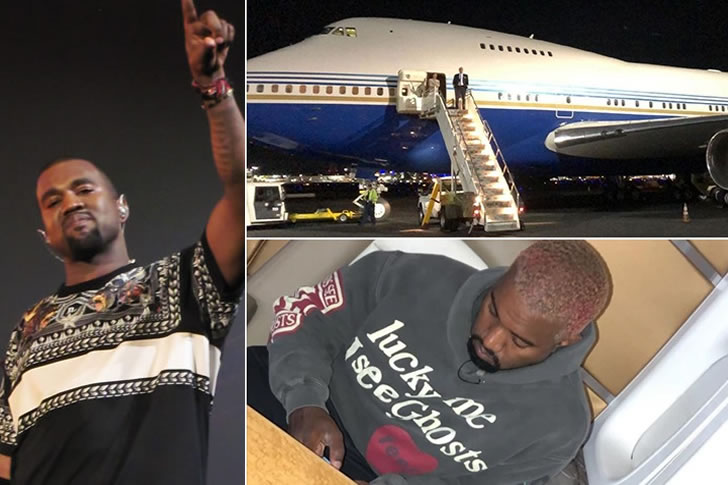 When it comes to doing this in excess, few can really match Kanye West and his wife, Kim Kardashian. Though, even the latter admits that the private 747 jet they took to Tokyo in 2018 was a little too flashy for her taste. Both were unapologetic, however, as expected of the due. They are often criticized for showing off their wealth, often touted as being shallow and materialistic. Especially after Kim posted the very empty interior of the 747 on her social media because it meant guzzling all that gas and emitting tons of carbon into the atmosphere for only a handful of people. Perhaps Bono should give these two a talking to next time?
TOM HANKS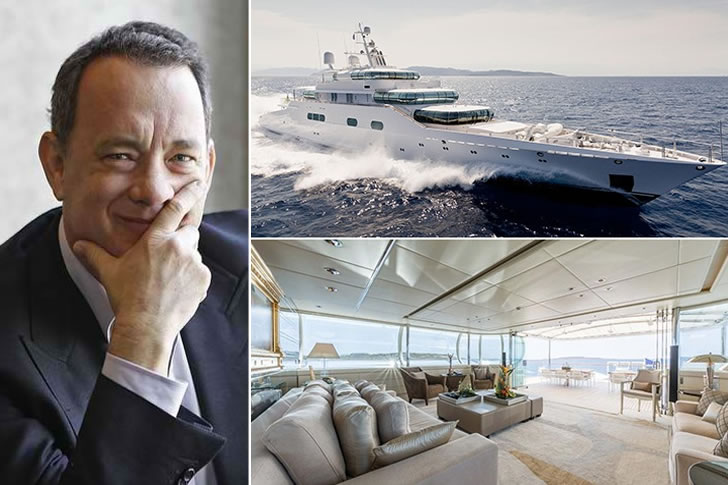 The actor is well-known for his philanthropy and as one of the most level-headed people in Hollywood. That said, he certainly splurged during his wedding anniversary—celebrating the occasion aboard the Enigma. This 246-foot superyacht took them along the scenic Turkish coast and cost $275,000 a week. That's money well-spent considering how special the event was. Aside from his wife, Rita Wilson, the sailboat hosted 12 passengers and 16 crew members. It boasts of an elegant dining space, a relaxation center, as well as a gym. We're sure Tom didn't even need personal loans to make this dream getaway happen!
 JOHN TRAVOLTA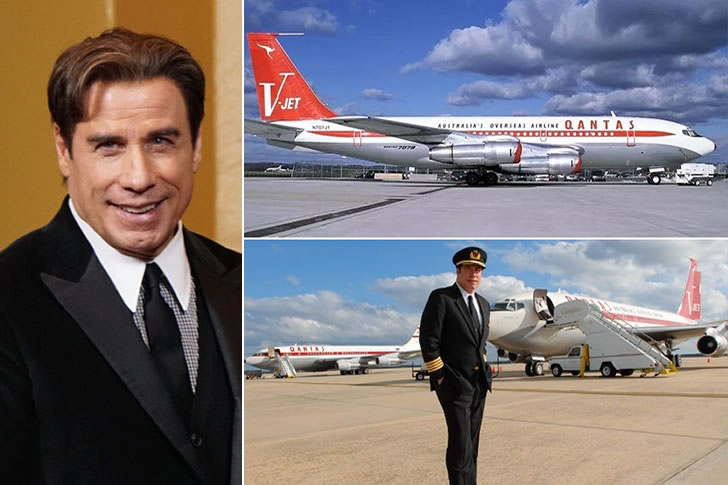 This one comes as no surprise as the actor is a licensed pilot and his passion for aviation is quite well-known even outside of Hollywood. John Travolta has even converted his Florida-home into his personal airport, housing his current fleet of jets—worth $50 million in total. The Historical Aircraft Restoration Society has recently become a recipient of one of John's planes which he gave the group as part of his advocacy. He gets as much as he gives, however, having been named honorary pilot by Qantas Airways recently. We're glad that some of his investments are always for the good of many.
SIR RICHARD BRANSON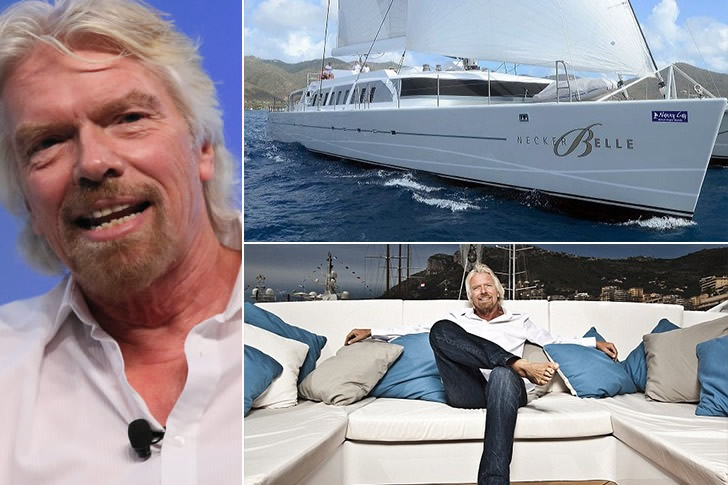 He's one of the richest men in the world, with an estimated net worth of over $5 billion, so it's not surprising that he has some pretty expensive hobbies. One such extravagant purchase would be his boat, the Necker Belle. At almost 105 feet, it's got everything he needs to wind down from his hectic lifestyle. It can host a total of 7 people comfortably and is perfect for speed-cruising, perfect for thrill-seeking guests. The best bit? If your credit can afford it, the boat can be rented. Allowing people a small peek into the kind of lifestyle the brilliant entrepreneur lives.
ANGELINA JOLIE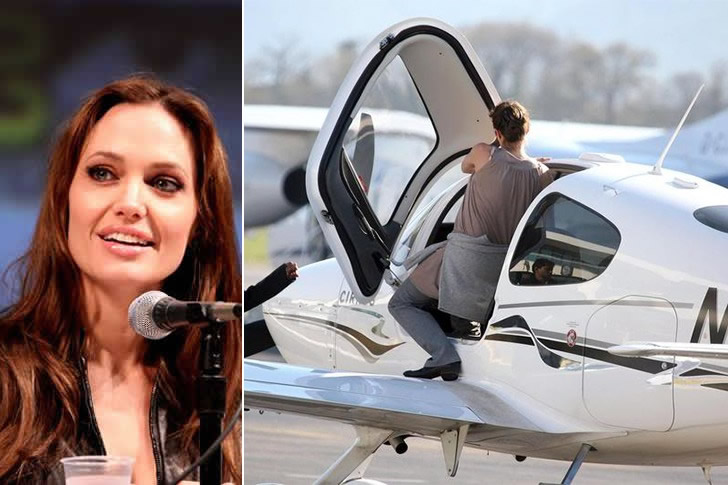 When it comes to hobbies, this actress has got plenty of interesting ones—one of which is her passion for flying aircraft. She even got a flying license and owns a Cirrus SR22, a compact plane that can transport up to five people including the pilot. It might be small compared to other crafts on this list, but Angelina has always been about practicality over showing off. In this case, the plane serves as a way of going from place to place without spending extra on tickets or getting caught in traffic when she's in rush. Only smart investments for this wonderful woman!
TIGER WOODS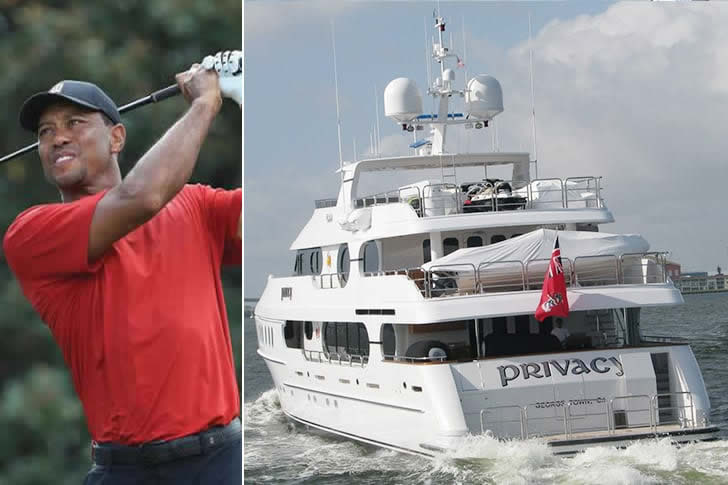 As the world's leading golf superstar, it's completely understandable why Tiger Woods would want to travel in both style and privacy. After the marital issues he has gone through, we're sure he's one to stay away from public scrutiny as much as possible. From his personal Gulfstream G550 to this luxury yacht called Privacy, it's all about keeping it exclusive for the golfer. The yacht can host up to 21 people and provide plenty of entertainment with its own theatre and jet-skis. His personal life might be rocky, but this is one athlete who isn't about to file for bankruptcy.
JK ROWLING AND JOHNNY DEPP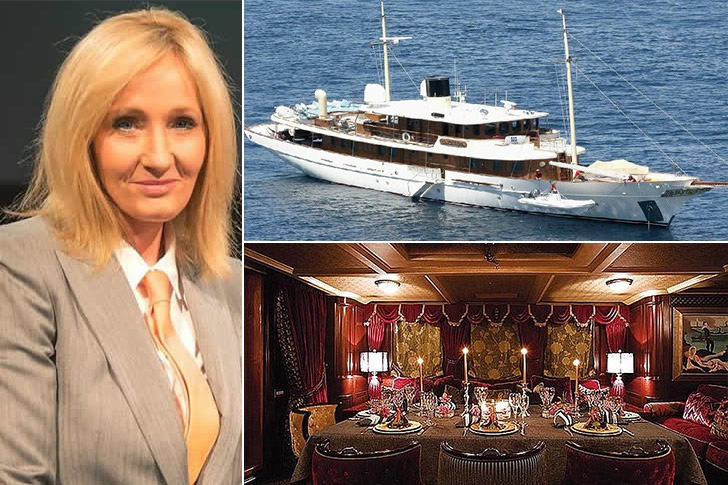 This is one boat that's had two very talented owners at its helm. Previously known as Vajoliroja when it was still owned by Johnny Depp, this beaut has remained Amphitrite after JK Rowling bought it from the actor. Its opulent interiors reflect the old-world tastes of both artists, but it also comes with modern amenities such as a pool and an entertainment room. The boat is capable of hosting 15 people, but perhaps not suitable for the Harry Potter author's tastes and current investments as it was sold again in July 2017 to an anonymous buyer and for an undisclosed amount of money.
MICHAEL DORN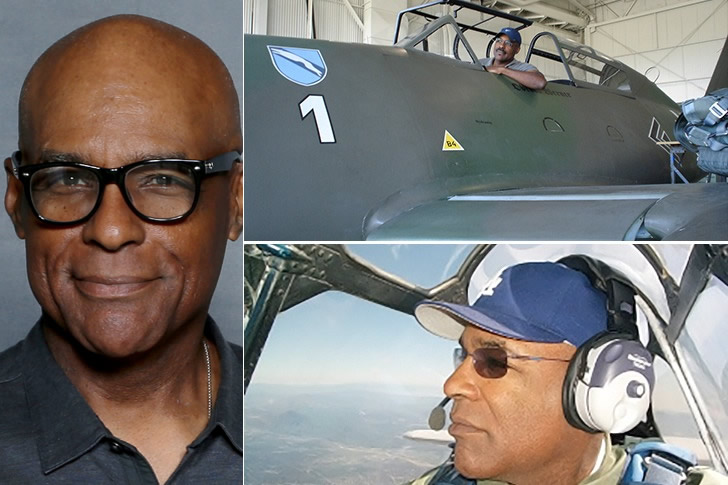 Star Trek fans will recognize the actor as the Klingon who has had over 40 different film and TV appearances in character. Outside of his work in Hollywood, the actor is actually a certified pilot and owns 3 different crafts such as a T-33 Shooting Star, an F-86 Sabre, and a North American Sabreliner. Where most people would switch up the cars they drive depending on their mood, Michael picks between different planes when he has to fly—for either work or pleasure. Are these investments worth it? If you have the skill to fly them and the money to maintain each craft—then it probably is.
DR. DRE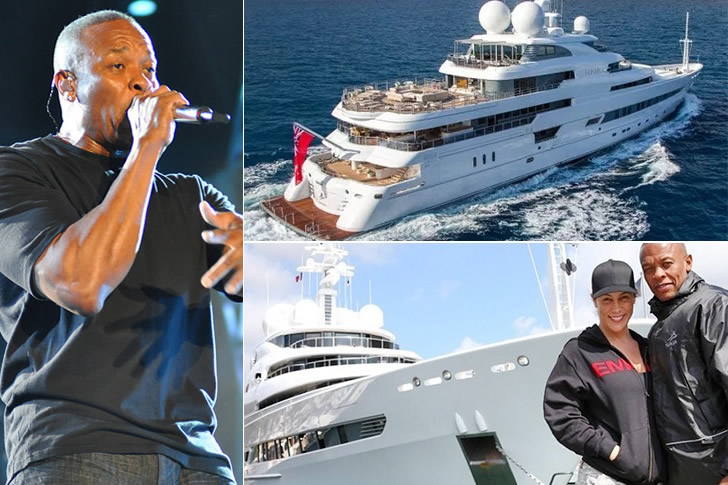 There's little doubt when it comes to the rapper, producer, and businessman's reputation as one of the best-selling artists in the world. Dr. Dre works hard, so you can just imagine what he's like at play. Let's just say the rapper does so in utmost style and luxury, with his superyacht, Naia. Coming in at a 242.47 ft, it can host 12 of his closest friends and family, along with 22 crew members and his private kitchen staff. You can trust that this boat comes with state of the art entertainment amenities, which are worthy investments for one of the music industry's top producers.
JUSTIN BIEBER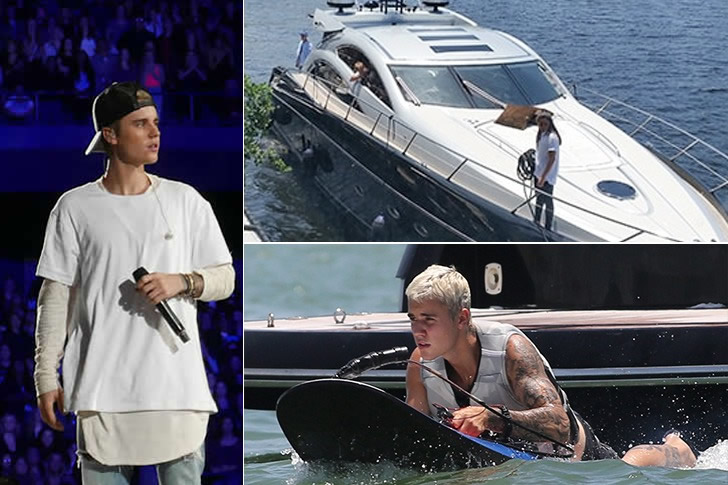 The youngest name on this list, but no less extravagant when it comes to taking time off of work. He's well-known for hosting parties in different yachts, which he rents regularly. We're not sure why he hasn't splurged on buying one for himself, but he's certainly got the money for it. Perhaps he's just the type who's indecisive—going with what fits his mood at the moment instead of settling for just one. We hope he isn't this way with women, however, he had just tied the knot with Hailey Baldwin. Here's to them lasting a lifetime and keeping divorce attorneys at bay.
ALEX RODRIGUEZ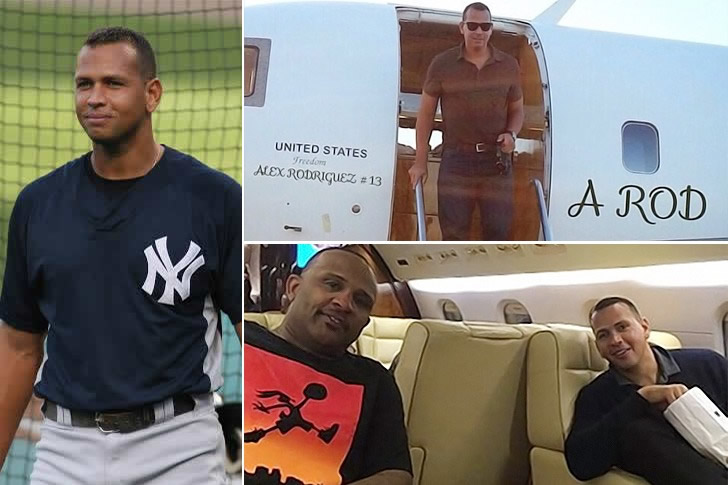 Considering the fortune he's made, this former Yankee player isn't afraid to splurge when necessary. He's the owner of a Gulfstream IV family private jet and has even dropped $350,000 within a few days of sightseeing with his girlfriend, singer-actress Jennifer Lopez. Expensive vacations aside, we're sure this purchase is his way of securing some time away from the paparazzi and the public eye—something no one can put a price on. And with a net worth of over $800 million, Alex can well afford even the most extravagant of investments when it comes to keeping his personal time completely private.
JAMES PACKER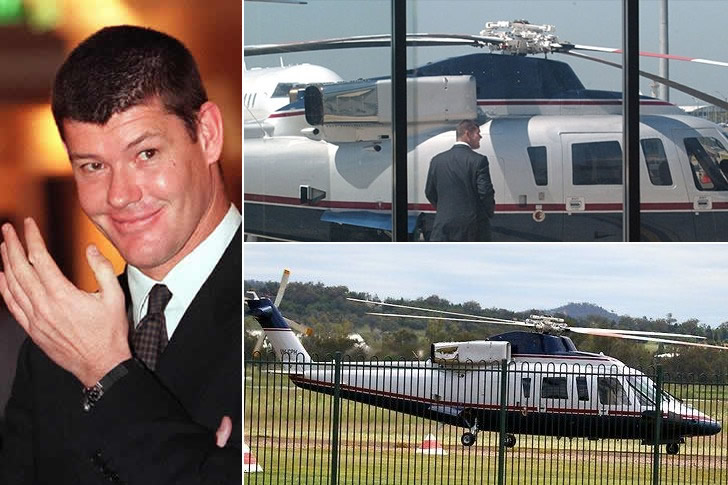 When it comes to businessmen, you can expect them to make smart and practical investments that they can use for both fun and leisure. That certainly applies to this pioneering investor from Australia, who purchased a Sikorsky S-76 helicopter for a cool $13 million. Just counting all the zeroes on that is making us see double—but given the ride's specs, which are 2 turboshaft engines, modern landing gear, and enough room for 12 people, it's well worth every penny. Besides, this won't even make a dent on his credit. The man's got more than enough to buy a second one in a different color.
OPRAH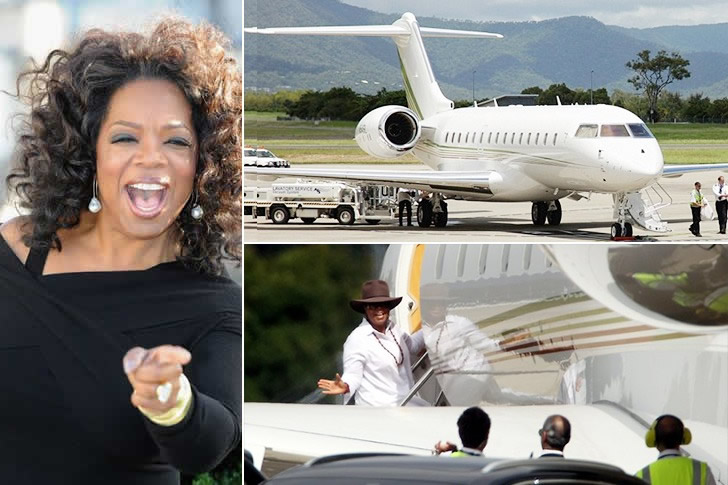 We know that she's got more than enough money to spend, so we were not too surprised to hear that Oprah recently spent $45 million on her personal Bombardier BD-700 Global Express XRS. The plane was customized to increase the amenities available onboard, at the cost of seating. Whilst this craft can only accommodate 10 guests because of these alterations, those 10 people will be living it up and traveling across seas in luxury. The host added her own touch to the interiors, making sure everything is upholstered in elegant leather. We're sure she could have bought a second one and not even worry about bankruptcy.
JOHN CENA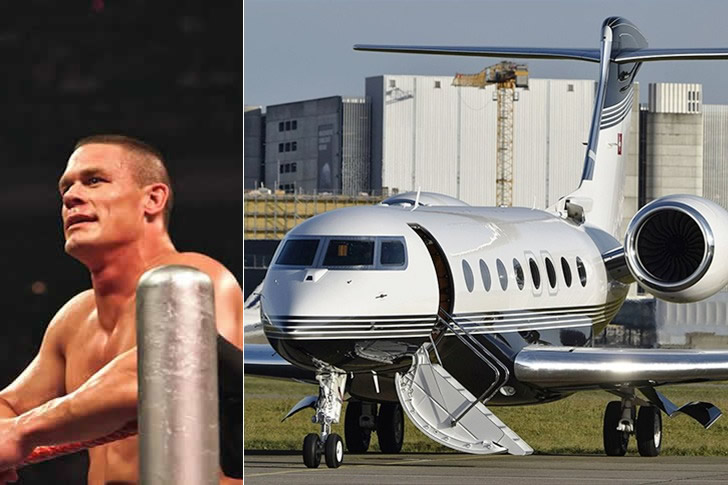 Considered by many to be the face of WWE, this wrestler is also a heavyweight when it comes to big purchases. Though, we're sure this one's got many practical uses given he has to ride the jet from one place to another for work. He also has a lifestyle that could benefit from him purchasing his own private jet. Sure, movie companies pay for his flights, but why do that when he could be flying in total comfort? This man's the highest-paid wrestler in Hollywood, making more than $35 million each year. We're sure he can afford this investment without going into bankruptcy in the process.
BELLA HADID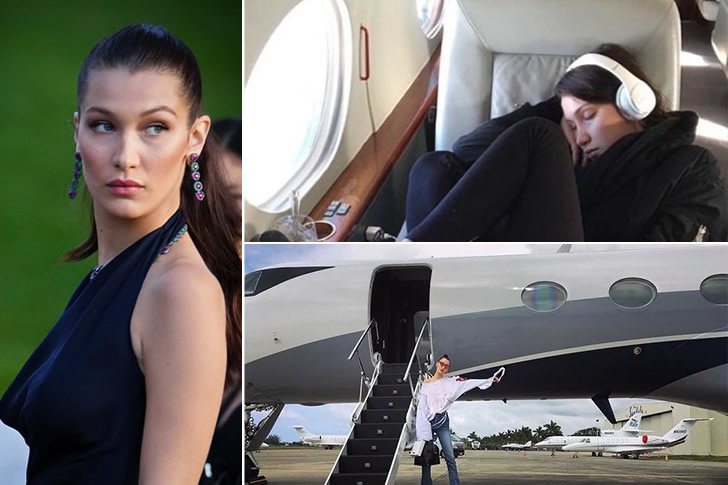 Bella Hadid is one of the most sought-after models today. A headline-maker who can set trends overnight. Whilst she was born with a silver-spoon perfectly set between her pout, the model's making enough to splurge on her own $100,000 per trip on a private JetLux. That's just chump change considering how much she makes for strutting down catwalks or lending her face to global campaigns. In fact, she took some of her friends to a last-minute vacation in Jamaica—easy when you've got the money for it. We sure hope she's also looked into investment planning to make sure she has years of adventures ahead.
JOYCE MEYER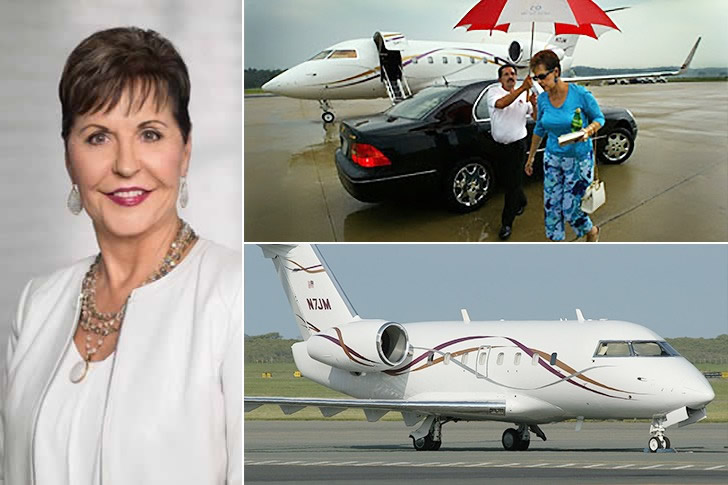 Life's good when you don't have many financial woes or any debt to worry about. You might as well treat yourself to something that's both luxurious and would pay for itself in savings in the long-run. This is the case with author, Christian Speaker, and president for Meyer industries—the very busy Joyce Meyer. We say this small bit of extravagance will help with her global charity work, but she isn't just a prolific businesswoman. After all, she's also one of the most generous humanitarians in the world. This is one purchase we're sure she didn't need any cash loans for.
BEYONCE AND JAY-Z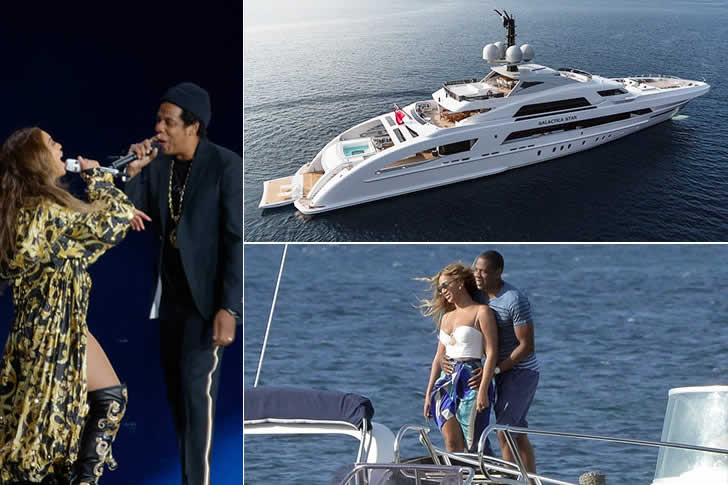 Gift-giving can be quite stressful, but can you imagine what to get someone who already has everything? Someone like Beyoncé? Well, judging by what her husband decided to get her, it's obvious the queen's got some seriously expensive taste. The first time they chartered the yacht was during a holiday, but the singer immediately fell in love with it, prompting her producer-husband to make the purchase. The beaut comes with a swimming pool, a helipad, a sundeck, and a Jacuzzi. Amenities fit for his wife and family, we say. It may have cost a pretty penny, but we're sure this hardly made a dent on Jay-Z's credit.
LEONARDO DI CAPRIO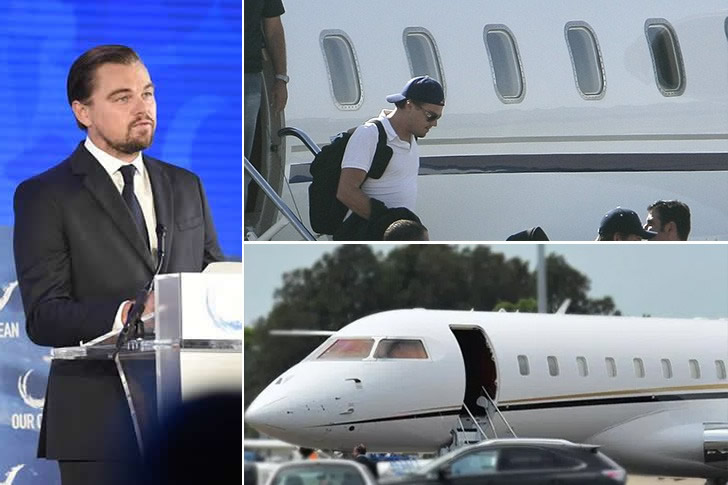 He's one of the biggest names when it comes to advocating various environmental causes, but can we really judge him for flying around the world in his own private jet? Leo makes use of it to educate and warn people about the current threat of climate change. It is a rental, of course, and he pays about $40,000 for every flight that he takes. Sure, it isn't the greenest option when it comes to travel, but until someone creates a more eco-friendly alternative, the man has to make sacrifices for the greater good. We're sure he offsets his carbon footprint through investments in green energy.
KIRSTY BERTARELLI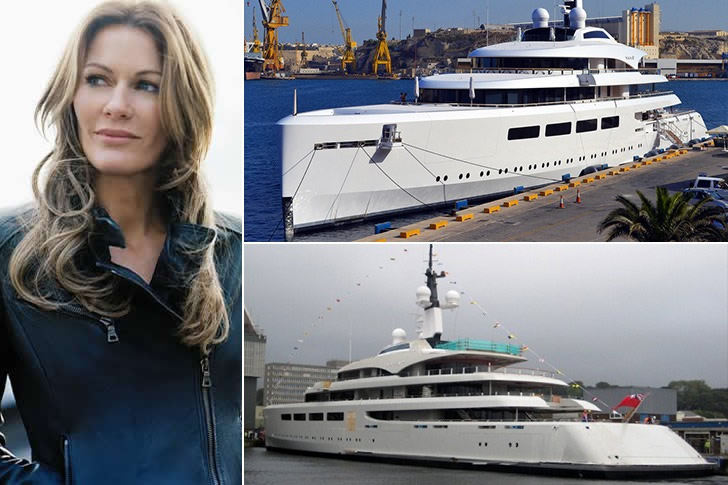 She has been touted as the richest woman in the United Kingdom, owing to her prolific career and the fortune of her billionaire husband. The former Miss UK, along with her spouse, is the owner of a Vava II luxury yacht. At 96 meters and with six decks, there's more than enough space to host and entertain their guests. This yacht is custom-built as a replica of their smaller 47-meter one and costs $131 million to purchase. The Vava II also holds the distinction of being the 33rd largest water vessel in the world. With their combined wealth, we're sure this couple can buy a third one and not even come close to bankruptcy.
MORGAN FREEMAN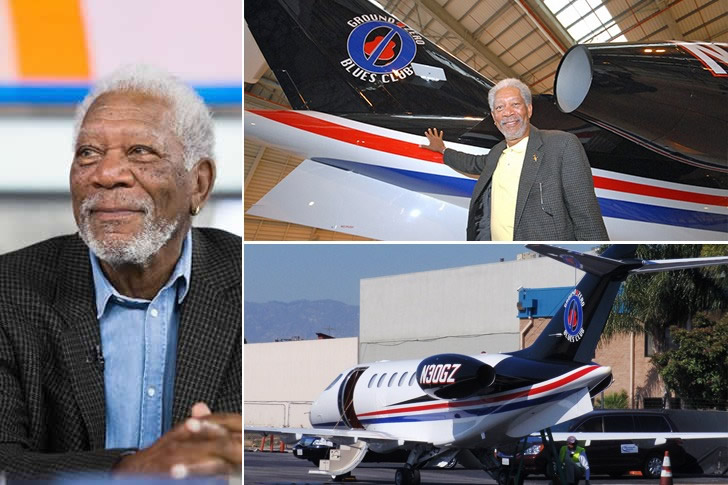 At 65 years old, the actor received his pilot license, proving that you can teach an old dog some really cool new tricks. Besides, age certainly doesn't matter when it comes to enjoying life and the fruits of one's labor. In this case, Morgan's invested quite a bit of money into 3 sophisticated planes such as a Cessna Citation 501, a Cessna 414 twin-engine, and a long-range Syberjet SJ30. If he wants to go away on a weekend trip, all he needs to do is walk into his personal hangar and choose which one to bring. We hope he's got proper insurance for each plane!
BILL GATES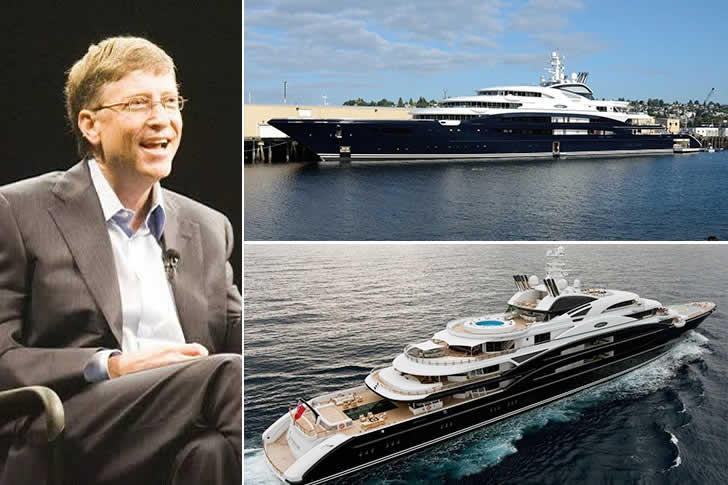 One of the richest men in the world can more than afford to spoil his family with vacations to some of the most beautiful places in the world. With their 440-foot superyacht, Serene, they can do so in comfort and privacy. Every trip does cost a hefty amount of money, around $2 million per week, to be exact. Microsoft's founder can well afford the splurge and make sure that the yacht's got everything they would ever need. Think indoor and outdoor pools, a cinema, and a submarine dock. Not even some very strict money management would get us near this kind of opulence!
JIM CAREY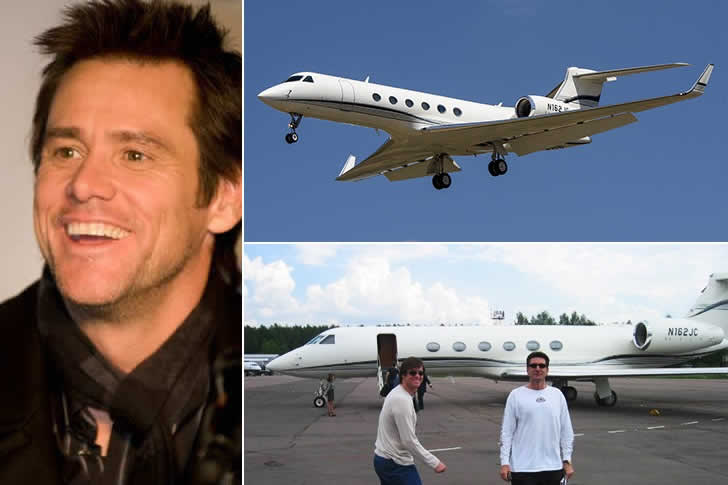 Another actor with a passion for aviation! He's beloved for being one of the most versatile and funniest comedic actors of this generation. With all the money he's made from years of giving people bellyaches from laughter, he deserves to splurge on himself. The actor owns a Gulfstream V, a jet known for both performance and safety. It isn't just for his personal use either as he rents out the craft for $8,000 an hour. He's definitely got a smart financial advisor behind him, making sure Jim is getting money back from this particular investment. Just don't expect him to pilot it for you.
ERIC CLAPTON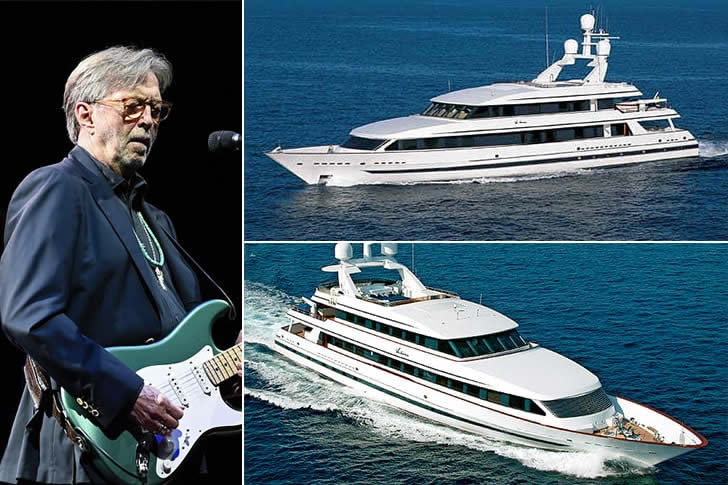 He first bought his yacht, Va Bene, in 2005 as a summer escape from his hectic life as a singer. The 156-foot yacht can easily host 12 guests and comes with six bedrooms, ensuring comfort while they cruise along the Mediterranean. It isn't the most expensive craft on this list, but we can imagine him writing some of his best songs whilst spending time in it. That alone makes Va Bene truly priceless. Any investments made into creating art, finding time for oneself, and spending time with close friends and family can be considered as such. We're sure the singer feels the same way.
STEVEN SPIELBERG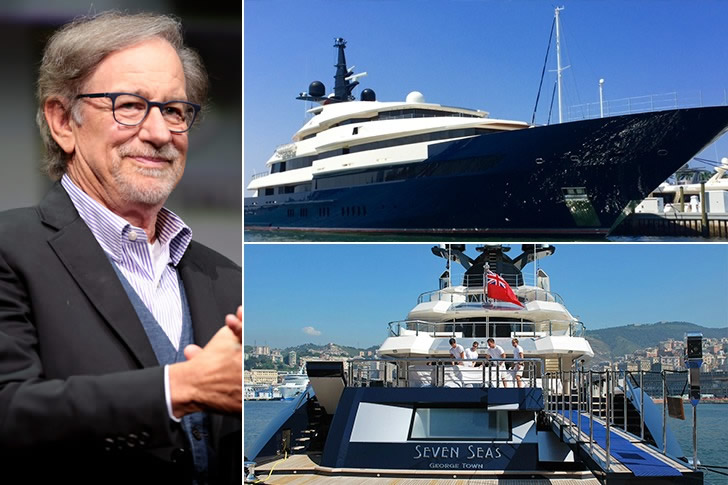 His name is almost synonymous with blockbuster success so you can just imagine where his fortune goes into. Aside from various advocacies, the director has also invested in some personal luxury such is the case with this 28-foot superyacht. Capable of hosting 12 guests comfortably, it can travel at speeds of 20 knots and also comes with its own swimming pool in case someone onboard is paranoid about open waters. Jaws, anyone? The Seven Seas is currently up for sale, but considering just how much it costs, not even going into bankruptcy would enable us to purchase this beaut.
RUPERT MURDOCH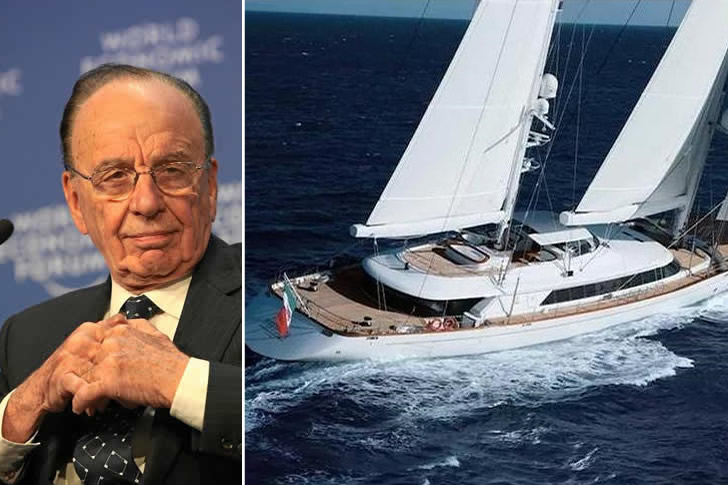 One of the most powerful men in media owns a jet aptly called Vertigo. This is the craft he uses to sail around the Mediterranean, whenever he needs time away from brushing shoulders with some of the most powerful men and women in the world. Given his stature, we can picture plenty of secret meetings onboard, providing every person involved with utmost privacy which is a luxury in itself. The boat has been in the family for years, hosting countless parties, and can be found docked in different areas in the Caribbean and Europe. We're sure they don't need a moving company to get it done.
BRITNEY SPEARS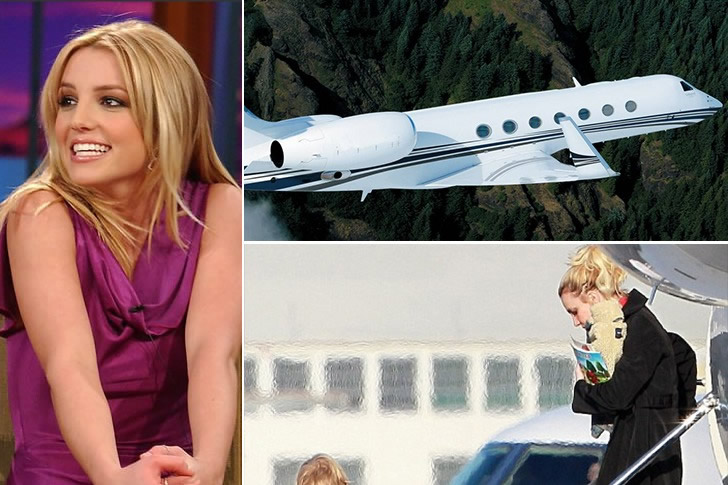 The singer has an estimated net worth of over $200 million thanks to the tours, albums, her lingerie line, and fragrances that fall under her brand. It shouldn't come as a surprise that Ms. Spears has pretty expensive taste, especially when it comes to traveling. After all, privacy is a luxury for many of these stars. Her private jet gives the busy singer a way to enjoy time with her kids and her family away from the prying eyes of the public. When it comes to personal investments, wouldn't you do the same thing if you could afford it, too?
GISELE BUNDCHEN AND TOM BRADY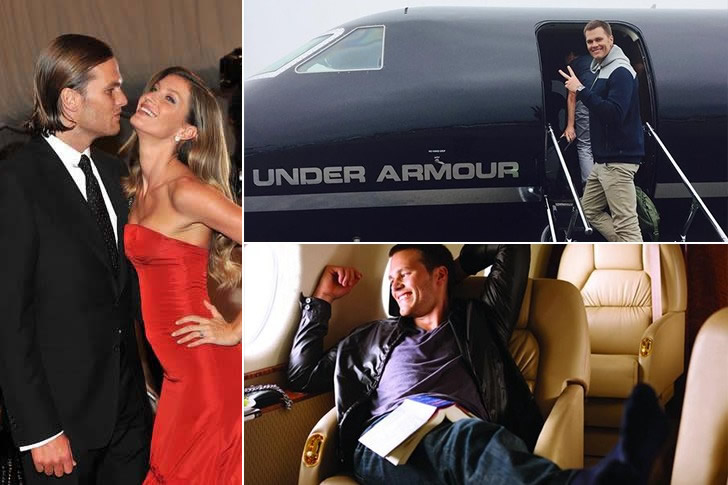 Famous, wealthy, and beautiful—what more could you ask for? For this golden couple, that would be getting to spend more time with their family outside of their work responsibilities. Given how busy they are, having the luxury of flying whenever they please is worth every cent so we totally understand why they invested in their own private jet. The jet can accommodate 19 people, but this couple uses it strictly for the family, even taking it to visit Gisele's family in Paris! With their combined net worth, we're sure that this is one family purchase they didn't need a loan for.
KID ROCK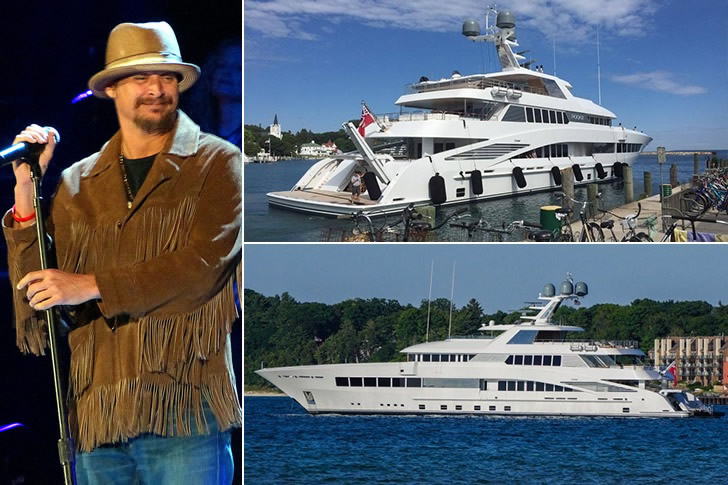 This is one guy who certainly is living his best life—the rocker not only lives in an actual castle but he also regularly hosts parties on his yacht, which was aptly named Rock. The yacht has been seen cruising along the coast of Mackinac Island while Kid Rock's crew enjoyed some time after the sun ahead of his 2019 tour. The interior and exterior were designed by Sinot Exclusive Yacht Design, a Dutch company famous for providing services to many of the names on this list. We hope they thought about insurance and not just design, though! Safety should be a priority.
BLAC CHYNA AND AMBER ROSE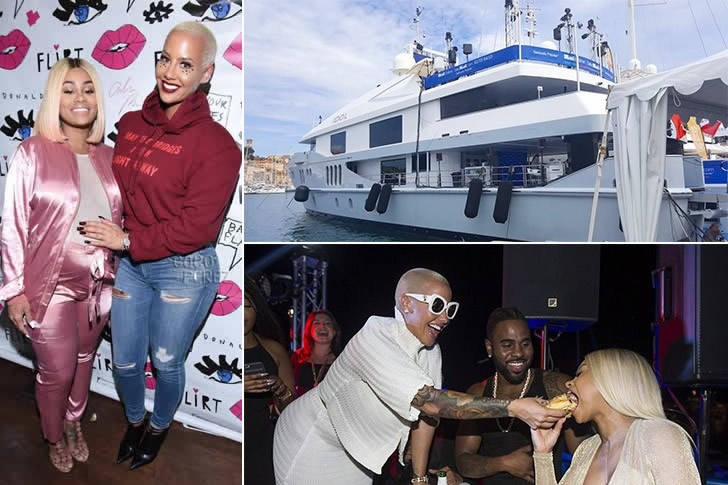 Being pregnant did not stop Blac Chyna from having fun and enjoying the festivities at the Cannes Lions Festival. Together with Amber Rose, the two were seen enjoying themselves at the Daily Mail Yacht Party alongside other celebrities who were in France for the event as well. With the party being hosted on the Superyacht Idol, we're sure everyone on board had a grand time reveling in every bit of luxury available to them. Great food and overflowing drinks, what else can anyone ask for? We do hope the organizers thought about safety as well and made sure everyone was covered with travel insurance!
JOHN LEGEND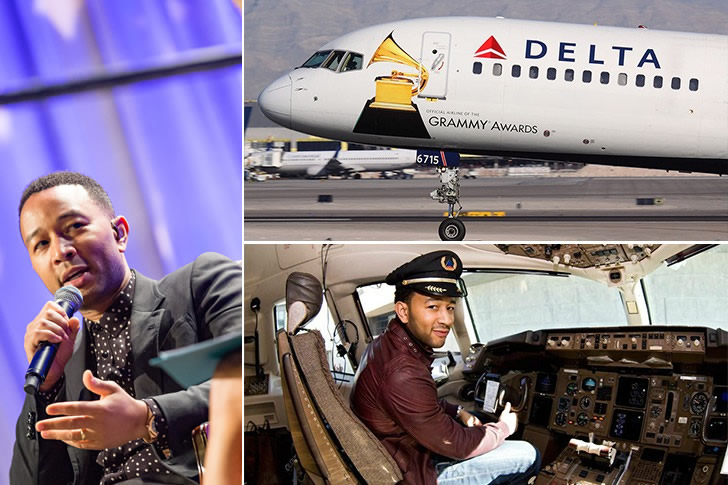 The singer-songwriter is well known for having a voice that sounds and feels like melted gold, but his lifestyle is just as enviable. In 2015, he was asked to design a jet-setting package worth $120,000 and was aptly named "The Legend Experience". So, what was included in it? Those who bought the package were given an 11-day trip across the globe accompanied by John himself. They flew onboard the Four Seasons Private Jet, piloted by the singer throughout their adventure. If we could have afforded this on our credit, we wouldn't even think twice about paying that thousand-dollar price tag.
ARIANA GRANDE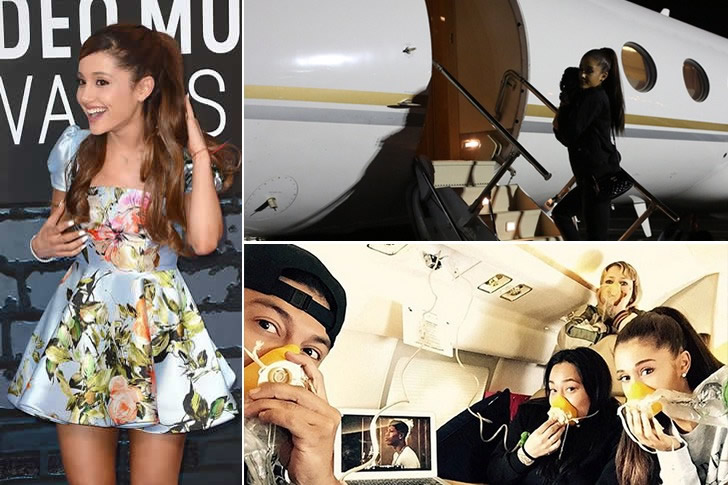 She's one of the biggest names in the music industry with sold-out tours and chart-topping songs, which increased her net worth in the process. That said, Ariana still needs a bit of help when it came to purchasing her own private jet. The Gulfstream G650 she regularly rents costs $58 million if she were to buy it, probably why she's settled for paying a little over $30k to rent it during personal trips and tours. Give this budding diva a few years and we're sure she won't be needing personal loans in order to finally buy the jet for herself.
NICKI MINAJ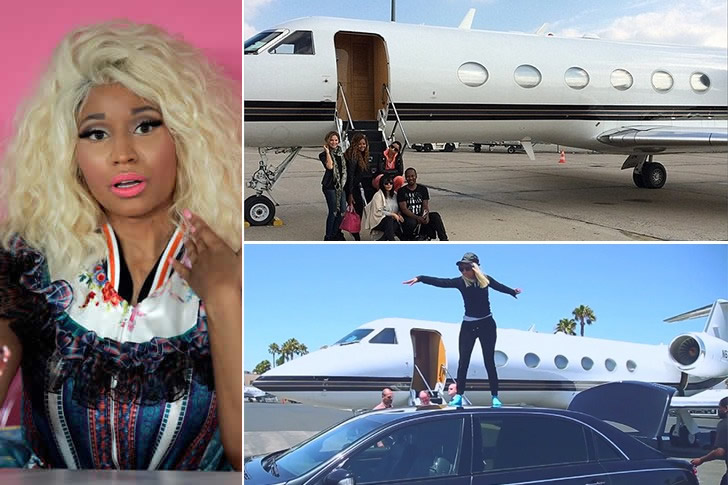 It's safe to say that Nicki Minaj is the personification of the word "fancy". Not only does this hip-hop queen loves treating herself to couture and jewels, but we've also seen her spend hard-earned money on cars and real estate. More recently, her expensive taste has reached a new high— Nicki brought a $36 million private jet for herself. No more renting for this boss babe. The Gulfstream V can take her from one performance to another, and buy her ample privacy during vacations. When it comes to investments, this one's well worth the money and we're sure Nicki knows as much.
DRAKE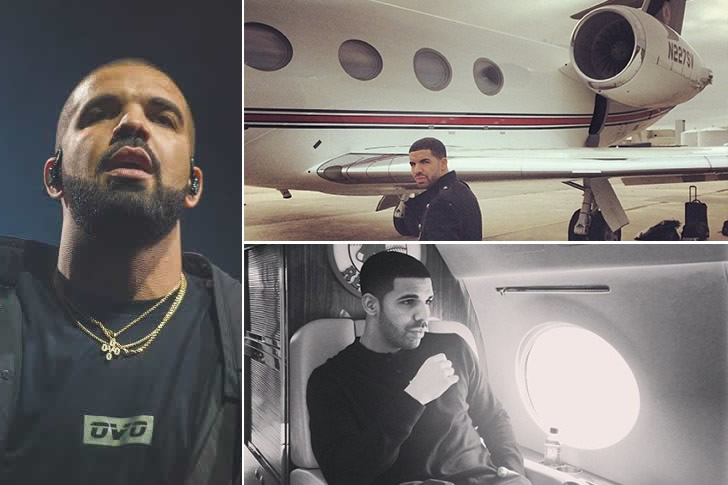 In 2017 alone, the rapper made $90 million—pushing his total net worth to a whopping $150 million. No wonder he's not only known as one of the most talented in this generation, but also one of the richest. So, what does he buy with all that cash in the bank? Aside from the designer wear and jewelry he often adorns himself in, Drake has recently invested in a $50 million private jet that comes complete with a master suite and a queen-sized bed, making for a stylish home in the skies. We sure hope he's considered insurance for his purchase as well!
DJ KHALED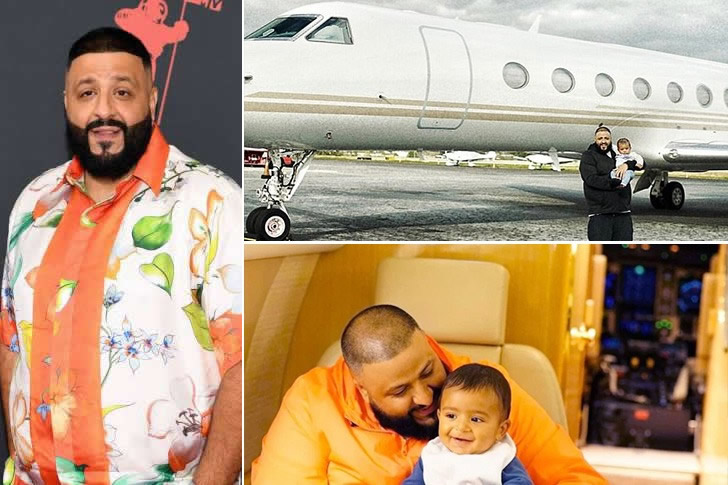 Having a dad as popular as DJ Khaled comes with plenty of perks. Just look at the luxurious lifestyle Ashad's enjoying before he has even learned his ABC's. On social media, everyone thinks of him as the "Golden Kid" and often flies on their private jet in order to meet with his dad on tour. If we had the money for it, we wouldn't mind paying the $38,000 for each trip just to spend time with our children, too. DJ Khaled is obviously a very thoughtful father and we're sure investments have been made to secure Ashad's future as early as now.
ADRIANA LIMA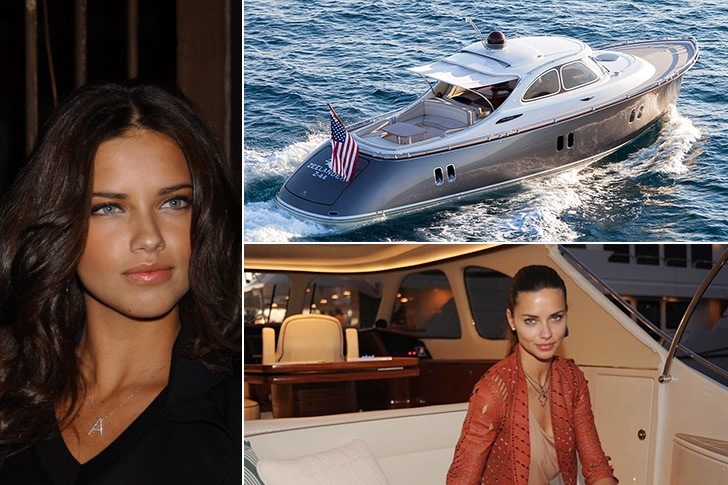 She wouldn't be called "supermodel" without proper reason. Everyone's favorite Victoria's Secret Angel has made millions being the face of the lingerie brand and she certainly knows how to enjoy herself. Outside of work, she likes to spend time in her own mini-superyacht the Zeelander 44. Costing $1 million of her hard-earned money, this beaut is big enough to accommodate her closest friends and family for some well-deserved bonding time. Considering just how busy she can be, we're sure Adriana appreciates the privacy it provides. A million is not easy to earn and to her credit, it is both a luxurious yet practical investment.
BRUNO MARS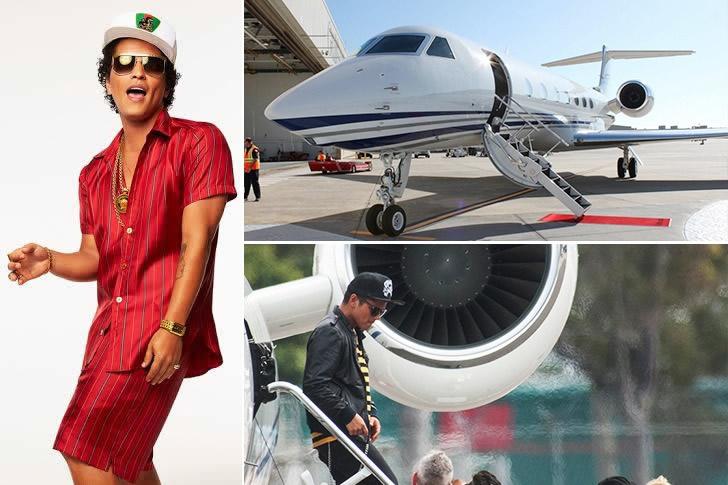 He may have had humble beginnings, but this singer-songwriter is constantly reaching for great heights, both in his craft and in how he travels. Let's just say dropping $42 million on his own private jet, cleverly named the Mars Rider, isn't something that a lot of people his age can boast of doing. The plane has enough space to comfortably accommodate 24 people and has all the necessary amenities to keep everyone from getting bored. This plane serves as his personal transport for both tours and holidays. With over $105 million in the bank, this is one purchase he definitely didn't need cash loans for.
SOULJA BOY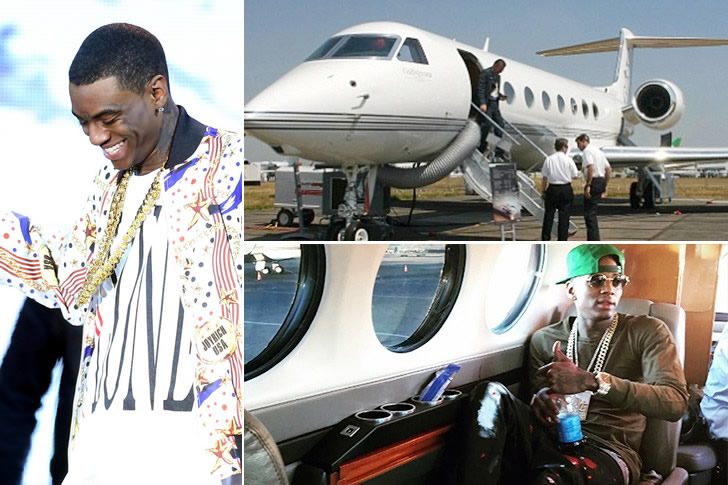 What did you do when you turned 21? DeAndre Cortez, better known by his alias Soulja Boy, can boast of spending $55 million on a single purchase. He welcomed adulthood by purchasing his own private jet, one that can fit up 12 people and is fully customized so suit his preferences. Traveling from one city to another should be a breeze for the rapper, he's got all the comforts of home up in the skies with him. With a bar and a cinema, the hours between locations are likely to just slip past. Let's hope he looks into money management for his future as well.
NINA DOBREV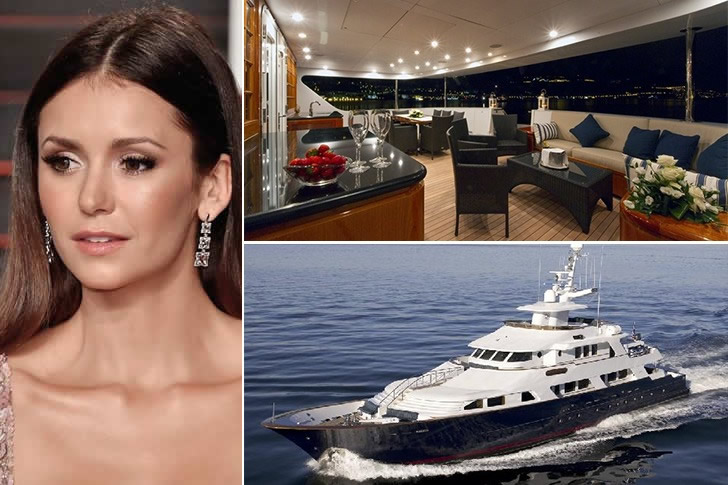 The actress isn't really known for leading a lavish lifestyle, so when she posted photos of her St. Tropez holiday to social media—everyone was surprised and green with envy. Nina enjoyed the tropical climate with friends, Hillary Harley, Chandler Bailey, Tess Jantschek, and supermodel Jessica Stam. The crew rented out a luxury jet which cost them $100k each week. But with stunning vistas, delicious food, and the best wine—it's well worth every penny. Too extravagant? Not when you have the hard-earned cash to afford it. We're sure, even her financial advisor agrees, there's nothing wrong with rewarding oneself every now and then.
ENRIQUE IGLESIAS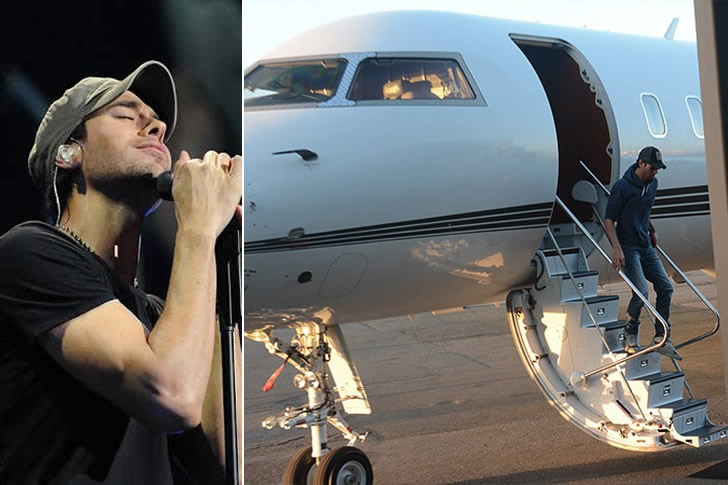 What can $3.6 million get you these days? Well, what about the luxury of flying to anywhere in the world whenever you please? It seems the price is just right for Enrique Iglesias because he bought the Gulfstream IV for exactly that amount—whilst others like, Chris Brown are left to merely rent the jet. Enrique is quite well-known for being passionate about planes, much like others on this list, and has even learned how to fly one. Given that he has a pilot's license under his belt, his investments into what he loves doing is certainly worth every cent.
MICHELLE RODRIGUEZ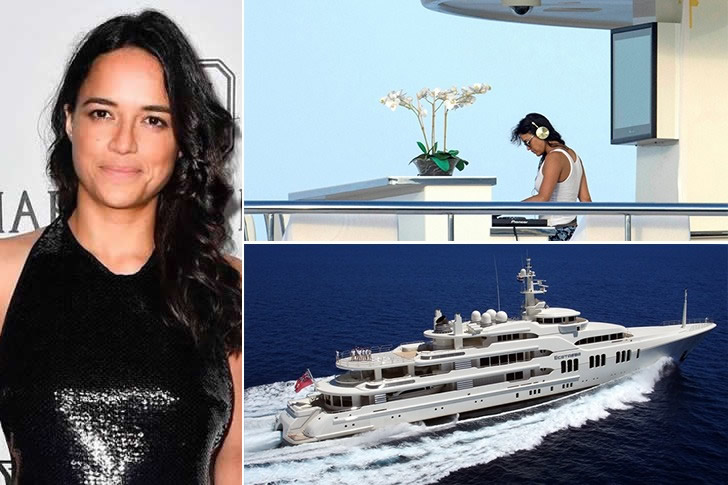 She's got a taste for thrill-seeking and action—kicking ass and taking names on the big screen as one of the film's foremost female heroines. During her downtimes, however, Michelle Rodriguez likes to live it up. She's spent $500,000 renting out the luxury yacht Ecstasea for a whole week. The 28-foot luxury yacht comes complete with a massage room and spa treatments, a gym, jet skis, and two helipads for late guests. Michelle may have only stayed a week, but we're sure it's more than enough to get her senses rejuvenated. If we had the investment money, we'd do the same.
HEIDI KLUM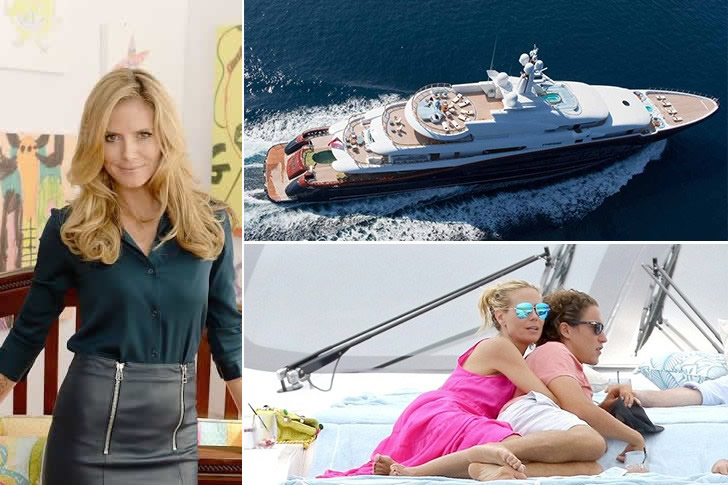 Work hard and play hard—this seems to be the supermodel's motto. She was recently spotted with boyfriend Vito Schnabel onboard a luxury yacht in St. Tropez. The two were cruising along its clear waters, enjoying the beautiful vistas and each other's company. They may not own the yacht, but renting it is no meager sum. A week on the craft would set you back close to a million dollars. Even if they stayed on it for only a couple of days, we're sure it still cost quite a hefty sum. Given Heidi's net worth, however, we're sure her credit's doing just fine.
CARA DELEVINGNE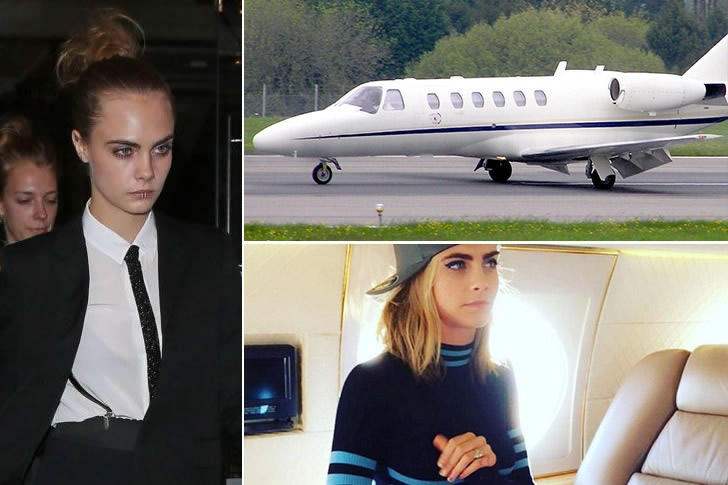 Ever since her modeling and acting career took off, Cara's been using the jet from one continent to another within a span of days. Can you imagine the jetlag and stress involved with flying commercially? Well, those days might soon be behind her—the British Actress just might be next in line when it comes to purchasing her own private jet. It is a practical move, too. Considering her net worth of $9 million and no shortage of acting jobs, she could very well be planning it. With a bit of smart money management, she can easily afford one of the jets mentioned on our list.
You've Reached The End